Rodgers engineers masterful game-winning drive in final minute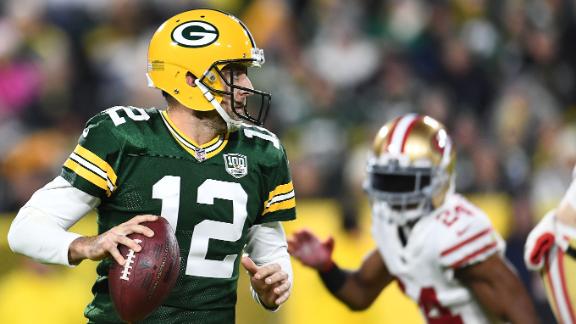 Crosby knocks in winning FG as time expires
Goodwin speeds past Packers' D for 67-yard touchdown
C.J. Beathard airs the ball out to Marquise Goodwin who uses his great speed to make the catch in stride for a long score.
Rodgers drops perfect TD pass to Adams to tie game
Aaron Rodgers lobs a pass just past a defender to Davante Adams, who makes the catch as the Packers tie the game with under 2 minutes to go.
Crosby says he went back to his fundamentals
Mason Crosby expresses his thoughts on his game-winning field goal and how it feels to bounce back after missing five kicks against the Lions.
Rodgers reflects on another game-winning drive
Aaron Rodgers discusses Mason Crosby's bounce-back game and breaks down the game-winning drive against the 49ers.
Shanahan: C.J. has to learn from INT
49ers head coach Kyle Shanahan discusses the final possession and how C.J. Beathard has to learn from the last interception going forward.
Sherman: 'It doesn't matter if I agree with the call'
Richard Sherman talks about the late-game call that gave the Packers a first down and how it doesn't matter what he thinks, the refs won't change the call.
Beathard throws costly interception late
C.J. Beathard sends a pass intended for Marquise Goodwin, but Kevin King jumps up for the interception as the Packers take over with 1:07 left.
Goodwin hits pay dirt twice in first half
C.J. Beathard airs it out to Marquise Goodwin for a 67-yard score in the first quarter and follows it up with a 30-yard touchdown in the second.
Dozier strikes out with bases loaded to end Game 3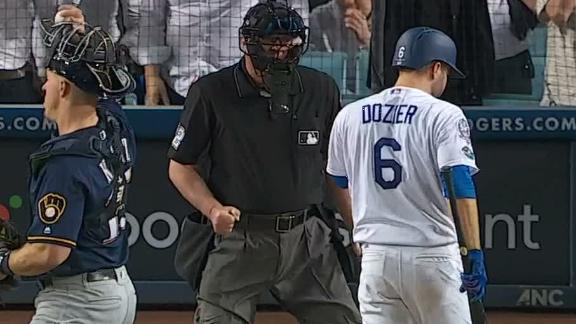 Arcia's HR just sneaks over Puig's glove
Knebel talks outstanding performance
Corey Knebel speaks with Pedro Gomez on what went well for him in his outing and how he will be ready to go for Game 4.
Braun calls ninth inning 'nerve wracking'
Ryan Braun discusses how the Brewers have to battle to get all 27 outs against the Dodgers and how anxious he was at the end.
Roberts defends decision to keep Buehler in game
Dave Roberts compliments Walker Buehler's command and defends his decision to not pinch-hit for him in the 5th inning with runners on base.
Braun rips RBI double
Ryan Bruan gives the Brewers an early 1-0 lead on an RBI double down the left-field line.
Shaw triples, scores on wild pitch
Travis Shaw hits a 2-out triple and then scores on a wild pitch to put the Brewers up 2-0.
Remembering Allen's impact in Seattle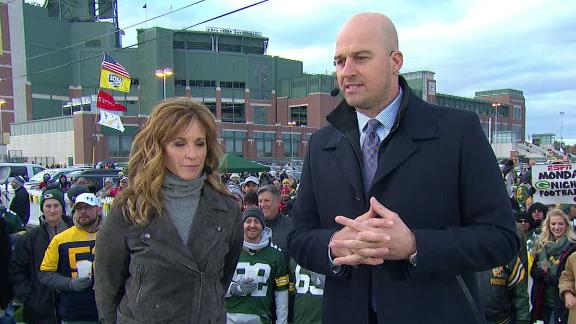 Customize ESPN

Sign up for FREE!
On This Date: Oct. 15, 1988
On Oct. 15, 1988, Kirk Gibson hit a pinch-hit, walk-off home run for the Dodgers in Game 1 of the World Series despite being injured.
Ranking your NBA team's 2018-2019 drama
Eric Heintz

Is there any Stranger Thing than what the Lakers did this summer? Is there anyone Leftover in Cleveland? Did we just turn all 30 NBA teams into TV dramas? Yes ... yes, we did.
The NFL's best secondaries
AP Photo/Paul Sancya

Earl Thomas' season-ending injury means the final member of the Legion has likely played his last snap for Seattle.
Matt King/Getty Images

"I wasn't really focusing on Bolt too much, I was more worried about Ross McCormack and also Jordan Murray," defender Josh Symons told ESPN.