May, 26, 2017
May 26
7:01
AM ET
OWINGS MILLS, Md. -- Baltimore Ravens wide receiver Breshad Perriman is inspiring optimism that this could be his breakthrough season with every highlight-reel catch, especially when he outran top cornerback Jimmy Smith on one route Thursday.
"Hey man, I think I would have pulled my hamstring if I had chased him right there," Smith told coach John Harbaugh after the play.
Smith isn't the only one who has come away impressed by Perriman's start to the organized team activities. Tight end Dennis Pitta noted that no one is having a better camp so far than Perriman. Harbaugh applauded the 2015 first-round pick's route-running and hands.
The best compliment came from a teammate who has watched Perriman's drastic development as closely as anyone.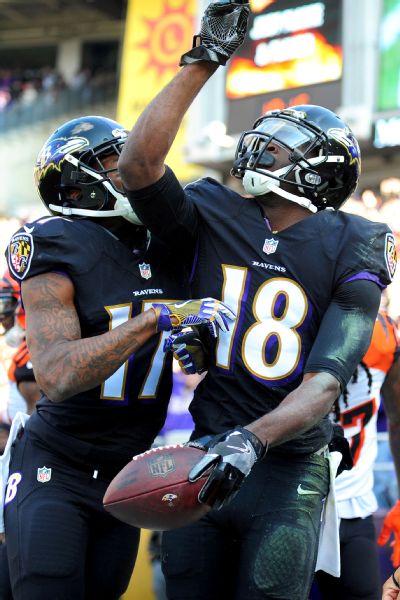 Evan Habeeb/USA TODAY SportsMike Wallace, left, helps Breshad Perriman celebrate a touchdown against the Bengals last season.
"He's going to surprise a lot of people," wide receiver Mike Wallace said. "He's going to be one of the top receivers in the league this year."
Wallace knows a good young receiver when he sees one. He played alongside Antonio Brown, Emmanuel Sanders and Jarvis Landry before they made multiple Pro Bowls.
The Ravens are banking that Perriman can establish himself as a starting wide receiver and perhaps a No. 1. Baltimore hasn't signed a wide receiver this offseason, and neither did it draft one despite Steve Smith Sr. retiring and Kamar Aiken signing with the Indianapolis Colts in free agency.
There's a good chance the Ravens will add a receiver either through trade or in free agency. Anquan Boldin is the best one available after Victor Cruz chose the Chicago Bears over the Ravens on Thursday.
Even if Baltimore brings in another target for Joe Flacco, the Ravens are going to give Perriman every opportunity to assert himself in this offense. Outside of Wallace, Perriman is the only Ravens receiver on the roster who caught more than seven passes from Flacco. This season will be crucial as to whether Baltimore will continue to invest in Perriman and exercise his fifth-year option next offseason.
"I feel great," Perriman said, "and I'm just really going out there and having fun."
Feeling great and having fun is a new experience for the 23-year-old. His first two NFL seasons were significantly affected by knee injuries.
A partially torn posterior cruciate ligament in his right knee sidelined him for his entire rookie season, and a partially torn anterior cruciate ligament in his left knee last offseason forced him to miss most of 2016 training camp. In his first regular season, he finished sixth on the Ravens with 33 catches and fourth with 499 yards receiving.
This offseason, Perriman looks healthy, fast and more well-rounded. Last year, most of his catches came on deep throws or on shallow crossing routes. During OTAs this week, Perriman has been making fingertip catches, deftly getting both feet in bounds along the sidelines and pulling in contested over-the-shoulder throws.
"Nobody I think is having a better camp than him so far," Pitta said. "He is making big plays everywhere, catching everything thrown his way."
For Perriman, it has been a new number and a new attitude. He switched to No. 11 because he did "big things" with that number at Central Florida, although that really hasn't been the biggest change.
Perriman has worked hard on improving his route-running and gaining Flacco's trust. He's also not thinking about his knees, which has allowed him to put all of his focus on the field.
"My concentration level is at a pretty high level right now," Perriman said.
Harbaugh pointed out that Perriman has stood out beyond the three days of practice. He has caught the attention of teammates and coaches for the five weeks of offseason conditioning.
While there is a learning curve with Perriman, few can match his combination of size (6-foot-2, 215 pounds) and speed.
"He eats up a lot of ground, and he is running routes very well, and he is catching the ball very well," Harbaugh said. "But we have to keep building -- keep stacking."
The asterisk with Perriman is he's performing well during non-contact practices in the spring. The next step is to do this in the summer, when the pads come on.
But what Perriman has done is lay a foundation that he can consistently produce at this level. He has yet to produce more than three catches or 64 receiving yards in a game.
Wallace, though, believes in Perriman because he knows the type of player he is, the work he has put in and the skill set he has.
"You can tell it's night and day with the confidence level," Wallace said. "I know exactly how he's going to play. I'm the most confident person in him in the whole world."