October, 17, 2017
Oct 17
7:25
AM ET
CINCINNATI -- Bengals quarterback Andy Dalton said he had to somewhere to be on Monday morning when approached by reporters. Several players said they would talk later in the week. Many of the other players made themselves scarce during the open locker room period.
It's Steelers week in Cincinnati.
If the team is more tense than usual, there's good reason for it. Though the players were full of confidence after two straight wins before the bye, there's now a new sense of urgency. Beat the Steelers, and the Bengals are back to .500 with a shot at the AFC North title. Lose, and they would fall further behind in the divisional race and maintain a streak of losing records that dates to Week 1 of the 2016 season.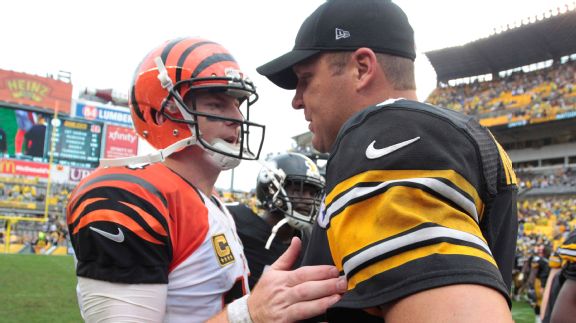 Charles LeClaire/USA TODAY SportsAndy Dalton and the Bengals have a chance to tighten the AFC North race Sunday with a win in Pittsburgh.
The Bengals need to finish what they couldn't last season. About this time last season, the Bengals were 2-3 with an opportunity to get out of the losing column against the Cowboys. Instead, they lost 28-14 and never quite recovered, falling to 2-4 before ultimately finishing 6-9-1.
The Bengals have preached being "closers" all season, with defensive coordinator Paul Guenther even playing "Closing Time" prior to the team's win against the Bills to emphasize his point. Now they need to close out a game against a division rival that they have not beaten since the 2015 season.
The Steelers (4-2) are in first place in the division and the Bengals sit in third. The Bengals can't get to first place with a win, but they can gain some ground this week. With a three-game road stretch coming up against the Jaguars (3-3), Titans (3-3) and Broncos (3-2), the Bengals have a difficult back half of the schedule and need all the momentum they can get.
A win would also go a long way to proving the Bengals' recent turnaround is more than a fluke. They built up some nice momentum with two wins before the bye, but it will mean little if they can't clear the Pittsburgh hurdle this season. The Bengals are 8-20, including playoffs, against the Steelers in the Marvin Lewis era.
This is where the Bengals are going to have to expect more out of their offense. The Bengals defense (No. 2 in points allowed, No. 2 in yards allowed, No. 2 in passing yards allowed) has carried them so far, but the Steelers' defense is nearly as good statistically. The Steelers have the No. 1 ranked passing defense and rank No. 3 in yards allowed and No. 4 in average points allowed.
However, the Steelers have shown their run defense (No. 23 overall), can be exploited. In their two losses this season -- against the Jaguars and Bears-- those teams rushed for a combined 453 yards, courtesy of young running backs Jordan Howard and Leonard Fournette.
The Bengals need to do what they couldn't do in their last trip to Pittsburgh-- figure out how to run the ball effectively. In that last game, which came in Week 2 of the 2016 season, they rushed for only 46 yards in a loss. Since then, they've added rookie running back Joe Mixon, but the run game still hasn't gotten off the ground.
Getting Mixon going again might be one of the keys to figuring out how to get past Pittsburgh this season. Mixon finally scored the Bengals' first rushing touchdown of the season against the Bills, and they'll need to build off that. Bengals offensive coordinator Bill Lazor said last week that it's a start.
"I think right now they believe they can be good," Lazor said. "And I think that's a starting point. I think they believe in each other and maybe some of it has to do with what we're doing or calling but I think more of it is, if they believe they can make it work, then that helps me not make as many bad calls. I think on the sideline it feels to me that they believe. I didn't see anybody flinch."