September, 22, 2017
Sep 22
12:10
PM ET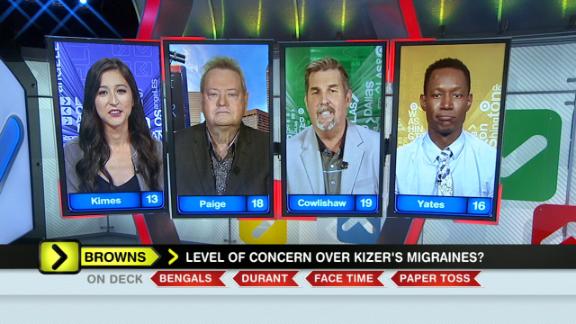 BEREA, Ohio -- Hue Jackson offered passionate support of rookie quarterback DeShone Kizer this week, saying his belief in Kizer has not wavered.
His position wasn't surprising; that he felt the need to express it just two games into the season was a mild surprise. Jackson even used the two words that have been so perplexing to the Browns the past several years.
"We want this guy to be our franchise quarterback," Jackson said. "I stand behind this guy wholeheartedly."
Kizer had a rough second game in Baltimore with three interceptions, one lost fumble and one quarter missed due to a migraine. But Jackson said Kizer accepted responsibility for his errors and is ready to go against the Colts on Sunday.
"He gets it," Jackson said.
Jackson brought up several factors affecting Kizer, including an offensive line that did not play together in the preseason due to injury (mainly to guard Joel Bitonio) and rest given Joe Thomas, the addition of new receivers, and his age and inexperience.
The lack-of-cohesion argument is interesting. The Browns for years have limited their starters' play in preseason, then lamented them not being ready when the season comes. The team controls who plays in the preseason, and year after year the Browns give more snaps to players who will not be on the roster than those who will. Coaches are loathe to risk losing a starter to injury, but a losing team can't cry about the decisions it makes that slow cohesiveness when it doesn't build it in preseason.
As for Kizer, Jackson simply said what he's said all along -- that he's a young quarterback and the team will ride out his highs and lows.
"Let's be honest, let's think about where this young man has come from and what he is doing," Jackson said. "He is playing with a bunch of men. He's young. He's 21 years old. He is leading an organization that hasn't been what it needs to be. He's surrounded by a ton of guys who, we haven't won a ton of games, and he's trying to uplift everything. There is a lot of pressure.
"Let's just be honest, it is. He is trying to play at a peak level. He is trying to learn this offense, learn the language, adjust to some of the better defenses in the National Football League in the last two weeks, and then score points and throw the ball to guys that he hasn't thrown the ball to every day. That is hard.
"You can say what you want, that is hard. That is not an excuse. That is a fact."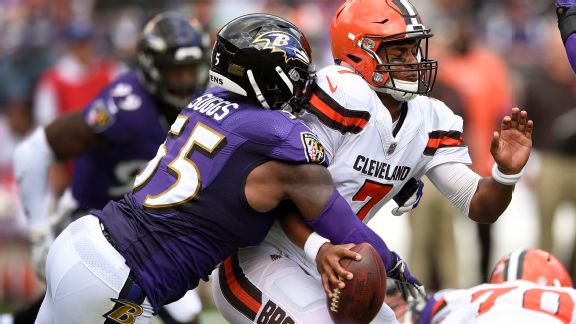 AP Photo/Nick Wass, FileRookie quarterback DeShone Kizer's growing pains are to be expected, said Browns coach Hue Jackson. "He's young. He's 21 years old. ... There is a lot of pressure," said Jackson.
Jackson pointed out that he never promised the Browns offense would be "a juggernaut" early in the season.
"This guy has played two games in the National Football League and we are already trying to compare what he does, or we act like he should be playing like Brett Favre or something. That is not going to happen," Jackson said.
His comments were interesting, because locally at least there has been a fair amount of patience and understanding with Kizer. He basically has played the way he was expected to play. He was good in a close loss to Pittsburgh and struggled in a loss to the Ravens. The Browns lost two games they were given little chance to win, and Kizer learned both weeks about getting rid of the ball and about playing on the road.
"I think this guy has what it takes," Jackson said. "He is growing every day. He grew even through the negative last week. It's not fun, but he is learning. He is learning that you guys are going to crucify him when things aren't going well and he understands you guys are going to praise him when things do go well. That is part of it. That is part of this process for him, and he has to go through it. Do I like going through it? No. But I also like having a quarterback that we all feel comfortable with that potentially could be the guy for years to come in this organization. That is what I think is important."
Asked if Kizer had been crucified this week, Jackson backed away, saying that was probably too strong.
"Sometimes when you have a good game, we start to build him up a little bit," Jackson said. "Then, all of a sudden, it's a high and here comes a low. He didn't play as well. All of a sudden, 'Uh oh. Is he this? Is he that?' This guy is still the same guy. Like many rookies, I can name many guys in this league who have thrown three interceptions in a game, four interceptions in a game, and came back the next week and played their tails off. That is going to happen. I don't like it. Nobody does. But hopefully he will keep growing from it and keep getting better."