Q&A: Dan Beebe on the Big 12's future
February, 10, 2011
2/10/11
3:00
PM ET
We're in transition on the Big 12 blog this week, saying goodbye to Nebraska and Colorado, but Big 12 commissioner Dan Beebe has been dealing with that transition since the decisions to leave were made in June.
I caught up with the commish this week and covered a wide range of topics about the Big 12's future, like a possible name change for the league, his thoughts on Texas' new television network, Texas A&M's future as a member of the Big 12 and the creation of a Big 12 television network.
David Ubben: The season's been over for awhile, and obviously there's basketball being played, but what have you been working on the past few weeks as it relates to the Big 12 and its future?
[+] Enlarge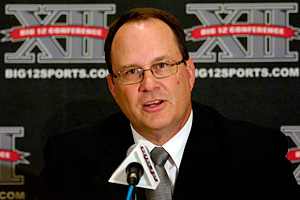 AP Photo/Cody DutyCommissioner Dan Beebe remains confident about the future of the Big 12.
Dan Beebe:
Well, we're preparing and we've been doing a lot of work preparing for our future negotiation for television [with Fox Sports later this spring]. It's going to be a very critical thing for us, and I'm on the men's basketball committee, so I've got games of basketball dancing through my head at all hours and all times, and we're also working with the branding company in Boston on what's our position, how we want to position ourselves moving forward with 10 members. So, all that should be aiming toward the spring meetings. That's kind of the launch point for all these things.
What about the conference name and logo? Anything definitive happening there?
DB:
We're looking at all that. By June, we want to have a decision on it. This group has done a great job of going around and gathering information from our people and trying to figure out what is our purpose and how we want to position ourselves going forward.
As far as branding the league moving forward, are there any changes that you feel like definitely will be coming?
DB:
Well, not at this point. Right now we're still studying all that. We have some direction, but we need to run it through our membership and see if it resonates with them first, before we do anything about it. But we're excited about the things that they've captured and the ideas that they have, and we just need to vet it with our membership and make sure it resonates there before we do
anything
publicly.
What ideas that they've presented do you feel strongly enough about that you'd want to push hard to the membership when you meet in June?
DB:
I want to look hard at the name change, but I think a lot of people feel like the name we have is one that banners have been won under and all that, so we'd have to look very hard at that, and we have a lot of equity in it. Really, I'm just open to what's discovered being the benefits that we have. I mean, obviously, we're going to be different than some of our peer conferences in terms of having complete round-robin play in football and double round-robin in basketball, and I think that's an exciting way to position ourselves going forward.
We're saying goodbye to Nebraska on the blog [today], but you personally, what will you miss most about Nebraska once they're gone?
DB:
Well, it's a class institution, and I've had many good relationships with the people there. Harvey Perlman, the chancellor there, was the chairman of the board of directors when I was hired as commissioner [in 2007]. He and I worked closely together. The fan base, even though we had a little rub in the fall, they're tremendous people, and have good values and I think they're going to -- of course, they've had a great football program. And their other programs have been very good. Women's basketball was obviously very, very good last year and in the past, a number of their sports -- wrestling, baseball, others -- have been good. So, it's a class institution and I'm sad to see them go.
What about Colorado?
DB:
The view from the football stadium [Laughs]. No, Colorado is a high-quality academic institution that's had a history of success and not so much recently, but I think they're good people there and we're all working [in] higher education. We'll all be a part of other activities together, in athletics or other components of higher education, so it's not like they're gone for good. Both institutions are quality institutions, so it'll be tough to see them go. But even with their departures, we're definitely excited about our future.
There's been so much said about the new Texas network, and the possibly forthcoming Oklahoma network, what do you feel like that does to the Big 12's long-term stability?
DB:
I think it makes it even more solid, because those are two things that are very important to those two institutions, and now, there's an ability for them and for others, to capitalize on third-tier rights that in the past, may have just been warehoused and not even used at all. So, there's value to those economically, and with the exposure to your fans and other people who care. With the convergence of the Internet and television, I think it's smart for institutions to have the ability to exploit those. And so, we have a different model than other conferences, where all those rights are granted to the conference and exploited through the conference or not used at all. I think we're going to see more and more of all our institutions have the ability to distribute games in some form or fashion, either Internet or television or some other medium.
When you say third-tier rights, what's contained within those?
DB:
The rights that the conference isn't selling. So, what we're going to do in future contracts is not have the ability for television networks to buy them all up and then warehouse them or just not use them. So that if you have a baseball game or a baseball series that television isn't going to pick up, you can do something with it. So, the first-tier usually is the broadcast rights, the ones that go to broadcast television. The second one is a lot of the cable rights, and the third tier are the ones that aren't being used that the institutions can capitalize on.
It seems like one of the fan bases that has been very outspoken against the new network is Texas A&M. What level of concern do you have right now that they could be the next realignment domino to fall?
DB:
I don't think that's a huge issue. The main thing is that there's going to be an adjustment. All institutions are looking at their personal possibilities, about what they can do with those rights. The major thing that's been discussed is whether or not high school content can go on an institution's network. That's the thing that's got to be clarified in the future. We'll get to that issue.
I totally agree that high school sports is a huge issue, but what's your stance on how those high school games should be treated moving forward?
DB:
Well, we have to look at it carefully, because if they can be, if it's allowed, we're going to have a situation where everybody is going to rush to get high school content on their distribution system, streaming on the web or whatever, even if it's with a third party, so that they can win favor with the high schools that have a lot of prospects. So I think it's just going to have to be carefully considered, but we haven't fully evaluated it, so it would be premature for me to indicate whether I think it's absolutely not feasible.
Texas and Oklahoma seem like they want to do their own thing, but where do you feel like the creation of a Big 12 network with the remaining eight teams stands right now?
DB:
Well, that's something they're going to have to decide. It wouldn't be a Big 12 network, per se, because it wouldn't have all the Big 12 schools, but for a third-tier platform for those institutions to look at where they can have games and have a partner that might look at or want to do a lot of the content, then that's a high possibility. We'll just have to see how that unfolds. All of this is pretty new, so I think some of the rules of the game are being formulated as we go.
Back on A&M for a second. Have you and [athletic director] Bill Byrne or [university president] Dr. [R. Bowen] Loftin had any conversations lately about Texas A&M's future in the league, or their concerns over this new Texas network?
DB:
They are solidly wanting the Big 12 and for the Big 12 to work. It's the best place for the institution. It provides for the best situation and the competition against programs they've long been associated with. I think that's their primary focus and aim. I recognize that there are some that are connected with the school that don't feel the same way, perhaps, but the majority feel that way, and a lot is going to be determined by our next television deal, which we think is going to put us in a favorable situation and everybody will feel a long-term connection to the conference.
You mentioned the significance of that television deal, but what's your message to the fans who do have concerns about the long-term stability of the league?
DB:
One thing is, they need to be very careful about what they read. Not by professionals like you, necessarily, but by some who are behaving like they're in the media and don't call and ask questions like you're doing now and just write based on what they think is going to happen and also have a shark and blood in the water mentality. There are a lot of people who write things that like to see a car wreck, and they like to see who is injured and they continue to write about the negative. That's not how things are being discussed inside the conference with the professionals who work at these institutions. I'd say have patience. It hasn't been that long since we went through our challenges in the summer, but things are progressing and they don't happen overnight and a lot of care and thoughtfulness has gone into setting up the future, both in the television deal and the branding and the scheduling of other things that will bind us together going forward.
You've said over and over that the Big 12 isn't looking to expand right now, but what kind of scenario could you see where that might change and you might explore expansion?
DB:
Right now, David, I think the only thing I see is if there is some big shakeup and we need to be actively seeking out other institutions so that we're in a more solid place. What I talk about with my colleagues is that the whole exploration this summer led everybody to believe that -- well, not everybody, because I think Larry Scott has a different view in the Pac-10 -- but the rest of us who have been around collegiate athletics for our whole careers think that if you get past 12, it really gets unwieldy and you run into all sorts of other problems. Playing outside your region, stretching the fan base, stretching parents' ability to see their kids play and all that stuff. Nobody is really looking to do more than that in a football athletic conference. You've got the Big East, but you can't really consider it the same with eight of their members not playing football.