Big Ten Q&A: Illinois' Ron Zook, Part I
March, 18, 2010
3/18/10
4:00
PM ET
Arguably no FBS head coach in the country wants to get back on the practice field more than Illinois' Ron Zook. Illinois underwent a major staff overhaul following a disappointing 3-9 performance in 2009, as Zook hired two new coordinators (Paul Petrino and Vic Koenning), fired four assistants, demoted two others, replaced two coaches and hired another (Ron West). After losing the momentum from the 2007 Rose Bowl run, Zook needs to get things back on track in 2010. His roster remains talented but includes question marks at quarterback, offensive line and secondary.
Illinois opens spring practice March 30, and Zook recently took some time to preview the spring.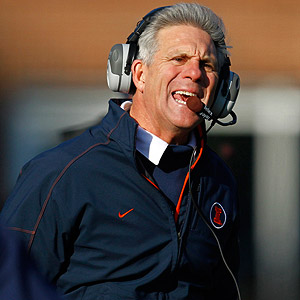 Mike DiNovo-US PRESSWIRECoach Ron Zook's Illini are adjusting to two new coordinators this offseason.
Is there a greater excitement than usual for spring ball after all the changes in the offseason and the struggles last year?
Ron Zook:
Yeah, there is. As a coach, you're always excited about spring ball because it gets you back on the field and you look forward to that. I wish we could start tomorrow. The enthusiasm around here, the energy, the players, it's an exciting time. I'm looking forward to seeing what happens.
Had you ever been through an offseason like this one before, with so many changes?
Zook:
Yeah. Any time you change jobs, it's the same kind of thing. But the good thing about this is it's almost like changing jobs, but you know everybody. You know what's going on, you know all the kids and what's going on with them and what buttons you have to push there. From that standpoint, it's neat because you know the deal.
You've had a chance to be around these new coaches for a bit of time now. What have you learned about them?
Zook:
I don't know if I've learned anything new, but it's a lot of fun. I told my wife, being around Paul, he's an offensive Ron Zook. Vic is a very, very thorough guy, reminds me of guys that I've coached with in the NFL. It's fun. We think alike in terms of where we're headed and the things we have to do. From that standpoint, it's been a breath of fresh air. It's been really fun.
Heading into the spring, players are going to have new coordinators on both sides of the ball, some new things being thrown at them. Do you have to manage expectations or does the bar have to be set really high right away?
Zook:
The expectations and the excitement is there. That's just how the coaches are. They bring it. To me, the biggest question is we have to try and get through spring and get everybody in the right place. It's a little bit different when you're putting in a new offense and a new defense, making sure you've got guys in the right place. The other thing you see is guys are starting all over. Everybody gets a clean slate and everybody gets an opportunity to prove themselves.
With the quarterback spot, it's always hard to lose a four-year starter [Juice Williams]. How do you look at that group going into the spring? How much attention will you devote to that spot?

Zook:
Everybody's paying attention to that because that's the one position that usually is going to dictate the success of your team in the long run. It's exciting. The fun thing about it is the competition is going to be intense. Everybody is starting on the same foot, that's the great thing. Everything's new, so no one's got an [edge], even though
Jacob Charest
, he's the one guy who's got some playing time.
Eddie McGee
as well, but Eddie has spent as much or more time at wide receiver as he has at quarterback. That will throw an added mix into it. Jacob and Eddie are the two that have playing time. Nathan [Scheelhaase] is a guy we've been very, very excited about and high on. And then Chandler Whitmer's come in, and I've been very, very impressed with the way he's handle things, the 6 a.m. drills, the way he's competing. Him and Nathan both are up here all the time, in the offices, by themselves watching tape, which is a good sign.
Paul mentioned the importance of building the offense around whoever emerges as the starter. How important is it to have some separation, maybe one or two guys, by the end of the spring?
Zook:
I don't think you can go in saying we want them to separate. You have to go in and see what it is. The great thing is [Petrino has] done it with a pure drop-back passer, he's done it with a mobile guy that can run around and make things happen. The thing you have to do at quarterback is do what they do. It was good when you had Juice and Eddie because the offense really didn't change.