Big Ten Q&A: Mark Dantonio, Part I
March, 23, 2010
3/23/10
4:00
PM ET
Spring practice is a welcome sight for the Spartans, who took their lumps both on and off the field in 2009. The residence hall mess is coming to a conclusion, as four players convicted of assault have been reinstated, while the status of another, wide receiver Fred Smith, remains unclear as his legal process continues. Michigan State returns 13 players with starting experience on both sides of the ball but must fill holes on both lines and improve the entire defense after a disappointing performance in 2009.
[+] Enlarge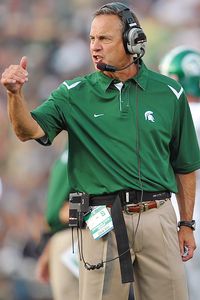 Matt Cashore/US PresswireCoach Mark Dantonio has had to guide his Spartans through some adversity.
Head coach Mark Dantonio took some time this week to talk about the off-field problems, the spring depth chart and the outlook for practice.
What has it been like the last few months there? How is the mood entering spring practice?
Mark Dantonio:
It's been good. Any time you go through adversity, you recollect yourself and you move forward. You move forward with a certain amount of resolve and strength, and that's what we've done. You look at our football season last year, we lost some close games. We were a very young football team, and we transition in that area to move forward. Obviously, we've had the off-the-field incident, but we've moved past that as a football team and we now need to focus on the task at hand. That will build strength. It teaches people lessons.
Was there any need to re-establish trust between you and the players and your staff, or even among the players themselves, after an incident like that?
MD:
It's a given that you trust your players as a coach. Sometimes you may be disappointed, but we continually talk about the aspect of honesty and trust, and we hope people are forthcoming. You have to have that. Players have to understand that you as a coach are committed to them and committed to their well-being as people, and they have to trust you. It doesn't mean it's easy. It doesn't mean there aren't consequences or there's not confrontation because this is the world we live in, but they have to trust that you're going to be fair with them, consistent, and that you have their best interest at heart and the team's best interest at heart when you make decisions.
Consequently, it's important on the other side that we trust our players and that they're going to do the very best they can, making the decisions they have to make socially, academically and athletically. You're going to fall down at times, and we have the same problems that society has in a lot of ways, and because we live in a fish bowl a little bit, there's going to be higher consequences, more public scrutiny and things of that nature. But you do always have to believe in your young people. That helps them grow, and that's what we'll do.
Do you lean on your leaders from last year more after what happened and as you get into spring practice, guys like Kirk [Cousins] and Greg [Jones]?
MD:
Certainly you lean on your leaders, and as a head coach, I continue to grow with every experience, and our players do the same. We need to continue to gain leadership. Last year,
Kirk Cousins
was a sophomore captain, sort of thrust into that position. He now feels more at ease with that position of being a leader on the team. Whether he's elected captain or not will be up to our players in the fall, and there are others we're pushing forward into that position of leadership.
Greg Jones
is doing a nice job.
We've always had what we call a Unity Council, but we've made this Unity Council a bigger tool to work with in our system and our team. We have had seminars on being a college football player at this level, whether it's talking about the situation [in November], or bringing in former players to talk about the value of education versus the NFL, or whether it's talking about law with a leading criminal justice professor. We tried to take an hour and a half every week for the past five weeks [excluding spring break] and work with our players in that area. And we'll continue to try to be proactive. That's what we have to do, and we'll continue to try and do those things.
So you would have a speaker come in every week?
MD:
Yes. We talked about the law, talked about our players' rights, talked about consequences. When you make a decision, it's not a quick fix, judiciously. Our players need to understand that. It's not over and done with when you do make a mistake. We all have to understand that. We're just trying to educate and be proactive, and I think it draws our team together. We've got other things in those meetings that served as exercises to try and benefit our group.
Getting to the personnel, how are you approaching the quarterback position going into the spring? Is it still an open situation there, or do you feel comfortable with Kirk?

MD:
Kirk Cousins has earned the opportunity to be our starter, with the number of plays that he played last year and the success that he's had.
Keith Nichol
is an outstanding athlete. He's played quarterback for us, and he should continue to be thought of in that light, somewhat. We need to be able to continue to work him there. But I also think that he can be an outstanding wide receiver, as proven in bowl practice. He's an outstanding athlete, big body, can run, quick change of direction, can jump, is tough, so he needs to get on the football field for us. And I also think that our quarterback situation with
Andrew Maxwell
, doing the things he did last fall as a redshirt freshman, and then Joe Boisture coming in as a true freshman, gives us the opportunity to move Keith to the wide receiver position.
When you have only two quarterbacks like we did last spring, you don't have that luxury. Now we have four, and we have the luxury to make that move and allow him to work out there 70-80 percent of the time, and then taking limited snaps inside, with the idea that he could always go back. He's a tremendous athlete, and I think he can be a fixture in our offense.
How has Keith handled the move so far?
MD:
He's very excited about. He was excited about it for the bowl game, and as coach [Don] Treadwell came in every day, coach Treadwell got more and more excited about the possibilities that Keith gave us because of his ability out there. With 15 practices in the spring and another 29 in the fall, he's going to be very valuable. With two years left, that's the position where he could become [a key contributor].
In Part II of the Q&A (Wednesday)
:
Dantonio talks defense, offensive line