Lucic's hit on Miller the turning point?
November, 12, 2011
11/12/11
11:46
PM ET
BOSTON -- Consider the
Bruins
-
Sabres
rivalry renewed.
With Buffalo leading 1-0 in the first period of the Bruins' 6-2 win over their Northeast Division and longtime Adams Division rivals, Bruins winger
Milan Lucic
sprung a puck loose behind the Buffalo defense and raced ahead in an attempt at a clean breakaway, but Sabres goalie
Ryan Miller
came out of the crease and poked the puck away before Lucic could catch up to it. Lucic kept going and barreled over the Sabres netminder, who, after falling to the ice, swung his stick at Lucic but missed. A scrum of Sabres players surrounded Lucic, but no fight ensued. Lucic went to the penalty box for two minutes on a charging call, but the Bruins seemed to gain a spark from the play and would go on to score three on Miller in third -- chasing him from the game -- and then three more on
Jhonas Enroth
in the third period.
[+] Enlarge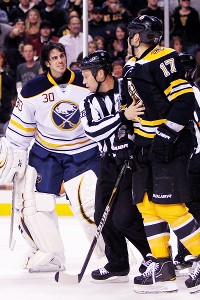 Greg M. Cooper/US PresswireSabres goalie Ryan Miller, left, was none too pleased with Milan Lucic after the Bruins winger charged him Saturday.
Following the game, there was no shortage of barbs from both teams' locker rooms, with Miller bluntly labeling Lucic with some choice terms.
"I'm not going to really get into that," Miller said when asked to describe the play. "I just stuck around because I just want to say what a piece of [expletive] I think Lucic is. Fifty pounds on me, and he runs me like that. It's unbelievable. Everyone in this city sees him as a big, tough, solid player. I respected him for how hard he played. That was gutless. Gutless piece of [expletive]."
Miller then promptly exited the Buffalo locker room. Coach Lindy Ruff also didn't hold back from expressing his feelings on the play, saying that Lucic deserved more than the two-minute minor.
"I thought it was a major," Ruff said. "I thought if it's open season on the goalies, then let's get at it."
Over in the Bruins' locker room, Lucic was asked how the play unraveled.
"Well, I blocked a shot, and it's a race for a puck, and I mean I just put my head down and tried to get to it first," said Lucic, who added later he was unaware Miller swung his stick at him. "And next thing I looked up, he was out of his net and it was a collision. So I mean obviously going into a situation like that I'm going to brace myself. And I was going full speed so it was pretty hard for me to put on the brakes. So that's basically it."
Lucic admitted he was a bit surprised that there wasn't a stronger response from the Sabres, who did some pushing and shoving as well as plenty of yapping but never seemed to fully defend their goalie or seek justice for Miller. Lucic said the Bruins would've handled things differently.
"Definitely," Lucic said when asked if the Bruins would've done more to an opposing player had he hit
Tim Thomas
or
Tuukka Rask
the way Lucic hit Miller. "You know, we wouldn't accept anything like that. We would have taken care of business. But we're a different team than they are."
The Bruins are the type of team that feeds off big hits and emotions, and Lucic agreed his penalty seemed to be a turning point in the game.
"Yeah, I think so," Lucic said when asked if the Bruins picked their game up after the hit. "The crowd got into it, you know, everyone was cheering pretty loud after that. So it was good to see all the guys step up and get into it. I thought they did a good job, especially at the start of the game, kind of clogging us up and clogging up that neutral zone. But you know, we found a way, and it was a good game by us."