August, 22, 2017
Aug 22
11:13
PM ET
LeBron James knows how fans can react negatively to a star player leaving town, having experienced it firsthand as he left Cleveland in 2010 then Miami in 2014. So when Kyrie Irving was traded to the Boston Celtics on Tuesday, the four-time MVP piggybacked on one fan's positive message to share some kind words and urge Cleveland Cavaliers fans to do the same.
In the aftermath of James's departure from Cleveland after "The Decision" in 2010, images of fans burning his jersey circulated on social media, and the same happened -- to a much lesser extent -- when he left Miami to return to Cleveland four years later.
Irving, whose trade request became public last month, spent six years with the Cavaliers, playing the past three alongside James, with the team reaching the NBA Finals each of those three seasons. Irving famously made the go-ahead 3-pointer in the final minute of Game 7 of the 2016 Finals to lead the Cavaliers to their first NBA title, ending a 52-year championship drought in Cleveland.
Irving will return to Cleveland as a member of the Celtics on the first night of the NBA season, Oct. 17.
August, 22, 2017
Aug 22
9:16
PM ET
By
ESPN Stats & Information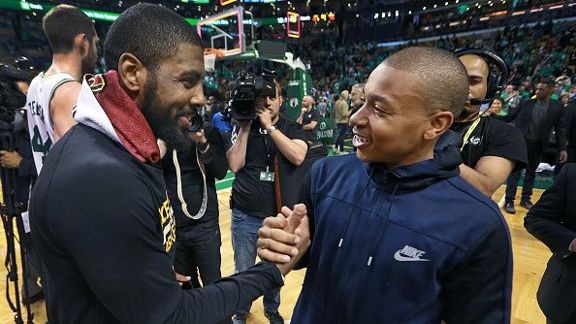 Jim Davis/The Boston Globe via Getty ImagesAfter facing off in the Eastern Conference Finals, Kyrie Irving and Isaiah Thomas were dealt for one another.
After meeting in last season's Eastern Conference finals, the Cleveland Cavaliers and Boston Celtics reportedly agreed to swap their starting point guards, Kyrie Irving and Isaiah Thomas. As part of the deal, the Cavaliers receive Thomas, Jae Crowder, Ante Zizic and the Brooklyn Nets' first-round pick in the 2018 NBA draft.
The deal
The core of the trade is the swap of Thomas and Irving, both members of last season's Eastern Conference All-Star team. Both players averaged at least 25 points per game last season, with Thomas (28.9 PPG) finishing third in the league in scoring and Irving (25.2) finishing 11th. The Elias Sports Bureau notes that this is the first time in NBA history a pair of 25 point per game scorers were traded for each other the following season.
Thomas and Irving were the two highest-scoring point guards in the Eastern Conference last season. Thomas has been on the upswing, increasing his scoring in each of his two full seasons with the Celtics, scoring 22.2 PPG in 2015-16 and then 28.9 PPG in 2016-17.
While both excel at scoring, neither is good at defending. Thomas ranked dead last out of 80 point guards in ESPN's Defensive Real Plus-Minus and 467th out of 468 players overall last season, ahead of only Doug McDermott. Irving wasn't much better at 69th among the 80 PGs.
What it means for Irving and the Celtics
The deal ultimately allows Irving to be the centerpiece of an offense for the first time since LeBron James returned to Cleveland prior to the 2014-15 season. Elias notes that last season, Irving was the first player in NBA history to average 25.0 PPG and 5.0 APG and not lead his team in either category. James led the Cavs in both.
Irving is coming off a season in which he averaged a career-high 25.2 PPG and also posted a career-high 47.3 FG pct.
Irving also gives the Celtics a bona fide superstar. In fact, Irving is the fourth player since the merger to be taken first overall and average 20.0 PPG and 5.0 APG through his first six seasons, joining Derrick Rose, LeBron and Allen Iverson.
Irving will now combine with new teammate Gordon Hayward in Boston. Like Irving, Hayward was also a 20-point per game scorer last season, averaging 21.9 PPG with the Jazz. If the duo can both reach 20.0 PPG, it will be the first time the Celtics have a pair of 20 PPG scorers since Paul Pierce and Antoine Walker in the 2002-03 season.
What it means for Thomas and the Cavs
First and foremost, the deal means the end of the Irving-James pairing in Cleveland. Over the past three seasons, the two each scored at least 30 points in a game 18 times, nearly twice as often as any other duo in the NBA in that span.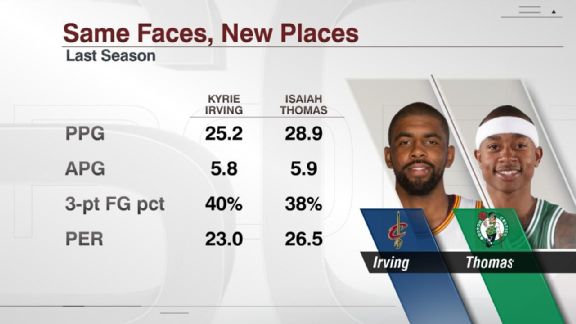 ESPN Stats & Information


Last season, Irving and Thomas were similar players, as noted in the graphic above.
The closeness of the two in performance could play out well for the Cavs. For the upcoming season, Irving is slated to make $18.9 million. The duo of Thomas ($6.3 million) and Crowder ($6.8 million) will make just $13.1 million this season.
The deal could put the Cavs in a better spot to keep LeBron in Cleveland long-term by getting Brooklyn's 2018 first-rounder and Ante Zizic in the deal. With Marvin Bagley III's reclassification to the 2017 recruiting class, he and Michael Porter Jr. could be the top-two players in the 2018 draft. If the Cavaliers do get the No. 1 pick, it would be the fourth time in eight years Cleveland held the top pick in the draft.
It won't take long for Irving and Thomas to face each other with their new teams. The first game of the NBA season is Celtics at Cavaliers, October 17 at 8 p.m. ET on TNT. The teams will play three times this season -- and that is the only time that the Celtics visit Cleveland in the regular season.
August, 22, 2017
Aug 22
6:37
PM ET
August, 22, 2017
Aug 22
8:26
PM ET
One day after the total solar eclipse swept the nation, news of an epic NBA trade did the same: Kyrie Irving is headed to the Boston Celtics, and Isaiah Thomas (along with Jae Crowder, Ante Zizic and the rights to the Brooklyn Nets' 2018 unprotected first-round draft pick) is headed to the Cleveland Cavaliers.
It didn't take long for players from around the league to react on Twitter.
Back in 2010, Thomas was a harsh critic of new teammate LeBron James. Thomas will have to put old feelings to bed now that he's headed to The Land.
Perhaps one word best describes everyone's feelings about this news: "Wow."
The NBA 2K franchise had another way of putting it.
Irving is on the cover "NBA 2K18." Looks like the makers of the video game were just as unable to foresee this trade as the rest of the league and its fans.
--Meaghan Latella
August, 22, 2017
Aug 22
8:23
PM ET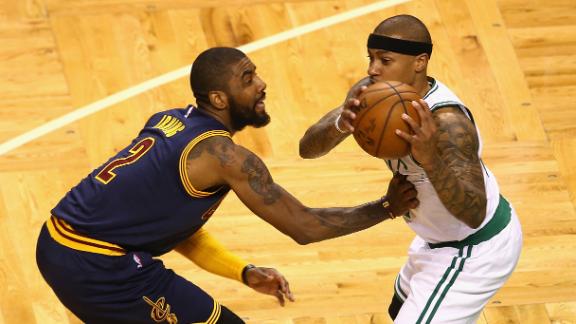 The rumors have officially been confirmed: Kyrie Irving has been traded to the Boston Celtics for Isaiah Thomas, Jae Crowder, Ante Zizic and a Nets 2018 pick.
Let's allow that to sink in.
If you're not already hyped, the Cleveland Cavaliers and Celtics are playing opening night, too.
If you're still with us and your brain hasn't imploded from this new information, we have some burning questions, and we'd love to hear your answers.
When you break down the deal, we're looking at point guard for point guard and then some -- and a lot of "some," for that matter. Considering that in the past Thomas has been thought of as one of the league's elite point guards alongside Irving, you might have some questions as to how this deal makes sense.
Here are the facts:
Irving averaged 25.2 points per game last season, with 3.2 rebounds and 5.8 assists. On top of that, the Cavs PG was shooting 40.1% from the 3-point line. Thomas averaged 28.9 points per game with 5.9 assists and 2.7 rebounds. Thomas was shooting 37.9 % from 3.
According to ESPN Stats & Info, no pair of 25 points-per-game scorers had ever been swapped the following season, which makes Irving and Thomas the first duo in NBA history.
August, 22, 2017
Aug 22
8:19
PM ET
August, 22, 2017
Aug 22
6:24
PM ET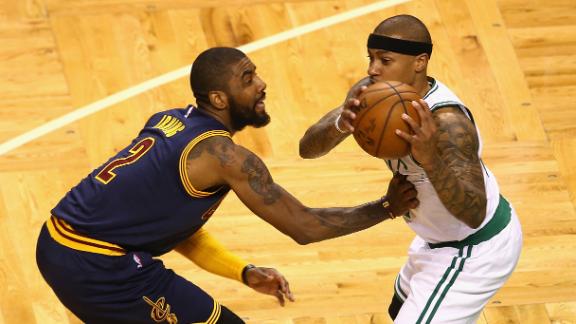 The Boston Celtics have acquired All-Star point guard Kyrie Irving from the Cleveland Cavaliers for point guard Isaiah Thomas, forward Jae Crowder, center Ante Zizic and Brooklyn's 2018 unprotected first-round pick, the team announced Tuesday night.
Irving, 25, requested a trade during a July meeting with Cavaliers owner Dan Gilbert. At the time, Irving said he wanted to play in a situation in which he could be more of a focal point and that he no longer wanted to play alongside LeBron James, sources said.
Tuesday night, in response to a fan's video on Twitter thanking Irving, James tweeted:
Celtics president of basketball operations Danny Ainge noted the bittersweet nature of Tuesday's trade.
"This has obviously been a roller coaster of a day for us, trading away Isaiah and Jae and Ante, especially Isaiah and Jae, who have been such a big part of our team and our success and our Celtic culture as leaders of our team. Very, very difficult day," Ainge said. "At the same time, a very exciting time [to add] one of the best offensive players in the league."
Ainge said that it was a very tough phone call to inform Thomas, who had emerged as the face of the franchise since arriving at the trade deadline in February 2015.
August, 22, 2017
Aug 22
11:00
AM ET
Brian Babineau/NBAE via Getty ImagesBoston Celtics point guard Isaiah Thomas will have a checkup ahead of training camp to make sure his right hip is healing properly.
Boston Celtics guard Isaiah Thomas has spent the offseason recovering from a right hip injury, which knocked him out of the 2017 NBA playoffs. The Celtics believe Thomas will fully recover from the injury, and the six-year NBA veteran will undergo more tests a few weeks before training camp opens in late September to make sure the injury is healing properly, according to Comcast SportsNet New England.
Until Thomas is cleared for all basketball-related activities, Celtics management and the coaching staff will continue to support their starting point guard and not rush his return.
"We want what's best for Isaiah," Celtics head coach Brad Stevens told The Vertical Podcast with Chris Mannix. "We want to make sure that when he is ready to roll, which hopefully is sooner rather than later, that he is ready to roll at his highest level and for the longest possible time, obviously, right? So that's a lot more important to me than anything else."
The upcoming season is extremely important to Thomas because his contract expires at the end of June, which will make him a free agent on July 1, 2018. Thomas believes he's worthy of a massive contract, and a productive 2017-18 season may help him meet that goal. There has been some speculation that the Celtics could look to trade Thomas at some point, as they likely won't match his evaluation next year.
-- Nick Silva
August, 18, 2017
Aug 18
7:14
PM ET
Nathaniel S. Butler/NBAE/Getty ImagesPaul Pierce will join other Celtics greats in the rafters, having built a strong résumé after great battles with LeBron James.
One month after the Boston Celtics defeated the Los Angeles Lakers in June 2008 to claim their 17th NBA title, members of the Celtics huddled in TD Garden to view a DVD celebrating their championship season.
The footage playing on the TVs in the arena's Legends bar was merely background noise for most players as they mingled with invited guests. In a quiet moment away from the masses, Celtics captain Paul Pierce watched intently as slow-motion highlights of his duel with LeBron James in the Eastern Conference semifinals played on a monitor.
Pierce marveled at the physicality and acknowledged the difficulty of stopping James. The Pierce-James rivalry was reaching full bloom, with a proper balance of mutual respect and an acknowledgment that both players were chasing the same prize.
On Feb. 11, the Celtics will retire Pierce's No. 34 after a Sunday showdown with James and the Cavaliers. That Boston chose this particular opponent is not likely a coincidence.
Much like a decade ago, the Celtics and Cavaliers find themselves battling for East supremacy. Pierce, who signed a one-day contract with Boston this summer to retire with the team, would love nothing more than for the Celtics to open his retirement celebration by topping a chief rival.
Pierce's No. 34 will be the 22nd number retired by the Celtics, and the first since Cedric Maxwell's No. 31 went to the rafters in 2003.
While we wait for Pierce's big night, here's a look back at some of his most memorable games against the Cavaliers, starting with perhaps the most epic battle with James:
May 18, 2008 -- Game 7, East semifinals: No team provided as much resistance during Boston's title run as the Cavaliers. During the deciding Game 7, James went off for 45 points, but Pierce responded with 41. That included an absurd game-sealing, back-rim bouncing free throw with 7.9 seconds left that Pierce attributed to the "ghost of Red [Auerbach]." Said James after the series, "I love going against the best, and Paul Pierce is one of those guys."
Dec. 13, 2003: In only the second regular-season meeting between Pierce and James, the Cavaliers' rookie produced his then-season-high, 37 points. Pierce, with five seasons and two All-Star appearances on his NBA résumé, countered with 41 points in Boston's 105-98 triumph. More noteworthy: Pierce got into a trash-talking war with Otis Carter, the father of longtime LeBron friend Maverick Carter. As ESPN's Brian Windhorst wrote in 2012, "[Pierce] told James late in the game he needed to tell Carter to be quiet or he'd go for 50 points."
Feb. 16, 2006: On a night when Pierce produced the Celtics' first 50-point game in more than 16 years, James spoiled the moment with a loud triple-double (43 points, 12 rebounds, 11 assists) as the Cavaliers stole a 113-109 double-overtime win at TD Garden. The rest of Boston's starting five was: Ryan Gomes, Raef LaFrentz, Wally Szczerbiak and Delonte West. No other Boston player had more than 17 points, and the Celtics' bench chipped in just seven points overall, highlighting just how much of a load Pierce had to shoulder in the pre-Big Three era.
Dec. 19, 2012: Pierce, then 35, became the oldest player in Celtics history to score 40 points in a regulation game, producing one of the most efficient games of his career months after James took his talents to South Beach. Pierce scored his 40 points on 13-of-16 shooting in just 34 minutes. He added eight rebounds, five assists and three steals while finishing plus-29 in a 103-91 triumph. After his big game, Pierce said, "Maybe I can play a little bit longer than anticipated, who knows?" The Celtics traded him (and others) to the Nets in a blockbuster deal in June 2013, and Pierce played four more NBA seasons.
May 13, 2010 -- Game 6, East semifinals: While Pierce will long be remembered for his scoring exploits, during Boston's march to the 2010 NBA Finals, it might have been his defense that helped the Celtics top the Cavaliers in the East semifinals. Boston's series victory might have also contributed to James bolting from Cleveland and forming his own title-chasing trio in Miami. In the deciding Game 6, James scored 27 points as part of a triple-double that included 19 rebounds and 10 assists. Still, James shot just 8-of-21 and finished minus-5 in plus/minus over 46 minutes. Pierce had a quiet 13 points but was plus-18 in 29 minutes as the Celtics advanced.
August, 18, 2017
Aug 18
1:29
PM ET
Yes, the NBA season is over, but social media never sleeps, especially in the basketball world. The NBA's best are always on top of their social media handles.
On Friday, the National Basketball Players Association released its Players Voice Awards -- on Twitter, of course -- and the awards included "best social media follow" and "best dressed."
Philadelphia 76ers center Joel Embiid won the social media award after his yearlong #TrustTheProcess campaign, while Oklahoma City Thunder star Russell Westbrook was voted the NBA's best-dressed player by his peers.
Did the players get it right? What about Kevin Durant? His Twitter account is a must-follow, too. James Harden and the beard always bring a new look to the arena each night. Is Westbrook really the NBA's best-dressed?
Cast your votes!
Here is the entire list of Players Voice Award winners.
-- Isaac Chipps
August, 6, 2017
Aug 6
6:06
PM ET
David Butler II/USA TODAY SportsIsaiah Thomas expects to be recovered from his hip injury in time for training camp.
After Isaiah Thomas went down with a recurring hip injury in the Boston Celtics' Eastern Conference Finals series against the Cleveland Cavaliers, many feared it would roll over into next season for the All-Star guard, but it appears that will not be the case.
Thomas spoke to Stephen Hewitt of the Boston Herald and said that he will be ready in time for training camp.
"The hip is great," Thomas told Hewitt at his basketball camp. "It's a real slow rehab process, but it's getting better and that's what it's all about."
The injury, described as a re-aggravation of a right femoral-acetabular impingement with labral tear" affected Thomas' hip and it was unclear if he would need surgery. However, it appears that not only has the point guard avoided going under the knife, but he won't be forced to miss any time.
Thomas made his second consecutive All-Star team in 2016-17 and earned a spot on the All-NBA second team after averaging 28.9 points and 5.9 assists per game.
--Sam Henken