October, 18, 2017
Oct 18
10:16
PM ET
Associated Press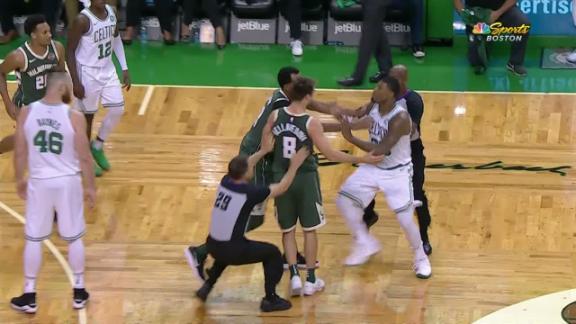 BOSTON -- Giannis Antetokounmpo scored 16 of his 37 points in the fourth quarter, and the Milwaukee Bucks opened their season with a 108-100 victory over Boston on Wednesday night to spoil the homecoming of a Celtics team coming off a late and emotional season opener.
One night after a gruesome broken ankle just six minutes into the season cost Boston top free agent Gordon Hayward -- perhaps for the entire season -- the Celtics fell to 0-2 by giving up an 11-1 run that left Milwaukee with a 97-90 lead and under three minutes to play.
Antetokounmpo added 13 rebounds, Rookie of the Year Malcolm Brogdon scored 19 points and Khris Middleton had 15 points and nine rebounds for the Bucks. Matthew Dellavedova scored 15 points, hitting a 3-pointer with 45 seconds left after the Celtics cut the lead to two points.
Kyrie Irving scored 17 points on 7-for-25 shooting in his Boston debut, and Jaylen Brown had 18 for the Celtics.
It was a subdued home opener for the Celtics, who underwent a near-complete overhaul over the summer even after earning the No. 1 seed in the Eastern Conference last season. Although Irving and No. 3 draft pick Jayson Tatum appeared in a Celtics home uniform for the first time, Hayward was left to wish them well in a pregame video from his hospital bed.