March, 22, 2018
Mar 22
11:10
AM ET
Evansville has hired Boston Celtics assistant and former Kentucky standout Walter McCarty as its new coach.
McCarty, 44, is an Evansville native who has been on Brad Stevens' staff since 2013. McCarty played at Kentucky from 1993 to 1996 and then spent a decade playing in the NBA -- primarily with the Celtics.
McCarty was an assistant for his former college coach, Rick Pitino, from 2007 to 2011 at Louisville before taking a job on the Indiana Pacers staff.
McCarty will replace Marty Simmons -- who was let go earlier this month after 11 seasons with the Aces. Simmons was 184-175 overall and 82-116 in Missouri Valley Conference play.
March, 21, 2018
Mar 21
1:06
AM ET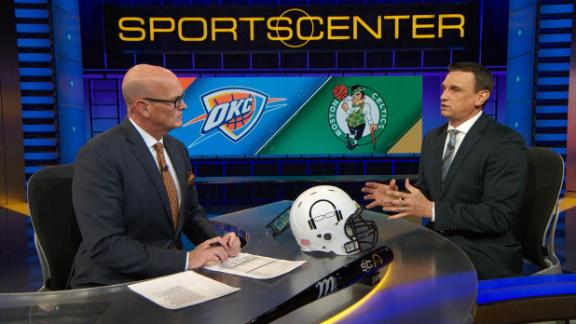 BOSTON -- Oklahoma City Thunder forward Paul George, who has lent support from afar throughout Gordon Hayward's recovery from a gruesome opening-night ankle injury, said he's excited by Hayward's progress and believes the Celtics forward is at the point where he no longer needs George's guidance.
George, who returned from his own horrific leg injury late in the 2014-15 season, has been a guide of sorts during Hayward's recovery. The two had communicated often as Hayward navigated the early stages of his recuperation.
"I've been in touch with him, texting and kind of been watching him from afar, how he's been progressing," said George after the Thunder's 100-99 loss to the Celtics on Tuesday night. "Early on, I was around him more so, sending him messages and talking to him. At this point, it looks like he's doing really well, just watching him on the court. Now he's shooting, doing a little bit on-court stuff.
"The biggest thing was just letting him know what obstacles he was going to have to face with that injury. I think it helped a bit, just helping him and giving him a heads-up of what to expect. But again, he's doing a lot better. I think at this point, he don't need me to give him encouraging words. He knows I've got his back."
Celtics coach Brad Stevens suggested earlier this month that Hayward will not play this season, but Hayward himself has left the door open for a possible return. Hayward is hopeful to soon begin running on his own body weight, and he has begun doing small jumps during his shooting drills.
March, 21, 2018
Mar 21
12:22
AM ET
March, 20, 2018
Mar 20
10:59
PM ET
Associated Press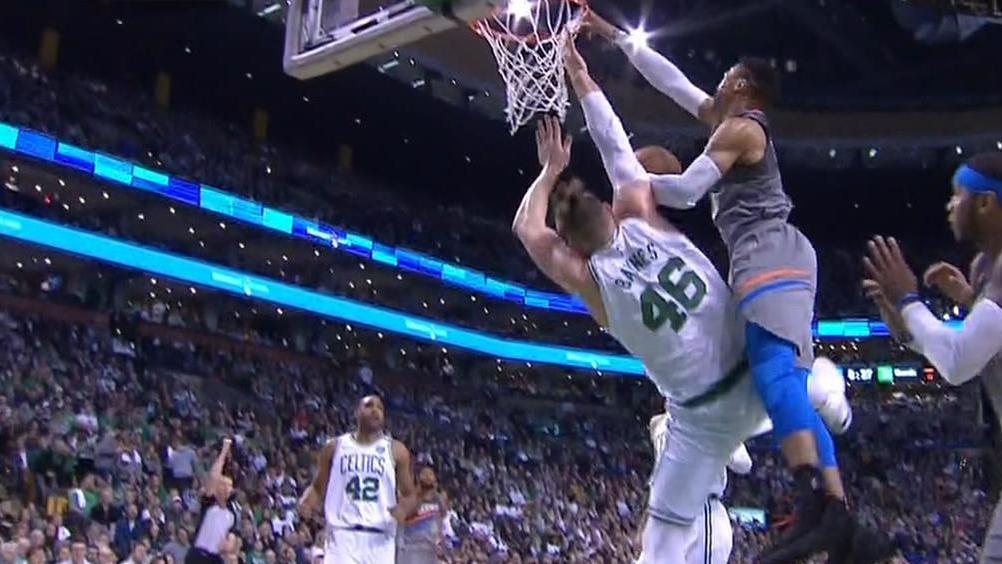 BOSTON -- Marcus Morris made a 3-pointer with 1.2 seconds left and the Boston Celtics stunned the Oklahoma City Thunder 100-99 on Tuesday night.
Jayson Tatum led the Celtics with 23 points and 11 rebounds. Morris added 21 points as Boston snapped the Thunder's six-game win streak.
Russell Westbrook finished with 27 points, eight rebounds and seven assists for Oklahoma City, which fell apart in the closing minute.
Boston took an 82-81 lead in the fourth quarter on a 3-pointer by Shane Larkin, who finished with 17 points off the bench.
The Thunder missed 15 of their first 21 3-point attempts before making four straight to go back in front 93-89.
Boston closed to 99-97 on a 3 by Terry Rozier, and quickly fouled Carmelo Anthony with 7.7 seconds remaining. Anthony missed both attempts and the Celtics gathered the rebound.
Out of the timeout, Tatum dribbled across the lane and found Morris on the wing for the go-ahead 3.
Westbrook was able to get off a long 3-pointer on the Thunder's final possession, but it came up short at the buzzer.