Jenks, AGon score firsts. Pedey? The usual
April, 22, 2011
4/22/11
7:44
AM ET
ANAHEIM, Calif. -- A couple of Red Sox newcomers scored notable firsts in Thursday night's 4-2, 11-inning win over the
Los Angeles Angels
of Anaheim. Reliever
Bobby Jenks
, who pitched a 1-2-3 10th inning, was credited with his first win in a Red Sox uniform, while first baseman
Adrian Gonzalez
delivered his first game-winning hit, an RBI double that broke a 2-2 tie on a night the Sox squandered multiple scoring opportunities.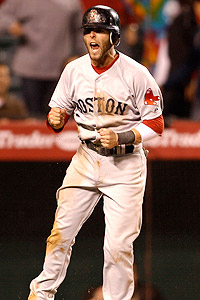 AP Photo/Lori SheplerDustin Pedroia did it all Thursday night, excelling at the plate (on base five times), in the field (throwing out Erick Aybar in the eighth) and on the basepaths (scored insurance run on a heads-up play).
But it was the play of an old reliable, second baseman
Dustin Pedroia
, that upstaged everyone else, including starting pitcher
Josh Beckett
, who took a no-hitter into the sixth and a shutout into the seventh but could do no better than a no-decision.
Pedroia was on base five times with three singles and two walks, despite jamming his surgically repaired left foot into second base while stealing in the third inning. He made the defensive play of the night, his perfect relay arriving just in time to nab
Erick Aybar
trying to stretch a double into a triple to open the eighth. He also danced his way out of a rundown between third and home in the 11th, then double-dared the Angels to catch him again, his hand snaking into the plate just ahead of the throw on Jed Lowrie's sacrifice fly.
"Pedey just wills himself," manager Terry Francona said of his little buddy. "I've said this about [Derek] Jeter. The Yankees want him to have something to do with the outcome of the game. That's how we feel about Pedey. Whether it's offensively, defensively, he's a great player. But you see the best of him when the game is close and on the line."
That's why it was such an anxiety-inducing moment in the third inning when Pedroia came up hobbling after his left foot drove hard into the bag as he slid through shortstop Erick Aybar. The Red Sox already had lost
Kevin Youkilis
with a bruised left shin after he fouled a ball off the shin during a first-inning at-bat, and Francona and trainer Mike Reinold made their way quickly to Pedroia.
He not only remained in the game -- nothing short of an on-field amputation would have persuaded him to leave -- but created havoc the rest of the night.
"I kind of landed weird,'' Pedroia said. "I kind of got a stinger in my whole leg. It was kind of nice that Tito and Mikey came out there and gave me a minute to get the feeling back in my foot and stuff.''
Was he concerned that there might have been worse damage?
"Not really,'' he said. "The worst already happened I already broke my foot. [But] I don't play scared or anything. I'm going. I don't really care.''
Aybar was straddling the bag to the inside of the baseline, leaving Pedroia to have to navigate a path until the infielder. Pedroia said he was trying to ignore colliding with Aybar's, um, belt.
"I'm short,'' he said. "If I could run under him, I would, but I couldn't.''
Aybar's decision in the eighth to try to take an extra base was especially foolhardy since the next batter,
Peter Bourjos
, is an excellent bunter. But it did not come as a surprise to Pedroia, the Sox second baseman said, because the Angels tend to be very aggressive on the bases.
" I know the rule is never make the first out at third, but the guy's got great speed and it took a perfect play to get him, so it worked out in our favor,'' Pedroia said.
The time he put practicing relays in spring training was rewarded.
"That's why in spring training, man, I don't screw around with that,'' he said. "I always try to get my legs underneath me, and I don't ever go 50 percent in those drills. It's going to come down to three or four games a year that if we make a good throw, we win. This was one of those games, so practice pays off.''
While it may have looked like Pedroia made a base-running mistake of his own when he broke for the plate on Darnell McDonald's sharply hit ball to third baseman
Maicer Izturis
with runners at first and third, it was actually part of the plan.
"In that situation, you want them to try and get you out because you want to stay out of the double play and keep the inning going,'' Pedroia said. "I was kind of surprised he didn't turn throw to second because the ball was hit so hard.
"Actually when he came at me, I was kind of surrendering. If he threw the ball early I was going to run back. I got by him. I don't know. I was kind of lucky.''
How did he manage to avoid the tag?
"Shoot, I don't even remember,'' Pedroia said. "I was just happy to be safe. I had a lot of stuff going on.''