Rapid reaction: Red Sox 5, Angels 0
April, 23, 2011
4/23/11
11:47
PM ET
ANAHEIM, Calif. -- Give it a few more days, and many of the 42 of 45 experts from the Worldwide Leader who predicted the Red Sox would win the American League pennant will be walking around with puffed-out chests, saying "Whadidwetellya?"
A double dose of dynamite Daisuke can have that effect on people. Not to mention two hits by Carl (No. 8 hole) Crawford, the first RBI of the season by
Jason Varitek
, two singles, two stolen bases and two runs scored for leadoff man
Jacoby Ellsbury
, and another home run by sore-shinned
Kevin Youkilis
.
Daisuke Matsuzaka
held the Angels scoreless on one hit through seven innings Saturday, striking out nine. In his last start, the Patriots' Day matinee, Matsuzaka held the
Toronto Blue Jays
to a hit in seven innings, striking out three.
That's a rarity in any language, not to mention Red Sox history. Matsuzaka became just the third Sox pitcher since 1919 to have back-to-back games of seven innings or more, one hit or fewer. The others were Howard Ehmke in 1923 and Pedro Martinez in 2002.
In Matsuzaka's case, it only adds to the impression that he is the international man of mystery, capable of going from head-scratching mediocrity to jaw-dropping brilliance, with no clues as to which guy will be showing up on any given night.
[+] Enlarge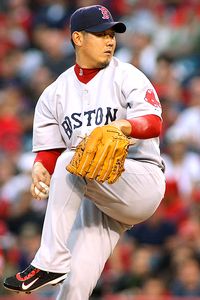 Jake Roth/US PresswireDaisuke Matsuzaka had nine strikeouts and one hit while in Saturday's shutout win.
"I don't think about it, I just go out and play the game,'' Youkilis said when asked how much he wonders which Matsuzaka will show up. "That's on him. He's got to go out there and throw the ball. There's nothing I can do from third base. I don't lose sleep at night thinking about what's going to happen tomorrow.
"He threw the ball good and hopefully he'll get some cheers when he comes home.''
The only hit off Matsuzaka on Saturday not only cost him his no-hit bid, but nearly his head.
Alberto Callaspo
hit a line drive in the second inning that was headed for Matsuzaka's forehead until he deflected it at the last moment with his glove, the ball bounding to shortstop
Jed Lowrie
.
"It was close enough to see the ball was bigger,'' Matsuzaka said, or words approximately to that effect, as relayed by his translator, Kenta Yamada.
Callaspo was credited with an infield hit that advanced
Torii Hunter
, who had walked to second base. The runners advanced no farther when
Hank Conger
lined out and
Mark Trumbo
struck out. That would be the last time an Angel got as far as second base the rest of the night, as Matsuzaka retired 18 of the last 20 batters he faced, allowing just two walks in that span.
In Japan, Matsuzaka had 72 complete games in 190 starts, almost 38 percent of his starts. In 101 starts with the Sox, he has had one, though he came very close to finishing what he started, throwing 115 pitches in 8 innings before Terry Francona summoned
Daniel Bard
to close out the Angels.
After giving up 10 earned runs in 7 innings in his first two starts, Matsuzaka has now pitched 15 scoreless innings allowing just two hits in his past two. Go figure. Even Matsuzaka said after his gem against the Blue Jays that he was afraid he might not get another start if he got lit up again. Fear, perhaps, is a profound motivator, although Terry Francona shot holes through that notion, saying: "I think he just plays with you guys [media] sometimes.''
Then again, the Sox haven't been afraid to take the ball away from him in the past when they reached the fed-up stage -- as in 2009, when they sent him back to Florida to essentially repeat spring training.
While the results were essentially the same the past two starts, Varitek said the means to the end varied significantly between the two outings.
"He was a little more powerful today than he was against Toronto,'' Varitek said of Matsuzaka. "He got a lot of free-swing outs with his cutter against Toronto, where he didn't get those today. Kind of two different guys. A changeup guy today, and he threw a lot of cutters the other day. He always has a repertoire, and it kind of matches up against the team he's facing.
Here's what else you need to know:
--The Sox have now won
7 of their past 8 games and are just two games under .500 (9-11) after being 2-10 just eight days ago.
--Sox starters now are 6-1
with an ERA of 1.01 over their last eight starts (6 ER, 53 1/3 IP).
--Varitek, hitless in his past 19 at-bats
and just 1-for-25 after making outs in his first two at-bats, lined a double to right in the fifth for his first RBI of the season. On Thursday, after striking out in all three of his official at-bats, Varitek had responded to a question about how off he was at the plate with a sarcastic "I'm freaking locked in.''
Saturday, he smiled when asked how "freaking locked in" he was now.
"A lot more than yesterday, or the day before yesterday,'' he said.
--Crawford, dropped to the No. 8 hole
in a batting order for the first time since 2003, when he was a mere pup of 21, had a run-scoring infield hit in the second and doubled and scored ahead of Varitek's double in the sixth.
--Ellsbury jump-started two rallies
with base hits and stolen bases with the next batter,
Dustin Pedroia
, at the plate.
Adrian Gonzalez
singled home Ellsbury the first time. Ellsbury scored ahead of Youkilis' fourth home run of the season in the fifth. Youkilis had sat out Friday's game after fouling a ball off his left shin the night before.
Ellsbury has now batted leadoff in each of the past two games after being dropped from that spot in the order six games into the season. Asked if he felt like order had been restored in his universe, he said: "I don't worry about that. Just go out there and play my game every night, try to do it again tomorrow.''
--The Sox have now won six straight games
at Angel Stadium and 12 of their past 13 against the Halos.
John Lackey
pitches Sunday; he beat his former team three times last season.
--The game was completed in 2 hours and 36 minutes
, a new world record for any game pitched by Matsuzaka in which he went at least five innings., That's an unofficial world record, by the way.