Power Rankings: Red Sox jump to 13th
April, 25, 2011
4/25/11
1:35
PM ET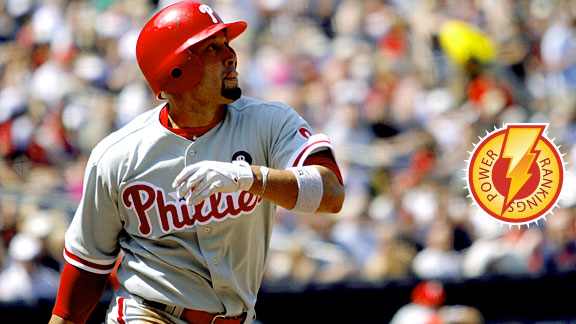 AP Photo/David Goldman
Thanks to a 6-1 week, the Red Sox jumped 12 spots in the
ESPN.com MLB Power Rankings
to No. 13. The team is currently sitting at 10-11 on this off-day. The fact that they'd be nearly back to .500 on April 25 was almost inconceivable after their 2-10 start. Do you think their ranking is just about right at No. 13? Do you consider the Sox a top 10 team? A top 5 team? Share your thoughts in the comments section.
Elsewhere in the Power Rankings, the Phillies moved to the No. 1 spot, with the Yankees jumping two spots this week to No. 2. The Rays are 15th and this week's Sox opponents -- the Orioles and Mariners -- are 24th and 29th, respectively.
ABOUT THIS BLOG

Gordon Edes
Gordon Edes, who joined ESPNBoston.com in Nov. 2009, has covered MLB for more than 25 years. He spent 12 years covering the Sox for the Globe. Ask a question for his next mailbag. Follow him on Twitter here.

Joe McDonald
Joe McDonald, a native Rhode Islander, joined ESPNBoston.com as a Bruins and Red Sox reporter in February 2010. He worked at the Providence Journal for 18 years and covered the Red Sox, Bruins, Patriots, PawSox and Providence Bruins. He's a three-time winner of the National Sportscasters and Sportswriters Association's state Sportswriter of the Year for Rhode Island. Follow him on Twitter here.
2017 AMERICAN LEAGUE EAST STANDINGS
UPCOMING GAMES
| | W-L | HM | AW | STK | L10 |
| --- | --- | --- | --- | --- | --- |
| TEX | 24-23 | 16-8 | 8-15 | L2 | |
| BOS | 24-21 | 14-9 | 10-12 | W3 | |
| | W-L | HM | AW | STK | L10 |
| --- | --- | --- | --- | --- | --- |
| SEA | 21-27 | 13-9 | 8-18 | W1 | |
| BOS | 24-21 | 14-9 | 10-12 | W3 | |
| | W-L | HM | AW | STK | L10 |
| --- | --- | --- | --- | --- | --- |
| SEA | 21-27 | 13-9 | 8-18 | W1 | |
| BOS | 24-21 | 14-9 | 10-12 | W3 | |
BLOG ARCHIVE:
CATEGORIES:
MAY 2017
JUNE 2017
JULY 2017
Sun
Mon
Tue
Wed
Thu
Fri
Sat

1

@BAL
7:05 PM ET

2

@BAL
7:05 PM ET

3

@BAL
7:15 PM ET

4

@BAL
1:35 PM ET

5

6

@NYY
7:05 PM ET

7

@NYY
7:05 PM ET

8

@NYY
7:00 PM ET

9

DET
7:10 PM ET

10

DET
7:15 PM ET

11

DET
8:00 PM ET

12

PHI
7:10 PM ET

13

PHI
7:10 PM ET

14

@PHI
7:05 PM ET

15

@PHI
7:05 PM ET

16

@HOU
8:10 PM ET

17

@HOU
8:15 PM ET

18

@HOU
2:10 PM ET

19

@KC
8:15 PM ET

20

@KC
8:15 PM ET

21

@KC
2:15 PM ET

22

23

LAA
7:10 PM ET

24

LAA
7:15 PM ET

25

LAA
1:35 PM ET

26

MIN
7:10 PM ET

27

MIN
7:10 PM ET

28

MIN
7:10 PM ET

29

MIN
7:10 PM ET

30

@TOR
7:07 PM ET

Sun
Mon
Tue
Wed
Thu
Fri
Sat

1

@TOR
1:07 PM ET

2

@TOR
1:07 PM ET

3

@TEX
8:05 PM ET

4

@TEX
8:05 PM ET

5

@TEX
8:05 PM ET

6

@TB
7:10 PM ET

7

@TB
7:10 PM ET

8

@TB
4:10 PM ET

9

@TB
1:10 PM ET

10

11

12

13

14

NYY
7:10 PM ET

15

NYY
4:05 PM ET

16

NYY
1:05 PM ET

17

TOR
7:10 PM ET

18

TOR
7:10 PM ET

19

TOR
7:10 PM ET

20

TOR
1:35 PM ET

21

@LAA
10:07 PM ET

22

@LAA
9:07 PM ET

23

@LAA
3:37 PM ET

24

@SEA
10:10 PM ET

25

@SEA
10:10 PM ET

26

@SEA
3:40 PM ET

27

28

KC
7:10 PM ET

29

KC
7:10 PM ET

30

KC


31

CLE
7:10 PM ET