Where's the Buchholz of 2010?
April, 26, 2011
4/26/11
11:57
PM ET
BALTIMORE -- Are you starting to think that maybe Theo Epstein should have consulted
Clay Buchholz
before allowing
Victor Martinez
to leave?
Who knew that when Martinez left town, so would the pitcher who burst into prominence last season and was rewarded with a four-year, $30 million contract earlier this month.
[+] Enlarge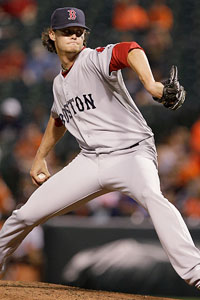 Rob Carr/Getty ImagesClay Buchholz (1-3, 5.33 ERA) has yet to resemble the pitcher who last season won 17 games.
It may be a stretch to say that Buchholz (1-3, 5.33 ERA) looks like the uncertain character who spent a chunk of the 2009 season trying to find himself in Pawtucket. But he has yet to resemble the pitcher who last season won 17 games and posted an ERA (2.33) second only to King
Felix Hernandez
of the
Seattle Mariners
.
That wasn't entirely unexpected, at least by the stats crunchers who looked at Buchholz's declining strikeout rate, increased walks, and fortuitous BABIP -- batting average for balls in play, for those who gave up on acronyms with the introduction of GWOT (global war on terrorism) -- and predicted he might scuffle more in '11.
"He bent but he did not break,'' manager Terry Francona said of his latest outing, a 4-1 loss to the
Baltimore Orioles
that ended a five-game winning streak and a stretch of nine straight games in which Sox starters gave up two runs or fewer. A streak, incidentally, now book-ended by Buchholz starts, the right-hander having given up three runs in five innings against Toronto on April 15.
Had he bent any more than he did Tuesday, Cirque du Soleil would be recruiting him as a contortionist. Buchholz gave up a dozen hits, the most he has allowed in his 67 career starts, and did not have a clean inning among the seven he pitched.
Francona thought that a second helping of
Jason Varitek
behind the plate might be just the thing for Buchholz, who was credited with his first win of the season with Varitek catching him last Wednesday in Oakland.
But that's not how it played out. The Orioles left 10 men on base, but three sacrifice flies and a dribbler down the line by
Matt Wieters
generated enough runs to make a winner of Orioles lefty
Zach Britton
.
"Pitching with runners on base every inning is not the typical thing you want to do," Buchholz said. "I'd get two outs in an inning, make a good pitch, the guy would hit it. Runner on base, extend the inning. It's a lot of stress when you're out there throwing with a runner on first, second or third base every inning."
Indeed. The Orioles weren't exactly mashing the ball -- Mark Reynolds' double in the second and Luke Scott's double off J.D. Drew's glove in the seventh were Baltimore's only extra-base hits -- but they had back-to-back hits in four innings, and
Adam Jones
(twice) and Reynolds (once) got balls up in the air to score runners from third.
The run that ended a 20-inning Boston scoreless streak looked like the product of bad luck, a slow roller by Wieters hitting the bag before
Adrian Gonzalez
could glove it. But as Francona noted, that run would have scored anyway, as Gonzalez was playing back.
"I felt like I was throwing all my pitches for strikes," Buchholz said. "Some of them caught a little too much of the plate. But my goal was to go out there and not walk anybody."
That much Buchholz came close to accomplishing. He walked two, one intentionally, after coming into the game averaging an unsightly 6.2 walks per nine innings. That was no idle boast about throwing strikes, either. He threw 20 of 28 change-ups and 11 of 12 curveballs for strikes, and only had two innings in which he threw more than 15 pitches.
But the results aren't there yet, at least not the kind of results he enjoyed with Martinez. Last season, Martinez caught 27 of Buchholz's starts, and Buchholz put up a 2.13 ERA with the Venezuelan behind the plate.
"Maybe I'm not throwing inside as much as I need to right now," Buchholz said, searching for answers. "I'm feeling more comfortable going away. But that'll change ... Everything will start to come on its own."