Why Beckett's run support has been lacking
June, 9, 2011
6/09/11
12:31
PM ET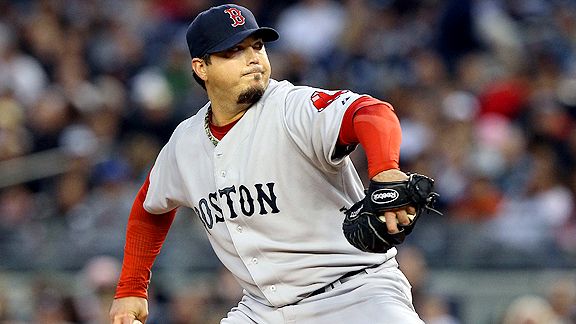 Jim McIsaac/Getty Images
That
Josh Beckett
leads the American League with a 2.01 ERA is arguably the biggest surprise of the season for the
Boston Red Sox
.
That he only has four wins despite that ERA might be the season's biggest puzzlement.
Despite having the AL's second-highest scoring offense behind him, Beckett's masterful pitching has left him wanting in the win column. The Red Sox are 8-4 in Josh Beckett's 12 starts, but he's been credited with just half of those wins. In his past nine starts, Beckett is just 2-1 despite a 2.09 ERA.
His six no-decisions are tied with
Tyler Chatwood
,
Jo-Jo Reyes
,
Jason Vargas
and
Derek Holland
for most in the AL. In those six starts, Beckett has a 2.41 ERA. At this rate, Beckett might challenge Tim Wakefield's 15 no-decisions in 2003, the most by a Red Sox pitcher in the live ball era.
Meanwhile, in those four losses, the Red Sox haven't given him much of a chance. They've scored a total of two runs, having twice been shut out.
Overall, the Red Sox are providing an average of 3.5 runs in support of Beckett. That ranks 51st out of 65 qualifying AL starters. By contrast,
Jon Lester
is second in the AL at 6.5 runs per start.
Last season, only five AL starters had a runs support average lower than 3.5. Four of those five were on the Mariners, including Cy Young winner
Felix Hernandez
(3.1).
Might Beckett be on a similar path to the award? It's hard to argue with the numbers so far (except for wins of course). In addition to ERA, Beckett is allowing the fewest hits per nine innings among AL starters. His .189 opponent batting average ranks second in the AL.
Of course, there's also the chance that Boston starts scoring runs for Beckett.
While it's certainly early to project his run support over the rest of the season, there's some interesting historical context.
The last qualifying Red Sox starter to receive fewer than 3.5 runs per start was
Roger Clemens
in 1993. That season, the Red Sox only gave him 3.3 runs per game, and he finished 11-14.
Beckett is not accustomed to this lack of support. In his first five seasons in Boston, he received an average of 5.4 runs of support per start.
The anemic offense behind Beckett in 2011 isn't totally surprising when you consider who he's been pitching against.
Beckett's last five opposing starters have been
CC Sabathia
,
Justin Verlander
(twice),
Fausto Carmona
and
Trevor Cahill
. All were Opening Day starters. All are considered the ace of their respective staffs.
Beckett started the season as the No. 4 starter. Yet, based on his performance and whom he lines up against, it's clear he's once again the team's ace.
On Thursday, he'll face his sixth opposing ace in a row with a rematch against CC Sabathia.
Beckett will have plenty to worry about with the Yankees' offense. Sabathia has received an average of 6.7 runs of support this season, the most in the AL.