Lord Stanley takes the rubber
June, 19, 2011
6/19/11
2:33
PM ET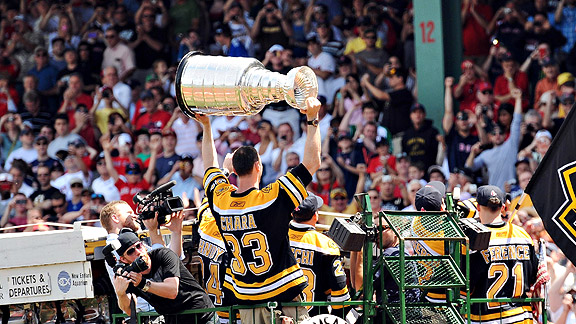 Bob DeChiara/US PresswireZdeno Chara shows off the Stanley Cup to the crowd at Fenway Park.
BOSTON -- While the Stanley Cup was proudly placed on the pitching rubber by captain Zdeno Chara, the champion Bruins picked out a partner from the Red Sox and launched nearly two dozen ceremonial pitches toward home plate Sunday afternoon, baseballs flying everywhere, to cap a pregame ceremony played out before a roaring crowd at Fenway Park.
The Sox tribute to the Bruins did not end when the game began. The foghorn that sounds when the Bruins score a goal was played repeatedly during a six-run Sox rally in the first inning.
The Bruins, who visited with Sox players in the clubhouse before the game, rode in four duck boats that emerged from the center-field wall and made a lap of the field. Then the players, led by Chara with the Cup hoisted high overhead, walked in collectively from the outfield, the applause building to a crescendo as they reached the mound.
"It was awesome. What a time!" forward
Shawn Thornton
said. "I never thought I'd get to do that in my life, so it was great. We got to go into the room, we got to see the boys beforehand and stuff. It was pretty cool."
Thornton and his teammates also got to check out the Red Sox dressing room and meet the players, who wished them congratulations and got their chance to meet Lord Stanley's Cup.
"They're getting ready for a game, so we didn't want to take too much time away from them," Thornton said, "but they were pretty happy to get some pictures and stuff with the trophy."
The Bruins have been overwhelmed by the outpouring of love from their fans, and while it's been a whirlwind the last few days, they're enjoying every moment.
"The parade yesterday was awesome and being at the Red Sox today was nearly as awesome," goalie
Tim Thomas
said. "So that has exceeded my expectations. So far it's been incredibly busy though, and I'm incredibly tired from the playoffs already [laughs], and I'm looking forward to just getting some rest."
Thornton called the experience a "blur."
"A blur. It's been a blur, it's been fun," Thornton said. "The city, that parade was awesome. I mean I expected a lot of people but I didn't expect people would be rammed in there and be that loud, like screaming the whole time. It was good."
Check out a few more images of the pregame fun: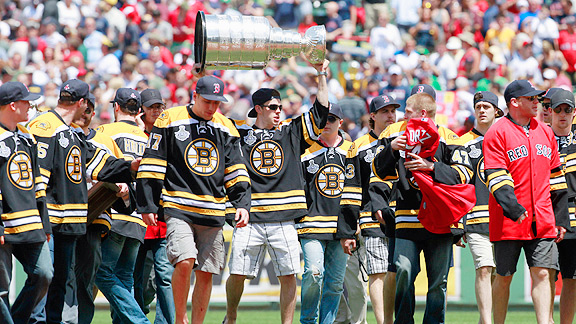 AP Photo/Michael DwyerThe Bruins, most clad in Red Sox caps, soak in the adulation at Fenway.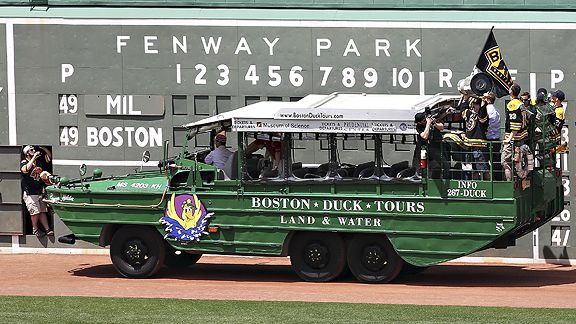 Jim Rogash/Getty ImagesBlack and Gold meets Green as a duck boat of Bruins passes in front of the Monster.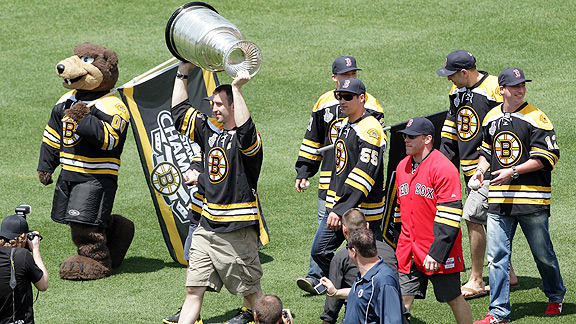 Jim Rogash/Getty ImagesCup-carrying Zdeno Chara leads the Bruins across the outfield grass to throw the first pitches.