SoxProspects.com: Bests, worsts from June
July, 1, 2011
7/01/11
11:06
PM ET
Here's a look at the top June performances in the Red Sox minor league system, the not-so-impressive performances, and other notes from the third month of the season. (SoxProspects.com prospect ranking in parentheses).
Top offensive players in June
(9) Ryan Lavarnway, C, Portland/Pawtucket
-- .347 AVG/.417 OBP/.642 SLG with 7 HRs
(19) Mils Head, 1B, Greenville/Salem
-- .361/.438/.629 with 4 HRs
(21) Brandon Jacobs, OF, Greenville
-- .341/.412/.604 with 6 HRs and 6 SBs
(33) Chih-Hsien Chiang, OF, Portland
-- .320/.391/.680 with 7 HRs
(NR) Daniel Nava, OF, Pawtucket
-- .407/.505/.558 with 2 HRs
[+] Enlarge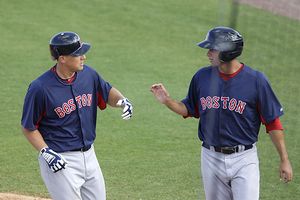 AP Photo/Carlos OsorioCatcher Ryan Lavarnway (left) is making his way up the organizational depth chart and could be in line for a September call-up to Boston.
Lavarnway earned a promotion to Triple-A Pawtucket on June 13, and has lined himself up as a likely September call-up to Boston this year ... Head was promoted from Low-A Greenville to High-A Salem on June 29, and at the time led the South Atlantic League in both batting average and OPS ... Jacobs' prospect status is on the rise, given that he has cut down on his strikeouts, while at the same time maintaining consistent contact rates, showing plus power potential, and flashing a lot of speed on the base paths ... Chiang, a 23-year-old native of Taiwan, earned a nod to play for the World Team in the 2011 All-Star Futures Game, to be held on July 10 ... After a tough start to the season, Nava got back on track in a big way in June, leading the system with a .407 batting average for the month.
Top pitchers in June
(8) Kyle Weiland, SP, Pawtucket
-- 3-2, 2.36 ERA, 1.02 WHIP, 36/14 K/BB, 34.1 IP
(11) Alex Wilson, SP, Portland
-- 2-1, 2.63 ERA, 1.32 WHIP, 26/15 K/BB, 27.1 IP
(NR) Manny Rivera, SP, Greenville
-- 1-2, 2.52 ERA, 0.88 WHIP, 19/4 K/BB, 25.0 IP
(NR) Chris Martin, RP, Greenville/Salem
-- 2-0, 2.14 ERA, 0.81 WHIP, 24/2 K/BB, 21.0 IP
(NR) Jeremiah Bayer, RP, Salem
-- 2-0, 0.00 ERA, 1.12 WHIP, 12/6 K/BB, 17.0 IP
Weiland wrapped up the month with a dominant performance against Rochester on June 29, in which the 24-year-old right-hander held the Red Wings hitless for 5.2 innings, and ultimately went 8.0 innings, allowing 1 unearned run on 1 hit while striking out 12 and walking none ... Wilson has held opposing batters to a .226 average and put up an impressive 2.82 ERA this season, but he struggled with walks at the tail end of the month, issuing 11 free passes over his last 16.1 innings ... Rivera has not allowed a run over his last 14 innings, getting his ERA down to 3.40 for the season ... Martin, a pickup from the independent American Association this past March, held opposing South Atlantic League batters to a .163 average during his time with Greenville, earning himself a promotion to Salem on June 29 ... Bayer, a native of Greenfield, Mass., didn't allow an earned run for the month, and could be a candidate for a promotion to Double-A Portland before season's end.
June underachievers
(3) Jose Iglesias, SS, Pawtucket
-- .227/.267/.245 with 0 home runs
(11) Drake Britton, SP, Salem
-- 0-2, 10.32 ERA, 2.12 WHIP, 11/7 K/BB, 11.1 IP
(31) Luis Exposito, C, Pawtucket
-- .206/.267/.309 with 1 home run
(43) Junichi Tazawa, SP, Salem/Portland
-- 0-1, 4.97 ERA, 1.03 WHIP, 11/3 K/BB, 12.2 IP
(NR) Michael Almanzar, 3B/1B, Salem/Greenville
-- .156/.177/.182 with 0 home runs
(NR) Caleb Clay, RP, Portland
-- 1-2, 5.50 ERA, 1.50 WHIP, 16/6 K/BB, 18.0 IP
Iglesias continues to flash Gold-Glove caliber defense with the PawSox, but his offense has left a lot to be desired. He'll need to improve his plate approach if he wants to break in with Boston at some point in 2012 ... Britton, once considered a potential ace starter, got off to a terrible start to 2011, and unfortunately got worse in June, issuing 7 walks in 11.1 innings and posting a .340 batting average against for the month ... Exposito looks like he's stalled out at Triple-A, has been passed on the organizational depth chart by Lavarnway, and soon could be passed over in favor of Portland backstop Tim Federowicz ... Tazawa looked sharp in wrapping up his six-week rehab stint with Salem, but looked awful in his return to Portland on June 27, lasting only 0.2 innings, giving up 6 earned runs on 3 hits, 2 walks, a hit-by-pitch, and a wild pitch ... Almanzar received a demotion to Greenville on June 29 after hitting .182/.223/.245 with Salem ... Separate and apart from an ugly outing against Akron on June 18, Clay actually posted a 3.21 ERA for the month, a substantial improvement for the former first-rounder who has struggled mightily in his first stint in Double-A.
Trends
As of July 1, the system leaders in batting average are Salem OF Bryce Brentz at .336, Head at .332, Jacobs at .331, and Portland OF Alex Hassan at .327 ... The home run leaders are Lavarnway with 18, Brentz with 17, Head with 15, and Pawtucket OF
Josh Reddick
with 14 (plus 1 with Boston) ... Stolen base leaders are Portland OF Jeremy Hazelbaker and Greenville OF
Felix Sanchez
with 26 each, Salem OF Peter Hissey with 20, and Jacobs with 18 ... For pitchers, Portland RHP Stephen Fife leads the system in wins at 9, followed by Weiland at 7, and Wilson, Rivera, Greenville RHP Miguel Celestino, Salem LHP Chris Hernandez, and Pawtucket RHP
Tony Pena
, Jr. with 6 apiece ... ERA leaders (minimum 55 IP) are
Andrew Miller
at 2.47, Wilson at 2.82, Portland RHP Chris Balcom-Miller at 2.89, and Weiland at 3.02 ... Strikeout leaders are Weiland with 93, Rivera with 80, Wilson with 72, and Salem RHP Anthony Ranaudo with 71.
As of July 1, Greenville 2B Sean Coyle has reached base 74 times, but only 15 of those are singles – the 2010 third-round pick has 16 doubles, 5 triples, 6 home runs, 26 walks, and 6 hit-by-pitch for the season ... A prospect to keep a close eye on for the remainder of the season is 18-year-old SS Xander Bogaerts, who skipped over both the Gulf Coast League and the NY-Penn League when he was promoted to Greenville on June 9 ... Flame-throwing Greenville reliever Juan Rodriguez leads the system in strikeout percentage, having struck out 36.4 percent of all batters he has faced in 2011 ... Several of the highly touted prospects from extended spring training have struggled out of the gate in short-season ball, including Lowell 3B Garin Cecchini (.200 batting average over his first 10 games), GCL SS Jose Vinicio (.103 in 8 games), and GCL OF Kendrick Perkins (.206 in 9 games) ... The most impressive short-season player thus far has been GCL RHP Raul Alcantara, who hasn't allowed a run in 10 innings and has gotten his fastball up to 93-95 mph.
Player movement
Seven minor leaguers were called up to the big league club at various points in June: LHP
Tommy Hottovy
, RHP
Scott Atchison
, Reddick, IF
Drew Sutton
, RHP
Michael Bowden
, IF
Yamaico Navarro
, and Exposito ... The Red Sox have signed sixteen draft picks as of July 1: LHP Miguel Pena (6th round), 3B Travis Shaw (9th), LHP Kevin Brahney (11th), RHP Matty Ott (13th), RHP Mike McCarthy (14th), RHP Braden Kapteyn (15th), RHP Andrew Jones (18th), LHP Zach Good (20th), RHP Joe Holtmeyer (22nd), OF Drew Turocy (24th), RHP Brenden Shepard (28th), 1B David Chester (33rd), C Carlos Coste (35th), RHP Corey Vogt (39th), 3B Matt Gedman (45th), and RHP Jadd Schmeltzer (49th) ... The club also signed two undrafted free agents: C Tim Roberson and IF Nick Natoli ... Six minor leaguers received level promotions this past month, including Lavarnway from Portland to Pawtucket, 1B Reynaldo Rodriguez from Salem to Portland, Head and Martin from Greenville to Salem, and RHP Justin Erasmus and Bogaerts from extended spring training to Greenville ... The club re-signed IF Ryan Khoury on June 21 after letting him go during spring training, and assigned him to Portland ... Minor leaguers who left the system this past month were C Will Vazquez and 1B Trygg Danforth (both retired), C
Michael McKenry
(traded), and Santo Luis (released).
The injury front
Top prospect
Ryan Kalish
has not played since he partially tore his labrum on April 21, and since that time he has suffered various setbacks, including acute neck and back pain ... Pawtucket pitchers
Brandon Duckworth
and Clevelan Santelitz are both on the disabled list with oblique strains ... Portland 3B Will Middlebrooks missed three weeks with a triceps strain, but returned to the Portland lineup on June 30 ... Hissey was pulled from a game on June 28 with a sprained right ankle, and was placed on the disabled list the following day ... Greenville RHP Brandon Workman has been out since June 19 with an undisclosed injury ... OF Zach Daeges, who has been out for over two years with various injuries, returned to action on June 17, rehabbing with the Lowell Spinners, but has only appeared in one game since that time.