Mills walked fine line -- and lost
July, 3, 2011
7/03/11
8:29
PM ET
By
Steven Krasner
| ESPNBoston.com
HOUSTON -- Pity poor
Brad Mills
.
Very few moves have worked this season for Mills, the
Houston Astros
manager who formerly served as Terry Francona's bench coach with the Red Sox. His Astros are 29-56, the worst record in the majors.
Another decision backfired on Mills Sunday afternoon, helping Boston edge Houston, 2-1, for a sweep of the interleague series at Minute Maid Park.
[+] Enlarge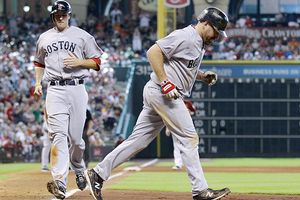 AP Photo/David J. PhillipKevin Youkilis heads to first after drawing a bases-loaded walk as Drew Sutton trots home with the winning run.
The game was tied, 1-1, with two outs in the top of the ninth. The Red Sox had runners at first and third, and
Adrian Gonzalez
, the league's leading hitter (.350) and the majors' top RBI guy (74), was about to step into the box.
Houston had right-hander
Mark Melancon
, its closer, on the mound. Mills elected to have Melancon issue an intentional walk to Gonzalez, a left-handed hitter. The move pushed
Dustin Pedroia
, running from first base, up to second and filled the bases for
Kevin Youkilis
.
Melancon had trouble throwing strikes in the inning. He fell behind each Boston hitter he faced in his first appearance in the series.
And he made it easy for eagle-eyed Youkilis. Melancon's first three pitches weren't all that close to being strikes, certainly not close enough to tempt a patient and disciplined hitter such as Youkilis. Melancon threw a 3-and-0 pitch for a strike, but then walked Youkilis on another pitch well out of the strike zone to force in the go-ahead run.
Francona said he wasn't surprised his good friend, Mills, walked Gonzalez.
"We talked about it in the dugout," Francona said. "We've got good hitters. The guy's hitting .360. That's a tough decision.
"We talk about it; that happens we have to make them pay," Francona said of receiving an intentional walk.
It wasn't like Youkilis ripped the ball to make the Astros pay, but a run is a run, especially to break a tie in the ninth.
Youkilis said his approach at the plate didn't vary just because Gonzalez was intentionally walked to get to him.
"Same as always, just look for a good pitch to hit, and just don't swing at balls," Youkilis said. "He's got good stuff, but his command is not always the greatest in the world. I took the balls."
It was Youkilis' 49th walk of the season.