Pedroia wins Boston Marathon
July, 18, 2011
7/18/11
2:11
AM ET
ST. PETERSBURG, Fla. -- The
Boston Red Sox
and
Tampa Bay Rays
were involved in a classic Sunday night at Tropicana Field.
It started as a pitchers' duel and ended with a 1-0 Red Sox win in 16 innings. Boston's
Dustin Pedroia
provided an RBI single in the top of the 16th and closer
Jonathan Papelbon
earned his 21st save of the season to help Boston to victory.
It was a gem by both starters as the Sox's
Josh Beckett
and the Rays'
Jeff Niemann
battled it out, each working eight scoreless innings.
When both starters were done, the respective bullpens -- a total of 13 relievers -- kept putting up zeros until Pedroia provided his heroics off Tampa pitcher
Adam Russell
.
The time of game was five hours, 44 minutes, making it the longest game in Rays history.
"It was a great game. We're just happy we won," Pedroia said.
"I was pretty tired in the 16th, I'm not going to lie. It was more of a 'I don't care what happens feeling' when you step up there, but you're playing to win and it doesn't matter how long it takes."
Red Sox manager Terry Francona said he had a feeling Pedroia would be the one to come through.
[+] Enlarge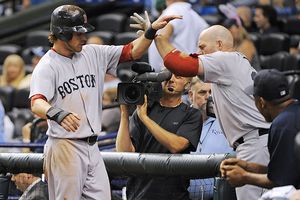 AP Photo/Brian BlancoJosh Reddick celebrates with Kevin Youkilis after scoring the game's lone run in the 16th inning.
"By that time, it's not just physical. It's mentally draining and he's probably the one guy you know who will figure out a way," Francona said.
"I wouldn't trade Pedey for anybody in the league right now,"
David Ortiz
said.
Not only did this marathon feature solid pitching, both teams traded defensive gems all night and into the early morning.
By the time the game ended at 1:54 a.m. ET, it seemed like the starters' performances occurred ages ago.
"This was a pretty wild one and it was fun to be a part of," Beckett said. "I looked over at [Jon] Lester when I came out and said, 'Man, this is a fun game.' I didn't realize at the time it was going to go that long, but it was fun to be in a game like that with another guy who is putting up zeros."
Beckett allowed only one hit over eight scoreless innings with no walks and six strikeouts. He threw 106 pitches, 71 for strikes and retired the final 22 batters he faced. But all he had to show for it was his seventh no-decision in 18 starts this season.
Beckett tossed a complete-game one-hitter here on June 15, which was the same night the Bruins won the Stanley Cup.
Beckett was removed from his last start, on July 8 against the Orioles at Fenway Park, after five innings due to a hyperextended left knee. At the time he didn't think it was much of an issue and after throwing a side session a few days later, he was given medical clearance to pitch in the All-Star Game. But on the day of the game in Phoenix, his knee tightened up on him and he was scratched for precautionary reasons.
Beckett obviously showed no ill effects on Sunday.
Niemann finished eight scoreless innings and allowed only two hits with two walks and a career-high 10 strikeouts. He tossed a season-high 118 pitches with 75 for strikes.
It appeared the Rays would have a chance in the bottom of the 10th, but a tremendous catch at the wall by Red Sox left fielder
Josh Reddick
stifled any possible momentum.
With two outs and
Matt Albers
on the mound for the Red Sox, the Rays'
Justin Ruggiano
crushed a ball to deep left-center field. Both Reddick and center fielder
Jacoby Ellsbury
closed on the ball before Reddick made a leaping catch at the wall just to the right of the 370 mark.
"Unbelievable," Beckett said of the defense. "I had great defense behind me today. I think there were about seven hits taken away from them, balls that they squared up. The defense was awesome today."
Boston loaded the bases with no outs in the top of the 11th inning, but could not capitalize as Reddick and
Jason Varitek
struck out and
Marco Scutaro
popped out to the catcher to end the threat.
FIRING BLANKS
: After Beckett's performance, Red Sox reliever
Daniel Bard
kept his scoreless streak intact in the ninth inning. The right-hander allowed only one hit and one walk, but retired the side to extend his career-high streak to 21 2/3 innings. He has thrown 14 scoreless innings over his past 13 appearances against the Rays, dating back to Sept. 3, 2009.
EXTENDED:
Pedroia continues to be locked in at the plate and he extended his season-high hitting streak to 15 games. He finished the night 3-for-7 and is hitting .384 (25-for-65) during his current streak.
DEFENSIVE GEMS
: Pedroia is not only excelling at the plate, he's playing even better defensively. He made two tremendous plays Sunday night. In the bottom of the fourth, he robbed
Casey Kotchman
of a possible base hit. Kotchman lined a hard grounder up the middle, but Pedroia ranged to his right, made a diving stop, quickly got to his feet and made a strong throw for the out to end the inning. He did it again in the sixth on a similar play, this time stealing a possible hit from Tampa shortstop
Reid Brignac
. Brignac robbed Pedroia of a hit with a highlight-reel play in the top of the inning.
UP NEXT
: As the Red Sox were preparing for batting practice Sunday afternoon at Tropicana Field, pitcher
Tim Wakefield
was heading to Baltimore a day early in preparation for his start against the Orioles on Monday at Camden Yards. The veteran knuckleballer is 5-3 with a 4.74 ERA in 12 starts this season for Boston. Baltimore sends right-hander
Brad Bergesen
(1-6, 5.65) to the mound. Wakefield has a career 16-3 record against the Orioles with a 4.13 ERA in 50 games (35 starts).
PAPI-LESS:
The Red Sox are likely to be without Ortiz for the three-game set against the Orioles due to his four-game suspension for his involvement in a pair of bench-clearing incidents against Baltimore on July 8 at Fenway Park. Ortiz appealed his suspension and said he expects Major League Baseball will make its decision on Monday.