Happy homecoming for Lowell
July, 23, 2011
7/23/11
12:24
AM ET
By
Darren Hartwell
| ESPNBoston.com
BOSTON --
Mike Lowell
was happy to be back at Fenway Park, the place he called home for four years before hanging up his cleats after the 2010 season. Apparently, so were his two children.
"My kids asked me, 'Are we ever going to come back to Boston?' " Lowell said to a small crowd of reporters before Friday's game against the Mariners. "So I said, 'Yeah, we're going to come in the summer.' We looked at the schedule and this [trip] was put in about six months ago, so it's been nice."
[+] Enlarge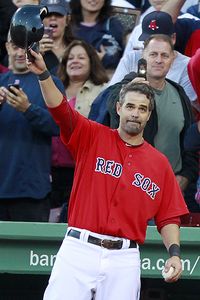 AP Photo/Michael DwyerMike Lowell, who made his final appearance with the Red Sox last October, said he's "at peace" with his decision to retire and that he has no regrets.
For the first time since last fall, Lowell returned to his old stomping grounds and took in a 7-4 Red Sox victory over the Mariners on a sweltering Friday night in Boston.
The former Sox third baseman met with many of his former teammates and coaches while at the ballpark, including close friend
Dustin Pedroia
, whom he also met for dinner on Thursday night.
"He's one of my closest friends in the game, so it's great to see him," said Pedroia when asked about Lowell. "He's first class. I think if you ask anybody, he's a guy that we miss, because of what kind of guy he is and what kind of player he was."
Lowell also got the chance to catch up with
Josh Beckett
, who spent nearly 10 years with Lowell in both Florida and Boston. Of all the Sox players having success this year, Lowell says he's happiest for Beckett.
"I've been especially happy with how he's been able to bounce back, so to speak, and I think he's in a good place in his life," said Lowell.
"I think he's very stable and very happy where he is. I think some people wrote him off last year, and to be able to come back like that is good to see."
Before Friday's game, Lowell passed the time mingling with his former teammates while the Sox took batting practice, and his presence on the field raised the inevitable question: Would he ever consider returning to the game?
"I think I miss coming to a challenge every day," Lowell admitted. "It's what I've known for the better part of the last 17 years."
Still, the 37-year-old said he has no plans to come out of retirement. "I'm still at peace with my decision, so I think I've made the right one," he said.
"I'm very proud of what I did, [and] I don't really regret anything as a player," he added.
Lowell certainly has reason to be proud of his time in Boston. The former third baseman had a successful four-year tenure with the Red Sox, his crowning achievement coming in 2007 when he was named World Series MVP after batting .400 with a home run, four RBIs, and six runs scored in a four-game sweep of the
Colorado Rockies
.
Not bad for a player who was initially considered an afterthought in the Red Sox's 2005 blockbuster deal that landed them Marlins ace Beckett.
Lowell and Beckett are unique in that they won both won championships with Florida in 2003 and Boston in 2007. They are also both former World Series MVPs -- Beckett was named MVP of the 2003 World Series for his two dominating performances, including a shutout in the series-clinching Game 6, against the Yankees.
Lowell remarked that while his experiences with Florida and Boston were both very special, playing for four years in front of the Fenway faithful and winning a World Series in the process is something he'll never forget.
"I enjoy living in Miami and people telling me that they appreciated the way I played in Florida, and I'm very proud of the years I had there, but the memories [of Boston] are much fresher," said Lowell.
"The constant support, you can't even compare Boston and Miami. It's just two different attitudes towards sports, so in that sense it's really cool to come back here and see almost an abnormal passion for the sport."
That passion was evident Friday night, when an image of Lowell in the NESN booth with broadcasters Don Orsillo and Jerry Remy flashed onto the JumboTron. The Fenway crowd of 38,048 immediately erupted in a roar, as fans rose to their feet to salute their former third baseman with a standing ovation.
No matter where his future takes him, it appears that Mike Lowell will always have a home in Boston.