SoxProspects.com: July bests and worsts
August, 2, 2011
8/02/11
4:26
PM ET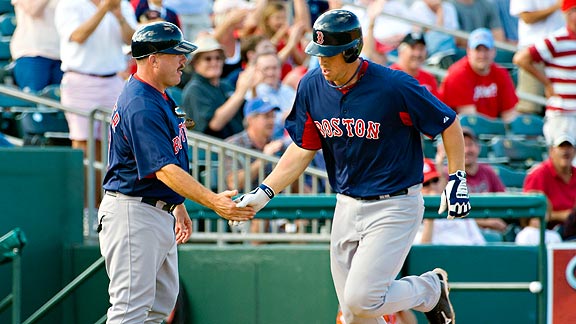 Scott Rovak/US PresswireRed-hot Ryan Lavarnway had eight homers in a span of 10 games earlier this month for Triple-A Pawtucket.
Here's a look at the best and worst performances in the Red Sox minor league system for the month of July. (SoxProspects.com prospect ranking in parenthesis)
Top offensive players in July
(5) Ryan Lavarnway, C/DH, Pawtucket
-- .362 AVG/.442 OBP/.724 SLG with 9 HR
(14) Brandon Jacobs, OF, Greenville
-- .315/.400/.533 with 4 HR, 9 SB
(16) Garin Cecchini, 3B, Lowell
-- .342/.416/.595 with 3 HR
(18) Chih-Hsien Chiang, OF, Portland
-- .430/.500/.740 with 5 HR, 16 2B
(28) Reynaldo Rodriguez, 1B, Portland
-- .341/.431/.727 with 4 HR
Lavarnway has terrorized International League pitchers since his promotion in mid-June. Eight of his nine home runs came in a 10-game span between July 10 and July 22 ... Jacobs continued his consistent season for the Drive in July. He enters August with an eight-game hitting streak, and has hits in 12 of his last 13 games ... Cecchini, who broke his wrist after being hit by a pitch on July 23, ending his season, had seven multi-hit games in 22 games last month ... One of four players dealt in the
Erik Bedard
deal, Chiang's July was highlighted by an appearance in the All-Star Futures Game in Arizona. At the time of his trade, he led the Eastern League in batting average (.340), OPS (1.050), slugging percentage (.648), RBIs (76), doubles (37), and runs scored (68) ... Rodriguez played just 12 games in July before an appendectomy sent him to the DL, but he had five multi-hit games in that span. Rodriguez struggled immediately after his promotion in June, but was finding his swing in Portland before he went on the disabled list.
Top pitchers in July
(34) Raul Alcantara, SP, GCL Red Sox
– 1-1, 1.33 ERA, 0.74 WHIP, 15/4 K/BB, 27.0 IP
(48) Chris Martin, RP, Salem
-- 1-1, 0.77 ERA, 0.86 WHIP, 11/3 K/BB, 23.1 IP
(55) Sergio Gomez, SP, GCL Red Sox
-- 0-0, 1.33 ERA, 0.74 WHIP, 14/5 K/BB, 27.0 IP
(60) Keith Couch, SP, Greenville
-- 2-1, 2.13 ERA, 0.92 WHIP, 28/5 K/BB, 38.1 IP
(NR) Justin Erasmus, RP, Greenville
-- 1-0, 0.00 ERA, 0.96 WHIP, 19/4 K/BB, 15.2 IP
Alcantara threw six shutout innings in two of his five July starts. Reports out of Fort Myers have the 18-year-old right-hander from the Dominican Republic reaching 95 MPH with his fastball ... Martin, a 6-foot-7 fireballer who throws in the mid-90s, went 19 innings before finally allowing his first earned run for Salem. At 25, he's been old for his league all season, but on stuff alone, he could shoot through the system if given the chance ... Gomez, in his second season in the GCL but still one of the youngest players in the league at age 17, allowed four or fewer his in each of his five July starts ... Couch continued to be Greenville's most consistent starter since taking Anthony Ranaudo's place in the rotation at the beginning of June. He allowed just one earned run in four of his six starts in July, and has walked only 12 batters in 106 innings. ... Erasmus has allowed just 2 earned runs in 22.2 innings since being promoted to Greenville from extended spring training.
July underachievers
(13) Miles Head, 1B, Salem
-- .257/.309/.386 with 3 HR
(17) Alex Hassan, OF, Portland
-- .212/.309/.294 with 0 HR
(19) Drake Britton, SP, Salem
-- 0-3, 6.62 ERA, 1.70 WHIP, 23/5 K/BB, 17.2 IP
(21) Stolmy Pimentel, SP, Salem/Portland
-- 0-4, 7.47 ERA, 2.30 WHIP, 5/10 K/BB, 15.2 IP
(46) David Renfroe, 3B, Greenville
-- .160/.213/.292 with 2 HR
Statistically, Head was one of the best hitters in the South Atlantic League before his promotion in late June, but he has struggled to hit for average in his first month in High-A. Despite the subpar month, he's still hitting .312 on the season ... Other than his appearance in the Eastern League All-Star Game, it's been a month to forget for Hassan, who saw a sharp decline at the plate in July ... While a 3.2 inning, 5-run outing on July 19 made Britton's ERA balloon, the left-hander has made progress in July. His 23/5 strikeout-to-walk ratio in July is far and away his best of any month this season, although he has been somewhat hittable ... Pimentel was demoted from Portland to Salem on July 11 after posting a 9.12 ERA for the Sea Dogs, and after a rocky start, he may be finding himself in the Carolina League. Pimentel has allowed just an unearned run on 5 hits in 7.0 innings over his last two starts. He's still searching for his first win of the season ... Renfroe hit .348 in June, but fell victim to some awful luck (see his abnormally low .188 BABIP) in July.
Trends
As of August 1, Chiang had the highest batting average in the organization at .340, followed by Jacobs (.327), Lavarnway (.314), and Head (.312) ... Lavarnway leads the organization with 27 home runs. Salem outfielder Bryce Brentz has 22 on the season, while Chiang and Head have 17 apiece ... Greenville outfielder
Felix Sanchez
stole 18 bases in July to give him a system-leading 44 on the season. Portland outfielder Jeremy Hazelbaker has 32 stolen bases, and Jacobs has 27 on the year ... Among the pitchers, Portland right-hander Stephen Fife, who was traded to the Dodgers in the Erik Bedard deal, leads the system with 11 wins. Salem lefty Chris Hernandez has nine wins, while Greenville's Miguel Celestino, Pawtucket's
Brandon Duckworth
, Portland's Alex Wilson, and Pawtucket's
Kyle Weiland
each have eight ... The system's ERA leaders (min. 60 innings) are
Andrew Miller
(2.47), Hernandez (2.68), Salem right-hander Jeremiah Bayer (2.81), and Wilson (2.87).
Lowell outfielder Seth Schwindenhammer and Greenville shortstop Xander Bogaerts each hit 7 home runs in July ... Several relief pitchers, aside from Martin and Erasmus, are posting quietly impressive campaigns. Sidearmer Blake Maxwell is 4-4 with 12 saves and a 1.95 ERA in 55.1 innings between Portland and Pawtucket. Pawtucket right-hander
Michael Bowden
posted a 0.00 ERA in July, and is striking out over a batter per inning on his way to a 2.66 ERA. He also has allowed just a single earned run in 8.0 innings for the big-league club ... Among the impressive short-season performances so far have come from GCL Red Sox outfielder Williams Jerez, Boston's second-round pick in the June Draft (.340/.357/.434 in 12 games), GCL Red Sox catcher Roberto Reyes (6 HR in 23 games), and outfielder Matty Johnson (.362/.451/.438 in 31 games between Lowell and Greenville).
Player movement
The trade deadline saw Boston deal infielder
Yamaico Navarro
and Salem reliever Kendal Volz to Kansas City for infielder
Mike Aviles
. In the deal that brought Erik Bedard and minor league reliever
Josh Fields
to Boston, the Red Sox sent Portland catcher Tim Federowicz, Fife and Greenville reliever Juan Rodriguez to the
Los Angeles Dodgers
and Chiang to Seattle ... Weiland made his major league debut for the Red Sox on July 10. He made two starts before being optioned to Pawtucket on July 25 ... Left-hander
Randy Williams
and right-hander
Scott Atchison
also saw time with Boston in July. Sidearm-lefty
Tommy Hottovy
was designated for assignment on July 16 and outrighted to Pawtucket on July 20 ... Boston signed three more draft picks in July: Jerez (2nd Round), catcher Jordan Weems (3rd), and third-baseman Nick Moore (30th). Expect more draftees to sign between now and the August 15 deadline, like outfielder Cody Koback (10th), who signed on August 1 ... The club also signed undrafted free agent infielder Bryan Johns out of Vanderbilt ... The Red Sox signed a pair of minor league free agent pitchers in July, knuckleballer
Charlie Haeger
and lefty
Royce Ring
. Haeger joined the Portland rotation, and Ring was sent to Pawtucket's bullpen ... Pending MLB approval, the Red Sox signed three players at the beginning of the international signing period on July 2: shortstop Raimel Flores for $900,000, outfielder Manuel Marcos for $800,000, and right-hander Dioscar Romero for $600,000 ... Two minor leaguers were released this month, right-handers Mike Hacker and Garret Rau.
Injury front
Top prospect
Ryan Kalish
remains on the disabled list after his rehab from a torn labrum was halted by a herniated disk in his neck. No timetable has been given for his return -- reports say he is close, but then again, they have for at least a month now ... Pawtucket left-hander
Felix Doubront
left his start on July 19 with a hamstring strain and was placed on the disabled list July 21 ... Cecchini is likely out for the season with a broken wrist after he was hit by a pitch on July 23 ... Reynaldo Rodriguez was placed on the disabled list on July 13 after he had an appendectomy. He is expected to miss 4-6 weeks ... Portland right-hander
Miguel Gonzalez
went on the disabled list on July 15 due to right forearm inflammation. Gonzalez underwent Tommy John surgery in 2009 ... Salem left-hander Mitch Herold is on a rehab assignment with Lowell as he works his way back from an undisclosed injury ... After missing most of the season with a shoulder injury, Cuban catcher Adalberto Ibarra made his season debut on July 25 for the GCL Red Sox. He finally caught his first game with the Sox after DH'ing late last season on July 28. ... Outfielder Ryan Westmoreland is set to face live pitching soon for the first time since undergoing brain surgery in March of 2010. It could still be a while before he can think about stepping on the field for an actual game, but the progress he has made in his rehabilitation is tremendous and inspiring.