Reddick was firing on all cylinders
August, 8, 2011
8/08/11
2:52
AM ET
BOSTON -- Red Sox right fielder
Josh Reddick
received a ton of attention for his walk-off single in the bottom of the 10th inning that gave Boston a 3-2 victory over the
New York Yankees
on Sunday night at Fenway Park.
His opposite-field liner off reliever
Phil Hughes
dropped into the corner in left field as pinch runner
Darnell McDonald
scored from second for the winning run. It was Reddick's first walk-off hit in the big leagues, but his heroics in the 10th weren't his only crucial contribution.
His assist in the top of the fifth inning also was a key component for Boston's victory.
[+] Enlarge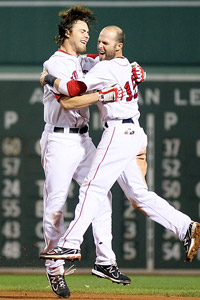 Elsa/Getty ImagesThe celebration with Dustin Pedroia and the rest of his teammates came after the his walk-off hit, but Josh Reddick also made a critical assist in the fifth.
With one out and the Red Sox holding a 1-0 lead, the Yankees'
Russell Martin
lined a shot down the right-field line and into the corner. As Reddick charged after the ball just beyond the Pesky Pole, Martin rounded first and headed toward second.
Reddick was in perfect position and the ball ricocheted right to him. He then unleashed a laser-like throw to get Martin at second base.
"Russell has pretty good speed for a catcher," Reddick said. "I got off a quick release and a good throw and it ended up being on line and that ended up being a big factor in the game."
That's because
Eduardo Nunez
followed with a solo home run off Red Sox starter
Josh Beckett
that tied the game at 1-1.
"He's got a real strong arm and he likes to show it," Red Sox manager Terry Francona said of Reddick. "You see a lot less and less of him air-mailing the ball. He's keeping it low.
"That was a terrific play. He's really athletic. J.D. [Drew]'s made right field look so easy, and it's not. But Red's done a good job."
Reddick has done a solid job replacing the injured Drew (shoulder) in the lineup. Francona has always said that whoever is playing well and helping the club win would be in the lineup. Drew began hitting off the tee this weekend, but his presence is not immediately needed because of Reddick's performance in the field and at the plate.
Oh, and that at-bat in the 10th inning was important too.
Reddick had only faced Hughes once before at the big league level and the right-hander recorded a strikeout. Reddick wasn't going to waste any time and barreled-up the first offering, a curveball right over the plate, and lined it to left.
"I hit it really well. It was fading toward the line, and even with [left fielder Brett] Gardner's speed, I felt like it was going to get down. We had D-Mac running with some fresh legs, so I knew he would score no matter what."
Prior to his at-bat in the 10th, Reddick was 0-for-4 on the night, but with first place in the AL East and a series win against the Yankees at stake, he knew he had to concentrate and not worry about those other ABs.
"It's in the past and you have to let it go," he said. "We're still trying to win a ballgame, so you put it behind you, take a deep breath, step back and focus on that at-bat opposed to the ones you had earlier in the night."
Coming through against the Yankees made it all that much better.
"It's always fun and this is actually my first time being a starter in this series and to be a part of that is a great feeling," Reddick said. "But I prepared for it as I would any other game and tried not to let it get in my head. You're still playing a baseball game and you still have to win."
The Red Sox did win and can thank Reddick for that. And it was the outfield assist that meant more in Boston's victory.
Reddick agreed.
"I was pumped," he said. "I came up firing and as soon as he was called out, I gave it a little glove pump. It's always huge to do something in a big situation, especially against these guys. The fewer runners you keep on base against the Yankees, the better chance you're going to have."