SoxProspects.com: Meet the newest Sox
August, 16, 2011
8/16/11
1:14
PM ET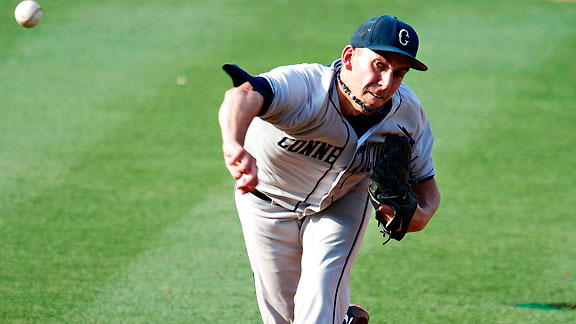 Dale Zanine/US PresswireThe Red Sox locked up top picks Matt Barnes just before the midnight deadline; he immediately becomes one of the team's top 10 prospects.
In an impressive display of spending and draft strategy, the Red Sox locked up eight draftees prior to last night's signing deadline, bringing their total 2011 draft budget to somewhere in the range of $10.7 million -- a new high for the club. For a look at the players signed prior to this weekend's deadline (and a look at how I did with my predictions), please check out
Monday's signing deadline preview column
.
Here's a breakdown of the players that did indeed sign before Monday night's deadline:
1st round (19th overall) -- Matt Barnes, RHP, Connecticut:
The Red Sox locked up the right-hander for a $1.5 million bonus just before midnight on Monday, but by all accounts the two sides were very close on a deal weeks ago. Barnes, the reigning Big East Pitcher of the Year, was 11-5 with a 1.93 ERA in 17 starts for the Huskies in 2011. He struck out 117 batters in 121.0 innings, and held opponents to a .187 batting average. The 6-foot-4 flamethrower from Bethel, Conn. last pitched in the Huskies' June 11 NCAA Super Regional loss to South Carolina. He gave up 5 earned runs on 8 hits in 4.1 innings, though he struck out the side in the first inning. Going forward, Barnes may see minimal action this season, but it's equally as likely that he doesn't make his pro debut until 2012 (the same holds true for most draftees signed on deadline weekend). He'll slot in as one of the
top 10 prospects in the Red Sox system
, and will either begin next season with Low-A Greenville or High-A Salem.
1st round (26) -- Blake Swihart, C, Cleveland HS (N.M.):
Previously committed to the University of Texas, the Red Sox signed Swihart right at the deadline for a $2.5 million bonus. Considered by some evaluators to be the top catcher and among the best high school hitters in the 2011 draft class, Swihart slipped to the bottom of the first round due to his high bonus demands and strong commitment to Texas. A switch-hitter with a great swing from both sides of the plate, he has a very high ceiling both in terms of hitting for average and power. He has excellent bat speed right now, and projects to add power as he matures and his body fills out. Some experts have projected him to profile as a future .300 hitter with 20-plus home runs. He'll also slot among the top prospects in the Sox system, and the hope is that he can break camp in 2012 with Greenville.
1st supp. (36) -- Henry Owens, LHP, Edison HS (Calif.):
The Red Sox signed the 18-year-old away from the University of Miami for $1.55 million. A 6-6, 195-pound southpaw who went 12-1 with 140 strikeouts in 91.2 innings this season for Edison High School in Huntington Beach, Calif., Owens already features a low-90s fastball, a slider, a changeup, and two different styles of curveball. He has impressive poise on the mound and solid command, tools that made him one of the most coveted left-handers in the draft. His frame has room for growth and he figures to add more size as he embarks upon a professional regimen. Like Swihart, his former teammate on the U-18 USA National Baseball team, Owens should compete for a spot with Greenville in 2012.
1st supp. (40) -- Jackie Bradley, Jr., OF, South Carolina:
Bradley contemplated returning to the University of South Carolina to compete for a three-peat College World Series Championship, but Boston was able to entice him to turn pro with a $1.1 million signing bonus. An athletic center fielder and left-handed hitter at the plate, Bradley projects to hit for average with above-average power. A potential five-tool player, Bradley is also known for his defensive prowess and speed on the base paths. In 2010, he was named the Most Outstanding Player of the 2010 College World Series after hitting .368/.473/.587 with 13 home runs and 60 RBIs during his sophomore campaign. Unfortunately, his 2011 season was marred by a wrist injury, causing him to play in only 37 games and hit .259/.361/.468 with 6 home runs and 26 RBIs. The Red Sox have expressed confidence that Bradley will fully recover from the injury and suffer no lasting effects. He could return to the state of South Carolina to play for Greenville in 2012, or the club may think that he's advanced enough to start the season with Salem.
4th round (142) -- Noe Ramirez, RHP, Cal State Fullerton:
Ramirez, a standout college pitcher for three seasons at Fullerton, signed with Boston for $625,000. The 6-3 hurler earned Second-Team All-America honors in 2011 after posting an 8-4 record with a 1.69 ERA. Opponents struggled to make contact against Ramirez, who allowed just 10 extra base hits and struck out 103 batters in 90.2 innings as a junior. His arsenal includes an 89-93 mph fastball, an elite low-80s sinking changeup, and a developing high-70s curveball. Ramirez could join Barnes and Owens in what could be a very interesting rotation in Greenville in 2012. However, he also has a shot to advance to Salem, much like how polished left-hander Chris Hernandez (7th round, 2010) started this season.
5th round (172) -- Mookie Betts, SS, John Overton HS (Tenn.):
Betts received a significantly increased offer just before midnight last night, and ultimately agreed to forego his scholarship to the University of Tennessee for a $750,000 bonus. Standing at 5-9 and weighing 160 pounds, Betts is a small, speedy middle infielder who has plus bat speed and outstanding athleticism. He hit .549 in his junior season at Overton High School, and followed that up by hitting .509 during his senior year, stealing 30 bases in the process. He may eventually profile as a second baseman after playing shortstop during high school.
7th round (232) -- Cody Kukuk, LHP, Lawrence Free State HS (Kansas):
The 18-year old left-hander has drawn comparisons to Jon Lester, given his clean delivery, size, and fastball velocity. He received an $800,000 bonus plus a $160,000 scholarship to sign with Boston and pass up an opportunity to pitch for Kansas. In addition to his projectable 92-93 mph fastball, Kukuk features a hard slider and a developing changeup. Local fans may get the chance to see Kukuk in short-season Lowell next season, but he also will be given the opportunity to join that impressive rotation in Greenville.
29th round (892) -- Matt Spalding, RHP, St. Xavier HS (Kent.):
Spalding agreed to terms on a $275,000 bonus earlier in the weekend, foregoing a full scholarship to Western Kentucky. His fastball hits 95 mph, while his secondary stuff is raw but has potential. He could be headed to the rookie-level Gulf Coast League or Lowell in 2012.
The ones that got away:
8th round (262) -- Senquez Golson, OF, Pascagoula HS (Miss.):
A two-sport athlete committed to Ole Miss for football and baseball, Golson had been practicing with the football team after declaring that he had no intention of signing with Boston back in June. However, the Sox upped their offer significantly on Sunday, and Golson skipped out on football practice to fly to Boston to take a physical on Monday. He reportedly pondered the difficult decision throughout the day, receiving additional offers in the process, but ultimately opted to return to Mississippi.
46th round (1402) -- Mac Williamson, OF, Wake Forest:
A draft-eligible sophomore, Williamson made an outstanding showing in summer ball this year, which reportedly caught Boston's interest, causing the club to give the power-hitting outfielder a solid bonus offer. Unfortunately for the Red Sox, he had a lot of leverage, and turned down the club's offer, as he'll have the opportunity to re-enter the draft again next year and make even more money.
The following draftees also did not sign, but were not expected to: RHP Deshorn Lake (12th), RHP Daniel Gossett (16th), RHP Blake Forslund (17th), 1B Sikes Orvis (19th), INF Austin Davidson (21st), LHP Jarret Brown (23rd), 1B Taylor Ard (25th), RHP Cody Dill (26th), RHP Alex Massey (27th), OF Tyler Wells (31st), SS Julius Gaines (32nd), LHP Ben Dartnell (34th), RHP Jace Herrera (36th), OF Robert Youngdahl (37th), RHP Tyler Poole (38th), LHP Jordan Gross (40th), 3B Derek Odell (42nd), OF Brandon Downes (43rd), C Matt Martin (44th), SS Sam Wolf (47th), RHP David Sosebee (48th), and RHP John Gorman (50th).
Overall, the Red Sox signed 29 selections overall from this year's draft, including 16 picks from the top 15 rounds.
Jon Meoli, Matt Huegel, and John Gray of SoxProspects.com contributed to this column.