Bedard, Aceves dodge raindrops
August, 27, 2011
8/27/11
11:26
PM ET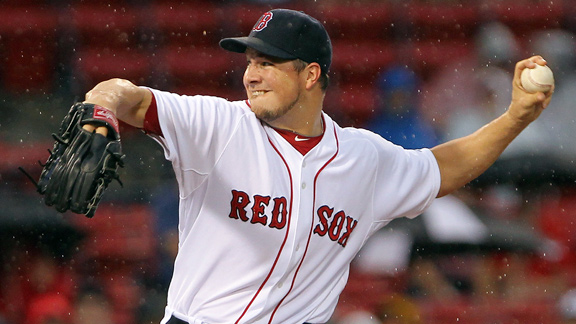 Jim Rogash/Getty ImagesErik Bedard pitched four scoreless innings and allowed only two hits but had to settle for a no-decision.
BOSTON -- After the first game of this split day-night doubleheader featured two rain delays, the nightcap between the Red Sox and
Oakland Athletics
also dealt with Mother Nature because of the arrival of Hurricane Irene.
Boston won the matinee 9-3 and completed the twinbill with a 4-0 victory Saturday at a soaked Fenway Park.
It was stunning how both games were completed in their entirety.
The Red Sox were leading 3-0 in the top of the fifth inning when it was delayed. The A's had one runner on and the game needed only three more outs to be official. After a one-hour delay, the game resumed.
Reliever
Alfredo Aceves
replaced starter
Erik Bedard
due to the delay. Bedard worked four scoreless innings (plus one batter in the fifth) and allowed only two hits with four walks and five strikeouts. He tossed 86 pitches (54 strikes) and had to settle for a no-decision.
"You just pray to God that the rain stays away, so you can at least finish three more outs and have a decision," Bedard said. "But we won the game and that's the bottom line because everyone feels good about it."
The left-hander has yet to post a victory since the Red Sox acquired him at the trade deadline on July 31. He's 0-2 with a 3.45 ERA in five starts for Boston. Prior to his arrival here, Bedard spent time on the disabled list with a knee injury. Red Sox manager Terry Francona said Bedard's knee was bothering him a bit Saturday night.
"It did at first, but it warmed up and settled down and I got through a couple of more innings," Bedard said.
Aceves, who entered the game with 12 strikeouts in 8 1/3 scoreless innings in his last five outings, remained consistent as he has for the majority of the season and kept the A's at bay. The right-handed reliever worked three scoreless innings and did not allow a hit, with three strikeouts and one walk.
Aceves improves to 9-1 with two saves and a 2.86 ERA for the Red Sox.
"The guy's a competitor and he's passionate about the game," said Red Sox catcher Jarrod Saltalamacchia. "He's a great asset to the team. He's gone out there and whatever day you want him to pitch, he pitches."
PAPI'S LOCKED IN:
It's obvious Red Sox slugger
David Ortiz
is locked in at the plate. He crushed an opposite-field homer, a two-run shot, in the bottom of the second inning for his 27th of the season. He added a single in the bottom of the fourth. Despite missing nine games with a bout of bursitis in his right heel, he has a 12-game hitting streak intact. He's hitting .522 (24-for-46) with four doubles, six homers and 14 RBIs during this stretch.
UP NEXT:
Nothing. Absolutely nothing for the next two days. See ya on Tuesday, when the
New York Yankees
come to town to start a three-game series. When the Bombers do get here, they'll face
John Lackey
,
Josh Beckett
and
Jon Lester
, respectively.
"We'll use it to our advantage, like we always try to do," Francona said of the time off. "We were really fortunate with the way [Saturday] worked out. We won. Now we can let our guys regroup, because they're going to need to. This has been a long haul."