Teammates, fans salute Wakefield
September, 14, 2011
9/14/11
12:36
AM ET
BOSTON -- Drenched in celebratory champagne and beer, Red Sox pitcher
Tim Wakefield
was almost brought to tears when asked what it felt like to record his 200th career victory.
He mentioned his family. His talked about his teammates. He thanked the fans.
The 45-year-old knuckleballer finally reached the milestone in an 18-6 victory over the
Toronto Blue Jays
Tuesday night at Fenway Park. As the game was coming to an end in the top of the ninth inning with fresh call-up
Junichi Tazawa
on the mound, the 38,020 fans in attendance began to chant, "Wakefield, Wakefield, Wakefield."
A few minutes after Wakefield was congratulated in the clubhouse, the pitcher returned to the field to acknowledge the fans with all of his teammates in the dugout looking on.
[+] Enlarge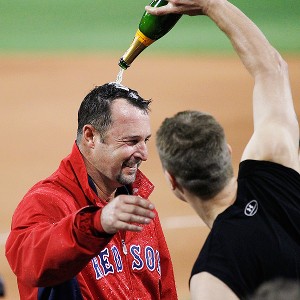 AP Photo/Winslow TownsonTim Wakefield gets doused by Jonathan Papelbon to celebrate his milestone win.
"I'm very grateful that it's over with and it was able to happen here at Fenway Park in front of our home crowd," Wakefield said. "I'm kind of speechless but I'm very grateful I've been able to wear this uniform for as long as I have and reach a milestone I thought I'd never reach. I'm very grateful."
It took him eight tries to accomplish the feat, something he started to think wouldn't happen.
"It did cross my mind after six or seven starts," he said. "I kept telling myself the milestone doesn't determine me as a person. I'm just thankful that it happened tonight and in front of our home crowd. It was very special."
Red Sox manager Terry Francona, who is a baseball lifer, appreciates his pitcher's accomplishments.
"The significance of the night is obviously very special," Francona said. "It was kind of neat to see the way the guys responded to Wake in the clubhouse, and then how the fans responded to Wake on the field. That was appropriate and probably only in a place like Boston do you see something like that happen."
Wakefield has worked with many catchers during his career and only a few could handle the fluttering pitch.
Jarrod Saltalamacchia
was behind the plate for the historic moment.
"I'm so happy for him and I'm proud of him," Saltalamacchia said. "It's an honor for me to go back there and catch him for his 200th win and to be a part of history. To see what he's done in his career, and pitched as long as he's pitched and to be able to finally get this, it makes you feel good and it gives you goosebumps. After we scored a few runs, I had goosebumps the rest of the game.
"We've all wanted it bad for him," Saltalamacchia added. "For me personally, I wanted it more than him, probably because it was anxiety every time I went out there. I wanted to make sure I caught everything and make sure we didn't give up any runs and we scored a bunch. So to be able to do that tonight really felt good. It's now something we can move on and be happy for him."
Red Sox second baseman
Dustin Pedroia
helped Wakefield's cause with four hits, including two home runs, two doubles and five RBIs.
"It was great," Pedroia said. "We've been trying for a while and we gave him some run support and he settled in and did a great job. We're all so proud of him. It's pretty unbelievable what he's been able to accomplish."
Wakefield has said in the past that he wants to become the Red Sox's all-time leader in wins. He now has 186 and trails only
Roger Clemens
and Cy Young, both of whom won 192 for Boston.
"That's the next goal, but the most important thing right now is to do my work and get ready for my next start," Wakefield said. "I'll try to push us into the postseason. That was everyone's goal in spring training, to make it to the postseason and win another World Series."
As much as Wakefield's milestone is significant, Boston's victory to snap a five-game losing skid was equally as important.
"We needed to win and it was appropriate that it was Wake," Francona said.