Fair is foul: Sox can't catch a break
September, 19, 2011
9/19/11
4:17
PM ET
BOSTON -- The
Boston Red Sox
haven't done much to help themselves this month, but they didn't get any help from the umpiring crew in a 6-5 loss to the
Baltimore Orioles
on Monday in Game 1 of a day-night doubleheader at Fenway Park.
A crucial call went against the Red Sox in the bottom of the fifth inning. With two outs and a runner on third, Boston was trailing 6-4 when
David Ortiz
appeared to hit a fair ball down the right-field line that struck the wall on the fly just to the left of the Pesky Pole.
However, first-base umpire Mike Estabrooks signaled a foul ball. Red Sox first-base coach Ron Johnson, who rarely argues about anything, was clearly upset and manager Terry Francona argued to no avail.
[+] Enlarge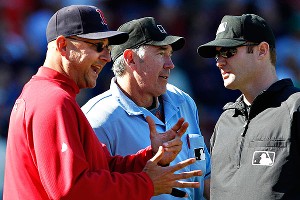 AP Photo/Elise AmendolaTerry Francona lets home plate umpire Mike Winters (center) and first base ump Mike Estabrook know what he thinks of their call in the fifth inning.
Ortiz eventually flied out to deep center field, slamming his helmet on the ground in frustration. The missed call proved costly because the Red Sox scored in the bottom of the seventh inning and eventually lost by one run.
"I know it was (fair) by about a foot and a half," Francona said after the game.
"I know it's a tough corner and they can't have replay because it's not a home run. I told them, 'Guys in the dugout have already seen it so we'd like to get this call right.'"
"You don't see umpires on a daily basis missing balls like that," Ortiz said. "Fenway's a little complicated. It gets to be too bright, then you've got signs in the back. The one thing I can tell you and that's what happened before, when a ball is hit and changes eye level, you get confused and I guess that's what happened to the first-base umpire."
Ortiz was asked if he thought baseball should increase the use of instant replay to review close calls.
"They're reviewing things and (MLB) thought it was good to review home runs, but I guess in situations like what happened today, they should give it a shot because we're trying to win baseball games and it's not the right call," Ortiz said.
"I don't think (they should review) everything because it would take forever to play the game, but a situation like that, that doesn't happen too often in the game would be fair enough to review. Everybody was on the same page. The first-base umpire called it foul. Then when I'm going around second, the second-base umpire told me it was foul too. And all of them were wrong. I don't know, I'm not an umpire."
The loss cut Boston's lead over idle Tampa Bay to just 1 1/2 games, with a critical Game 2 on tap tonight.
"We're a team that wants to win," second baseman
Dustin Pedroia
said.
"All we can do is show up and play hard. We need to pitch better. We need to hit better. Yeah, we need to do everything better. When you're losing, you can point fingers at everybody. We just need to play hard and play winning baseball. If we do that there's not a team in the world that can beat us."
Just prior to game time the Red Sox announced that left fielder
Carl Crawford
was scratched from the lineup because of a stiff neck. It's the second consecutive game he did not start. What made his absence more noticeable was the Orioles pushing across a pair of runs in the top of the third inning on some gaffes by his replacement,
Darnell McDonald
.
With one out in the inning, the Orioles'
Nolan Reimold
lifted a high, fly ball to shallow left field. Because of a 1 p.m. start time, the sun was a factor and after a long run, McDonald let the ball drop after losing it in the sun. It was ruled a single.
Baltimore's
Josh Bell
followed and on a similar play, McDonald dropped his fly ball, which called an error. The next batter,
Matt Angle
, hit a two-run double off the Monster. McDonald attempted a leaping catch, but the ball was just out of his reach.
"He took a swing, the very first swing he took down the cage and his neck just spasmed up," Francona said of Crawford. "He tried to loosen it up and went about his normal day. It just wasn't happening. It was getting worse."
Asked whether Crawford would be available for Game 2, Francona said, "I don't know, we'll see."
McDonald did get one back, however, when he hit a solo home run to lead off the bottom of the inning.
* ON THE MOUND:
Red Sox starter
Kyle Weiland
worked only 4 2/3 innings and allowed six runs (five earned) with two walks and five strikeouts. He tossed 85 pitches (52 strikes) and surrendered three home runs. Baltimore's
Jeremy Guthrie
worked six innings and allowed four runs on 10 hits with one walk and three strikeouts.
* 'A' FOR ACEVES:
There was a bright spot for Boston in the matinee: Reliever
Alfredo Aceves
worked three scoreless innings to keep the game within reach. After the right-hander retired the side in order in the seventh, he allowed the first two batters to reach in the eighth. He settled in and retired the next three batters to end the threat and kept it a one-run deficit. Aceves was fired up on the mound, pumping his fist and screaming all kinds of things. He also got out of a one-out jam in the top of the ninth. He tossed a total of 53 pitches. Aceves has allowed only four earned runs in his last 14 outings (28 1/3 innings). The bad news, however, is that Aceves obviously won't be available for the nightcap.
* MUDDY CHICKEN DIPPING
: Pedroia dropped his average this month to .219 (16-for-73). Because of the last-minute lineup change, Pedroia was moved into the cleanup spot in the order and went 1-for-4, including a RBI triple in the bottom of the fifth inning. It was his third triple of the season.
* SALTY DOG:
Pedroia wasn't the only Red Sox player to register a triple in the matinee. Switch-hitting catcher
Jarrod Saltalamacchia
posted a RBI triple in the fourth inning. It was his third triple of the season.