For openers, he's not Joshing
March, 24, 2010
3/24/10
6:39
PM ET
BRADENTON, Fla. -- It's become a game of sorts in recent days, trying to coax Red Sox manager Terry Francona into announcing his choice to pitch the April 4 opener in Fenway Park against the
New York Yankees
.
To date, Francona has resisted, because it is his nature not to commit publicly to anything before he needs to, especially when injury, illness, car wreck, kidnapping, natural disaster or nuclear war could cause a change of plans.
[+] Enlarge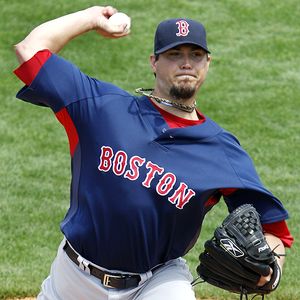 AP Photo/Gene J. PuskarTerry Francona won't tip his hand just yet, but all signs point to Josh Beckett starting the Red Sox opener on April 4 against the Yankees.
It could also be that Francona figures if the vaunted Boston media corps is too dense to figure it out on its own, he's not going to make it any easier.
Josh Beckett
pitched, and won, on Opening Day last season against Tampa Bay. He would have pitched the '08 opener, coming off a 20-win season in 2007, if he hadn't strained his back and wound up on the disabled list. Francona and pitching coach John Farrell have aligned their rotation this spring so that Beckett would be pitching with five days' rest against the Yankees.
On Wednesday, Beckett acknowledged he likes pitching the opener.
"Yeah, it's fun,'' he said. "You're only the Opening Day starter one time in the year.''
So, to review:
* Beckett pitched the last opener.
* He's on schedule to pitch this season's opener.
* He says he likes pitching the opener.
And one other thing: Although Beckett's contract expires at the end of this season, the Red Sox say they want him back and are trying to sign him to a contract extension. Does it seem like a good negotiating strategy to give someone else the ball on April 4?
Thought so.
There also is the matter of how well he is throwing, now that he's past the flu that kept him off the mound for 11 days before his last visit here, when he was still in a weakened state and got knocked around for four runs and six hits in just 3 1/3 innings.
On Wednesday, the only thing weak was the lineup the
Pittsburgh Pirates
threw at Beckett, who struck out nine in five innings and allowed just a first-inning run and a total yield of three hits and a walk.
"He was powerful,'' Francona said afterward. "That was again stating the obvious, but it was good to see. He had power to his fastball. He had that two-seamer in to lefties.
"He labored through a tough week and felt good about himself.''
Even Beckett, who tends to be more expansive when he hasn't pitched well, conceded that he liked much of what went down Wednesday.
"Every day is getting better,'' he said. "Today was by far my best day in two weeks. Strengthwise, it's good. The most important thing is I felt I had good finish to my pitches. I felt like I could throw any pitch in any count. That's what you want to feel at the end of spring training.''
Beckett said that he threw another 10 pitches in the bullpen after he was through and felt a little tired, but offered an interesting explanation why that was a positive.
"You want to teach yourself how to pitch when you're tired,'' he said, "because you're going to be tired, especially early in the year, and the most crucial pitches you throw are going to be when you're tired.''
Beckett's last Florida start is scheduled for Monday. He expects to throw another 90 pitches or so. After that?
Maybe Tito will tweet it: See you April 4.