Last call? Clay Buchholz comes clean
October, 20, 2011
10/20/11
7:45
PM ET
Red Sox
starter
Clay Buchholz
hasn't pitched since June, but he hasn't escaped criticism in the aftermath of Boston's epic September collapse. Buchholz was implicated in the starting-pitchers-drinking-during-games controversy, and he took a page from
Jon Lester
's spin-control playbook, appearing on Boston sports radio WEEI on Thursday to set the record straight on exactly who drank what (when and where).
[+] Enlarge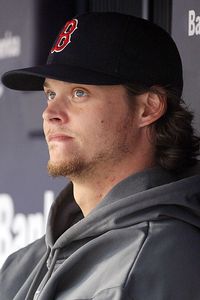 Jim McIsaac/Getty ImagesClay Buchholz called the practice of drinking in the clubhouse during games "a bad decision," and said he would learn from it.
"Yeah, it did (happen)," Buchholz said on WEEI of the infamous beer-drinking, chicken-eating clubhouse shenanigans that included fellow starters
Josh Beckett
and
John Lackey
in addition to Lester. "It wasn't to the extent that it's being told right now. The whole chicken thing, it wasn't like the guys were sitting in there saying 'We're going to order chicken today.' It was, we'd come upstairs, there would be chicken on the table and it happened maybe three times this season. The whole beer thing, it was more of a rally-beer thing. And yeah, it might not have been right, but I feel like there have been other teams in baseball that have gone through stuff like that. Not to say it wasn't a big deal, because it was a mistake, grown men shouldn't be making those decisions like that during a baseball game, but like I said before, you've got to live with what you've done and learn from it. I'm sure it's not going to happen again because it's a lot bigger right now than everybody ever thought it would be."
Buchholz also took the company line in denying the allegations that pitchers drank beer in the dugout during games.
"No, never. Never," he said on WEEl.
This follows the chorus of denials issued en masse by the Red Sox Wednesday, including a statement from former manager Terry Francona, who said he never saw beer in the dugout in his 32-year career.
Buchholz allowed that he'd made a "bad decision," but took issue with the notion that it was responsible for the team's meltdown.
"It might not have been right, but it's not like there aren't other teams in baseball that have gone through stuff like that," Buchholz said of the clubhouse drinking. "Not to say it's not a big deal because we're grown men. We probably shouldn't be making decisions like that. To be getting paid this money and be sitting in the clubhouse, yeah, I understand. It was maybe a bad decision on our part, but you've got to live with what you've done and learn from it."
Depending on who you ask, booze in the clubhouse is either no big deal ... or a crying shame.
"The ridiculous part is having beers in the clubhouse, rally beers and all of it, it's a joke. It's wrong," Hall of Famer and former Red Sox pitcher Dennis Eckersley said Thursday on
The Scott Van Pelt show

.
It seems that major league teams are split on the issue as well. The Boston Globe reported Thursday that only
12 teams provide alcohol
to their players, and three of those have strict limits and/or closely monitor consumption.
The Globe reported that the Red Sox have provided access to beer since before the current ownership group headed by John Henry took over in 2002, according to CEO Larry Lucchino.
In the video below,
Chicago White Sox
catcher
A.J. Pierzynski
says drinking in the clubhouse is common.
Red Sox assistant GM Ben Cherington, who's expected to replace outgoing GM Theo Epstein, said he wouldn't make any decisions about banning alcohol without first consulting the new manager, The Globe reported Thursday.
"As with any clubhouse policy, we wouldn't make any determination without talking to the manager,'' Cherington said. "Since the manager is not in place, it's too early to say."