Trading in gridiron for diamond for a few
March, 25, 2010
3/25/10
9:27
AM ET
[+] Enlarge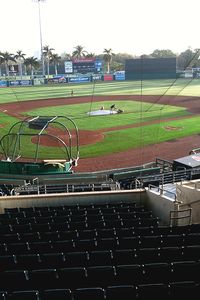 Mike Reiss/ESPNBoston.com
FORT MYERS, Fla. -- This should be fun.
Made the trek over from Orlando to chip in on some Red Sox coverage with colleague Gordon Edes. Snapped this photo from the press box where I am sitting.
Just got back from the clubhouse, where I jotted down today's lineup and introduced myself to some of the players. The contrast between the Sox clubhouse and the Patriots locker room is noticeable.
Looking forward to firing things up here over the next few days. Thanks for following along.
The Red Sox face the Marlins today at 1 p.m. Daisuke Matsuzaka will see his first Grapefruit League action.
ESPN Staff Writer
Covered Patriots since 1997
Joined ESPN in 2009
ABOUT THIS BLOG

Gordon Edes
Gordon Edes, who joined ESPNBoston.com in Nov. 2009, has covered MLB for more than 25 years. He spent 12 years covering the Sox for the Globe. Ask a question for his next mailbag. Follow him on Twitter here.

Joe McDonald
Joe McDonald, a native Rhode Islander, joined ESPNBoston.com as a Bruins and Red Sox reporter in February 2010. He worked at the Providence Journal for 18 years and covered the Red Sox, Bruins, Patriots, PawSox and Providence Bruins. He's a three-time winner of the National Sportscasters and Sportswriters Association's state Sportswriter of the Year for Rhode Island. Follow him on Twitter here.
2017 AMERICAN LEAGUE EAST STANDINGS
UPCOMING GAMES
| | W-L | HM | AW | STK | L10 |
| --- | --- | --- | --- | --- | --- |
| TEX | 24-23 | 16-8 | 8-15 | L2 | |
| BOS | 24-21 | 14-9 | 10-12 | W3 | |
| | W-L | HM | AW | STK | L10 |
| --- | --- | --- | --- | --- | --- |
| SEA | 20-27 | 13-9 | 7-18 | L5 | |
| BOS | 24-21 | 14-9 | 10-12 | W3 | |
| | W-L | HM | AW | STK | L10 |
| --- | --- | --- | --- | --- | --- |
| SEA | 20-27 | 13-9 | 7-18 | L5 | |
| BOS | 24-21 | 14-9 | 10-12 | W3 | |
BLOG ARCHIVE:
CATEGORIES:
MAY 2017
JUNE 2017
JULY 2017
Sun
Mon
Tue
Wed
Thu
Fri
Sat

1

@BAL
7:05 PM ET

2

@BAL
7:05 PM ET

3

@BAL
7:15 PM ET

4

@BAL
1:35 PM ET

5

6

@NYY
7:05 PM ET

7

@NYY
7:05 PM ET

8

@NYY
7:00 PM ET

9

DET
7:10 PM ET

10

DET
7:15 PM ET

11

DET
8:00 PM ET

12

PHI
7:10 PM ET

13

PHI
7:10 PM ET

14

@PHI
7:05 PM ET

15

@PHI
7:05 PM ET

16

@HOU
8:10 PM ET

17

@HOU
8:15 PM ET

18

@HOU
2:10 PM ET

19

@KC
8:15 PM ET

20

@KC
8:15 PM ET

21

@KC
2:15 PM ET

22

23

LAA
7:10 PM ET

24

LAA
7:15 PM ET

25

LAA
1:35 PM ET

26

MIN
7:10 PM ET

27

MIN
7:10 PM ET

28

MIN
7:10 PM ET

29

MIN
7:10 PM ET

30

@TOR
7:07 PM ET

Sun
Mon
Tue
Wed
Thu
Fri
Sat

1

@TOR
1:07 PM ET

2

@TOR
1:07 PM ET

3

@TEX
8:05 PM ET

4

@TEX
8:05 PM ET

5

@TEX
8:05 PM ET

6

@TB
7:10 PM ET

7

@TB
7:10 PM ET

8

@TB
4:10 PM ET

9

@TB
1:10 PM ET

10

11

12

13

14

NYY
7:10 PM ET

15

NYY
4:05 PM ET

16

NYY
1:05 PM ET

17

TOR
7:10 PM ET

18

TOR
7:10 PM ET

19

TOR
7:10 PM ET

20

TOR
1:35 PM ET

21

@LAA
10:07 PM ET

22

@LAA
9:07 PM ET

23

@LAA
3:37 PM ET

24

@SEA
10:10 PM ET

25

@SEA
10:10 PM ET

26

@SEA
3:40 PM ET

27

28

KC
7:10 PM ET

29

KC
7:10 PM ET

30

KC


31

CLE
7:10 PM ET