Ellsbury, Pedroia, Gonzalez win Gold Gloves
November, 1, 2011
11/01/11
11:15
PM ET
BOSTON -- Prior to the 2010 season, Theo Epstein made what became one of his more ill-fated decisions, electing to sign veteran outfielder
Mike Cameron
to a two-year, $15.5 million deal. The plan was to upgrade the outfield defense by shifting
Jacoby Ellsbury
from center to left and installing Cameron in center.
The plan never materialized. Ellsbury fractured his ribs in the first week of the season, Cameron passed a kidney stone, then sustained a sports hernia injury that required surgery. Last July, Cameron was traded to the
Florida Marlins
.
Then last winter, the Sox acquired a new left fielder in
Carl Crawford
, Ellsbury was restored to center field, and Tuesday night, the 28-year-old outfielder, who did not make an error in 2011, won his first American League Gold Glove for outstanding defense.
[+] Enlarge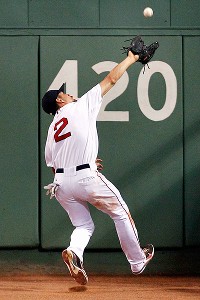 AP Photo/Elise AmendolaJacoby Ellsbury was the only center fielder in the AL who did not make an error while playing at least two-thirds of his team's games.
Ellsbury was one of three Sox players to win Gold Gloves. First baseman
Adrian Gonzalez
and second baseman
Dustin Pedroia
also won at their positions, giving the Sox three Gold Gloves in a single season for only the third time since the award was first given out in 1957. Shortstop Rick Burleson and outfielders Fred Lynn and Dwight Evans all won Gold Gloves in 1979, while first baseman George Scott and outfielders Carl Yastrzemski and Reggie Smith won in 1968.
The selections were made in balloting by the league's managers and coaches.
The Gold Glove is the third for Gonzalez, who won two in the National League (2008 and 2009) while playing for the
San Diego Padres
.
Mark Teixeira
of the Yankees had won the previous two years at first base. Pedroia's Gold Glove is his second; he won his first in 2008, when he also was named the American League's Most Valuable Player.
That was the last Gold Glove won by a Red Sox player, as the Sox Tuesday night won as many Gold Gloves as they had in the previous decade combined. Catcher
Jason Varitek
won his only Gold Glove in 2005, and
Kevin Youkilis
won at first base in 2007. Youkilis was a finalist at third base this season, the first time finalists have been identified.
The announcement of the awards was televised on ESPN2.
The award is the second of the postseason for Ellsbury, who earlier was named the AL's Comeback Player of the Year and is expected to receive strong support in the MVP voting, along with Gonzalez, though Boston's September fade hurts both players' chances. The MVP winner will be announced Nov. 21.
Ellsbury did not make an error in 394 chances last season, the only center fielder in the AL and one of just two in the majors who did not make an error while playing at least two-thirds of his team's games at that position. The other was
Shane Victorino
of the Phillies. Only two other outfield qualifiers,
Nick Markakis
of the Orioles and
Andre Ethier
of the Dodgers, did not make an error.
In some of the more advanced defensive metrics, which are the subject of some debate over their worthiness, Ellsbury did not score as high, though he showed significant improvement over his 2009 performance. In the category of Total Zone Runs, which measures the number of runs above or below average the player was worth based on number of plays made, Ellsbury finished with 3, far behind league leader
Brett Gardner
of the Yankees, who finished with 35, 21 runs more than runner-up
Denard Span
of the Twins.
Actually, just using that stat, Ellsbury played worse at home in 2011 (-5) than he did in 2009 (-4), though he was much better on the road in 2011 (8) than in 2009 (-1).
Ellsbury led all AL outfielders in putouts with 388, but his range factor per nine innings of 2.61, which is calculated by putouts and assists divided by innings played, did not crack the top five among AL outfielders, with Seattle's
Franklin Gutierrez
ranking No. 1 at 2.87. Still, Ellsbury's mark was an improvement over 2009 (2.49).
Ellsbury's arm also is considered a liability, though he had six assists, just one fewer than Gutierrez.
Gonzalez's arm, meanwhile, was one of his greatest assets at first base, as he led all AL first basemen with 125 assists, 22 more than Detroit's
Miguel Cabrera
, a measure of how aggressively Gonzalez plays the position. Gonzalez had 15 Total Zone Runs, five times more than any other player, and he made just four errors, the fewest of his career.
Pedroia finished second in the league to the Yankees'
Robinson Cano
in putouts and assists, and finished well behind Cano in range factor per nine innings at 4.62, compared to Cano's 5.15. He also made a career-high seven errors. But he had 9 Total Zone Runs, third in the league behind Howie Kendrick (11) and
Ian Kinsler
(10), and in a category that can't be quantified -- number of exceptional plays made, the kind that get starred in a reporter's scorebook -- Pedroia had plenty, certainly enough to impress the voters.