Former nemesis gives Valentine thumbs up
November, 23, 2011
11/23/11
8:23
PM ET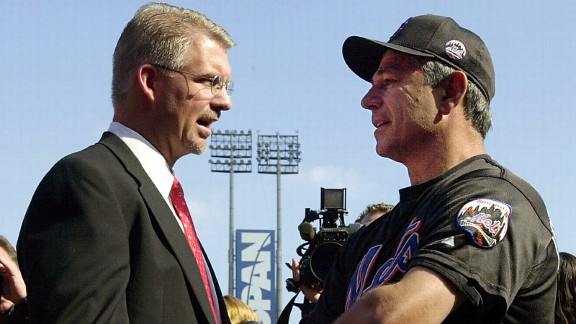 Henny Ray Abrams/Getty ImagesPhillips and Valentine rarely saw eye-to-eye during their time with the Mets.
ESPNNewYork.com's Adam Rubin talked to some people from Bobby Valentine's past to find out what kind of a manager he'd be in Boston, and some of the answers he dug up were surprising. In particular, former Mets general manager Steve Phillips, whom Valentine had a famous falling out with, heaped praise on the 61-year-old managerial candidate. Here's one quote:
"I look at Bobby as kind of a fixer," Phillips said. "He comes in with energy and a different perspective. He's not an old-school guy. He's a new-age thinker when it comes to baseball and is a student of the game and somebody who looks at things a little bit differently. He's got the ability to handle a large market. And my sense is he probably would look back and say, 'I would have done this a little bit differently and that a little bit differently.' He's got some perspective now to be able to do that.
"He and I, people always want to point to our relationship. There were times when it was really good. We had a lot of success together. At times our relationship wasn't always the greatest, but I will say: Forever I kind of always blamed Bobby for that. And I recognize now that a big part of that relationship, I damaged with my stuff that got in the way of it. Forever I thought it was Bobby's stuff. He brought whatever he did to the relationship, but part of the reason it wasn't a good one all the time was my fault and I want to acknowledge that. I wasn't the best manager for him sometimes."
Read the full story HERE