Bobby Valentine talks Sox-Yanks rivalry
December, 1, 2011
12/01/11
10:17
PM ET
BOSTON -- The newest manager of the
Boston Red Sox
doesn't remember much about the only big league game he attended as a child, but Bobby Valentine knows exactly where he was and the teams that were playing.
Valentine, 61, can't recall if he was 10 or 11 years old when his father and uncle took him to Yankee Stadium to watch the
Bronx Bombers
host the Red Sox in a doubleheader. The Valentines had obstructed-view seats down the right-field line, but the other details are cloudy.
A native of Connecticut, Valentine admits he was partial toward the Yankees only because his dad was a fan. He uncle, however, was a Red Sox fan and Valentine sat between them during that day's twin bill.
"It was an amazing experience," he recalled.
Valentine has spent more than 40 years in professional baseball. He played against the Yankees during his career. He managed against the Yankees. As manager of the
New York Mets
, he faced the Yankees in the 2000 World Series and lost.
[+] Enlarge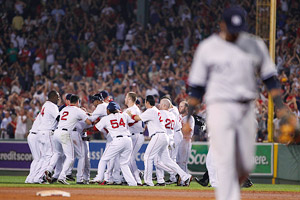 David Butler II/US PresswireBobby Valentine is already looking forward to experiencing the drama of the Sox-Yankees rivalry.
As an analyst for ESPN, he's worked several Red Sox-Yankees broadcasts. But he's never experienced one of the greatest rivalries in all of sports first-hand in the manner he's about to experience in 2012 and beyond.
The Red Sox and Yankees have become perennial winners in the AL East and the 18 times the clubs play each other during the regular season certainly lives up to the hype. Every pitch. Every at-bat. Every inning. Every bench-clearing brawl. Every aspect of this rivalry never disappoints, and now Bobby V is smack dab in the middle of it.
"I'm really excited," he said. "Six times during the season is a little different than 18 times during the season. I know the Yankees always have a team you have your best foot forward when you're playing them. I think it's going to be exciting. What I enjoyed most over the last couple of years now, at ESPN, were those games because the players take them so seriously. I think we're going to be able to match them. It's not going to be the best team that wins, but the team that plays the best."
Former Red Sox manager Terry Francona also did a good job of keeping the hype within the clubhouse and on the field to a minimum. He knew how special and how important those games were against the Yankees, but time and again he would publicly treat them as any other game in order to remain focused on the task at hand.
Valentine will be a little bit different.
He likes to stir the pot a bit, and he'll make this rivalry even more entertaining. If anything, his likely antics and comments will take the pressure off his players.
"It might take some of the craziness away from the players because I know they learn to hate the 18 days of it," Valentine said. "It is an awful lot. It's so big. It's so much and it's so important. Not only to the franchise, but to the fans, the front office and ownership."
During his time at ESPN, Valentine worked many of the games in Boston and New York. He saw how those games mentally, physically and emotionally drained the players. He saw what it did to Francona and Yankees manager Joe Girardi.
"I've been in Tito's office a few times, I've been in Joe's office a few times after and before games and it's draining, there's no doubt about that," Valentine said.
"We used to play the Yankees six games (with the Mets) and it was six times, some multiple of six," Valentine said. "I can't imagine 18. Is it like playing 50 games? I think it is."
It's too early in his new gig to start throwing jabs at the Yankees. It will come sooner rather than later. For now, Valentine is being baseball proper. He said all the right things during his introductory news conference Thursday night at Fenway Park.
"The Yankees are quality top to bottom. The Red Sox are quality top to bottom. That's why you get those wars, those battles," Valentine said.
It won't take long before he begins to annoy the Yankees. It won't take long for Valentine to fully understand first-hand what it's like to be a part of one of the greatest rivalry in all of sports.
It's also a safe bet that he'll remember everything about each game and won't have any problems recalling each and every pitch.