Sox picture coming into focus
December, 29, 2011
12/29/11
12:00
PM ET
ESPN Stats & Info's
Jeremy Lundblad breaks down the implications of and the numbers behind Wednesday's trade
, as the Boston Red Sox acquired Andrew Bailey and Ryan Sweeney from the Oakland A's for Josh Reddick and two minor leaguers. Some of Lundblad's observations: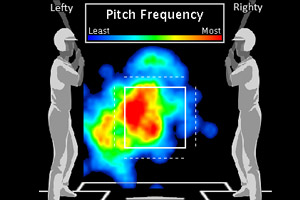 ESPN Stats & Information As you can see from this heat chart, Andrew Bailey pounded the strike zone with his cutter in 2010 ...
* Getting to know Bailey:
Essentially half of Bailey's appearances have come in pitcher-friendly Oakland, but that's not cause for concern. His 1.96 career ERA on the road is actually lower than the 2.17 posted in Oakland. Bailey is a rare reliever who is dominant against batters on both sides of the plate. Righties are hitting .194 against him, while lefties hit .182. Only four other pitchers can boast a sub-.200 opponent batting average against both sides: Carlos Marmol, Daniel Bard, Neftali Feliz and Mike Adams.
* Bailey and his cutter:
How did Bailey go from a 4.32 ERA in Double-A in 2008 to Rookie of the Year in 2009? It's amazing what one pitch can do. Bailey learned to throw the cutter during the 2008 season under the tutelage of A's roving pitching coordinator Gil Patterson, a renowned cutter guru. Averaging almost 89 mph, the cutter provides a change of pace from Bailey's 94 mph fastball. It immediately became a key part of his repertoire. Opponents hit .139 on at-bats ending in the cutter in 2009 and .186 in 2010. The cutter may also help explain why Bailey's ERA jumped to 3.24 last season. Opponents hit .280 on his cutter. The photos in this blog entry say it all.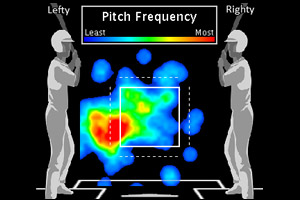 ESPN Stats & Information ... but his cutter was off the mark in 2011.
* Sweeney's role:
Ryan Sweeney does nothing to address the key offseason goal: Acquiring a right-handed hitting right fielder to add balance to a lefty-heavy lineup. Not only does Sweeney hit lefty, he's proven to be terrible against southpaws, with a .595 career OPS. But when hitting to the opposite field over the past three seasons, Sweeney is hitting .377. Compare that to .279 when pulling the ball. Since 2009, 72.4 percent of his opposite field hits have been fly balls or line drives. Compare that to just 32.4 percent when pulling the ball. No one is comparing him to Adrian Gonzalez, but the essential logic is the same. The Red Sox have identified a player who should benefit from playing at Fenway Park, and essentially the Green Monster.
* What's next?:
With a closer locked up and no big-name right fielders on the horizon, the Red Sox can dive into the starting pitcher market. Roy Oswalt, Hiroki Kuroda, Joe Saunders and Edwin Jackson all remain available. That would seemingly push Alfredo Aceves back into the bullpen, a place where he's likely better suited.