Stark: Tough to figure out Big Papi
March, 26, 2010
3/26/10
12:56
PM ET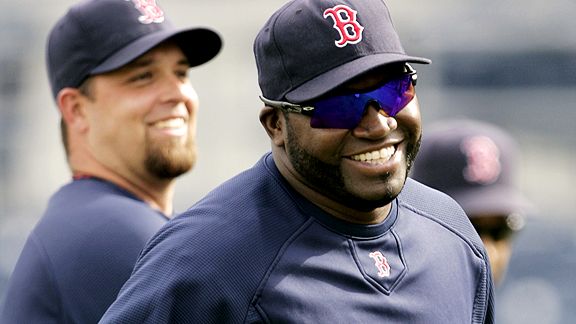 AP Photo/Steven Senne
ESPN.com's Jayson Stark
writes today about the Red Sox offense
, which he thinks should be just fine this season despite the perception it will struggle to score runs.
Stark got some interesting quotes from David Ortiz as part of the feature. Here's an excerpt:
The most important question of them all revolves around the last every-day holdover from the 2004 curse-busters -- Big Papi.

"David needs to hit," said Francona, flatly. "He's our full-time DH. I'm not trying to put pressure on him … but if he's our full-time DH, he needs to hit."

But even as Francona says that, he also has to know deep down that the Big Papi of 2004-07 probably doesn't exist anymore. That's not criticism. That's just reality. The Ortiz of those four years averaged 44 homers, 135 RBIs, 88 extra-base hits and a .616 slugging percentage per season. There hasn't been a single player who matched those numbers in even one season since -- let alone averaged them over multiple seasons.

But when we asked Ortiz how different he thought he was now than in, say, 2005, he let out a laugh so loud you probably could have heard it in Boston's Kenmore Square.

"The main difference between me now and 2005 is, I was younger then -- but I'm better-looking now," he said, still chuckling uproariously. "I had hair like Manny back then. That was not good."

But in 2010, the question is not how good he'll look in the mirror. He's 34 now. It's the last guaranteed year of his contract. And it's never been tougher to know what to make of him.

Ortiz hit .238 with a .332 on-base percentage last year, both his worst numbers ever since he became a full-time player. But do those numbers paint an accurate picture of what he was, and what he is? We'd vote no.

From Opening Day through June 5, he had the worst batting average (.188) of any regular player in baseball, hit one home run and slugged an almost incomprehensible .288. From that day on, though, he was just about the most impactful offensive force in the American League.

He might not have been the Big Papi of yesteryear. But if you just compare him to the rest of his league -- as opposed to his own self -- you find a guy who led the league in homers (27), tied for the league lead in RBIs (78) and was third in slugging (.557) from June 6 on. So before anybody pronounces him all done, here's our advice: Re-read that last sentence 10 times.

"Here's the way I look at it," Ortiz said. "I can't have a worse two months than I had last year. Those were the worst two months of my career, and I've been playing baseball since I was 10."

Uh, hold on a second. He was a better hitter when he was 10 than he was last April and May?

"Oh yeah," he said. "Big-time.

"But this game is not about how you start," he said. "It's how you finish. If you told me the season was over after the first two months, I'd understand why they're asking these questions. But I kept going. And I did pretty damn good."

Then came October, though, when Ortiz went 1-for-12, with no extra-base hits, in the ALDS. So the questions welled up again. And they're still welling.

Ortiz started off his spring by going 1-for-19. But then the whispers stopped when he ripped off an imposing 7-for-10 streak that included two prodigious homers. And then, just when it seemed he was back, he U-turned again to go 1-for-13 with five strikeouts over the last week. So good luck trying to figure this out.

"My belief," said Magadan, "is that the guy we had in 2007 -- who hit .332 and drove in 117 runs and hit 35 home runs -- I think it's still in there. But I think his mind's got to allow what's in there to come out.

"The key is to do it over the course of a 162-game season. So if it's in there in spurts, with his work ethic and strength of mind I think he can at least approach those numbers. People probably would say I'm crazy. But to me, he hasn't lost bat speed. So when you see flashes, the only thing that keeps it from showing up on a daily basis is between the ears."

But Ortiz talks like a man in a spectacular frame of mind. He's healthier than he was a year ago. He's fitter than he was a year ago. So if people want to cast this as the most pivotal year of his career, he says: Bring it on.

"This ain't my first year in baseball," he said. "It ain't gonna be my last year in baseball. So I don't have to pay attention to any of that. … If things don't work out for me this year, they can talk about anything they want. But I doubt it -- 'cause I feel great."