10Q/10D: Can Ellsbury replicate 2011?
February, 15, 2012
2/15/12
9:01
PM ET
(Editor's note: This is the seventh installment in our "10 Questions in 10 Days" series leading into the Boston Red Sox's spring training, which officially kicks off Feb. 19, when pitchers and catchers are scheduled to report.)
BOSTON -- Before
Jacoby Ellsbury
becomes offended at the suggestion that he won't duplicate his breakout 2011 season, let's first clarify what we're talking about.
Ellsbury had 200 or more hits, knocked in 100 or more runs, scored 100 or more runs, hit 30 or more home runs, and stole 30 or more bases last season.
Until 1963, no one had ever put up those kinds of numbers in a single season. Guy by the name of Henry Aaron was the first.
[+] Enlarge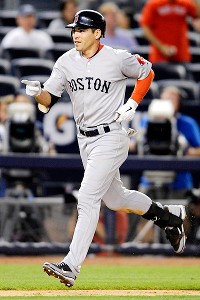 AP Photo/Bill KostrounThe Red Sox will be happy if Jacoby Ellsbury produces anything close to last season's 32-homer outburst.
It didn't happen again until 1996, when former Sox center fielder
Ellis Burks
accomplished the feat for the
Colorado Rockies
. That was the only time in his career that Burks ever had 200 hits, scored 100 runs, drove in 100 and stole 30 bases, never mind doing it all at once.
His Rockies teammate,
Larry Walker
, did it in 1997, the only 200-hit season of his career and only time he stole 30 or more bases.
Alex Rodriguez
did it in 1998, the only time in his career A-Rod stole as many as 30 bases, and
Alfonso Soriano
and
Vladimir Guerrero
matched in 2002. That was the only 200-hit season of Soriano's career, and the last time Vladi stole at least 30 bases, something he did twice in his career.
So all Ellsbury has to do to duplicate his performance is become the first player in baseball history to have two seasons of those numbers across the board. Good luck with that.
The forecasters are already lining up saying Ellsbury will not come close to hitting 30 home runs again in 2012. Baseball Prospectus projects 16 home runs from Ellsbury this season, Bill James 19 (after predicting just 8 in 2011), and FanGraphs 20.
The skepticism may be warranted, considering Ellsbury had never hit as many as 10 home runs in a season before last season, although fractured ribs in 2010 may have kept him from crossing that threshold a year earlier.
Ellsbury was 27 last season when he topped 30 home runs. He was one of five players 27 or under who did that for the first time in 2011, the others being
Mike Stanton
of the Marlins,
Matt Kemp
of the Dodgers,
Justin Upton
of the Diamondbacks and
Jay Bruce
of the Reds.
What are the chances any of the five will match or exceed that number this season? We looked at some recent precedents, with the help of Baseball-Reference.com. From 2005 to 2010, there were 33 players in Ellsbury's age group (27 and under) who hit 30 or more home runs for the first time in their careers. Of those 33, 10 hit at least 30 the next season:
David Wright
,
Dan Uggla
,
Mark Reynolds
,
Justin Morneau
,
Ryan Howard
,
Adrian Gonzalez
,
Prince Fielder
,
Miguel Cabrera
,
Ryan Braun
and
Jason Bay
. All 10, it can safely be said, fit the prototype of power hitter.
Twenty-three of the 33 did not hit 30 the next season, with six failing to hit at least 20.
Ian Kinsler
, the
Texas Rangers
' second baseman, went from 31 to 9, though he rebounded with 32 the following season. Injury accounted for the drop-off in some cases (
Chase Utley
,
Grady Sizemore
,
Kendrys Morales
,
Josh Hamilton
among others), but the decline averaged 12.6 home runs per player.
Closer to home, 10 Sox players in the past 50 years (since 1961) hit 30 or more home runs for the first time at the age of 27 or younger. Only four -- Hawk Harrelson, Jim Rice,
Mo Vaughn
and
David Ortiz
-- hit 30 or more the next season. Six players -- Carl Yastrzemski, Reggie Smith, Rico Petrocelli, Fred Lynn, Butch Hobson and Tony Conigliaro -- did not. Yaz went from 44 home runs in his Triple Crown season, 1967, to 23 the next. Lynn hit 39 in 1979, 12 the next season, the biggest drop-off by any Sox member of the 30-homer club.
Ellsbury became just the third player in Sox history with a season of 200 hits, 30 home runs, 100 RBIs and 100 runs. Rice did it three times (1977-79), Vaughn did it twice (1996, 1998). Ted Williams never had 200 hits in a season, in part because he walked so much, in part because he played a 154-game season. Ellsbury's 39 steals place him in a class of his own in Sox annals.
So there will hardly be any shame in Ellsbury not measuring up statistically to the impossibly high bar he set for himself last season. But that is different from saying that in the prime of his career, Ellsbury will not maintain his place among the game's elite players (and we didn't even mention his defense -- no errors and more putouts than any American League outfielder in 2011).
Coming Thursday -- What about Jason Varitek and Tim Wakefield?