10Q/10D: Is Jose Iglesias ready?
February, 22, 2012
2/22/12
9:32
PM ET
(Editor's note: This is the final installment in our "10 Questions in 10 Days" series leading into the Boston Red Sox's spring training.)
FORT MYERS, Fla. -- Dripping with sweat,
Boston Red Sox
shortstop prospect
Jose Iglesias
leaned over, grabbed a towel to dry off, picked up his glove and sprinted out to his position during a voluntary workout for position players Wednesday morning at the player development complex behind JetBlue Park at Fenway South.
The 22-year-old Cuban defector wants to achieve his dream of becoming the starting shortstop for the Red Sox. And he wants to do it this season.
[+] Enlarge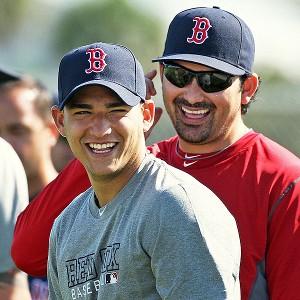 Jim Davis/The Boston Globe via Getty ImagesJose Iglesias, left, wants to join Adrian Gonzalez in the Sox starting lineup.
"Of course I would like to," he said. "Even if I'm not starting, I'm going to play hard. I'm going to play at 100 percent no matter where I play."
He'll have tough competition with veterans
Mike Aviles
and
Nick Punto
also vying for the job. There's no denying Iglesias has the defensive ability to play at the big league level, but his lack of offense has been holding him back. He's hoping his offseason work will propel him to the next level.
"I'm just focused on saying positive all season long and try to be healthy every single day and be consistent at the plate," he said. "I want to be more disciplined. It was a great offseason for me because I got a chance to get better physically, and prepare for the season. I did a very good job during the offseason."
He has played just 10 games in the majors, all last season, when he went 2-for-6 with three runs scored and two strikeouts. Other than his brief stint with the Red Sox, Iglesias spent the season honing his skills at Triple-A Pawtucket. In 101 games for the PawSox, he hit .235 and drove in 31 runs with 58 strikeouts and 21 walks.
Defensively for Pawtucket, he recorded 145 putouts with only 12 errors, and added 68 double plays.
On one of the back fields during voluntary workouts for positions players Wednesday, Red Sox manager Bobby Valentine stood and watched the defensive prowess and abilities that Iglesias possesses. While witnessing flair with the glove, Valentine later compared Iglesias to
Rey Ordonez
, who played for Valentine with the
New York Mets
.
"My first impression is that he can catch it," Valentine said of Iglesias. "I bet he can throw it after he catches it, too. He has an interesting exchange. A lot of people will make the comparison, and I did see similarities to Rey Ordonez in play/glove action. Initially, it looked like he had more range than Rey."
When Ordonez broke into the majors in 1996, he was 25. Iglesias is only 22.
"There are some similarities that they have two hands, two legs, a head, they throw right-handed, hit right-handed and they're born in Cuba," Valentine said. "I bet you most of the similarities stops there, other than the fact they exchange the ball in a similar fashion because they're individuals."
Ordonez and Iglesias are similar in the fact that both are outstanding defensively. Ordonez struggled offensively and finished a nine-year career with a .246 average.
"I didn't do a very good job of developing Rey into an offensive player, so maybe I can learn from what I didn't do," Valentine said. "That was a challenge to try to get offensive production out of Rey Ordonez -- no doubt.
"Rey was not a very receptive person. Rey did not adapt, didn't receive [constructive criticism] well. It seems like Jose might be a little different than that."
Iglesias is a smart kid. He learned to speak English quickly and he's all about learning from veteran players. Red Sox DH
David Ortiz
and second baseman
Dustin Pedroia
have helped the young shortstop both on and off the field.
Iglesias was also tight with veteran shortstop
Marco Scutaro
and was surprised when the Red Sox traded him to the
Colorado Rockies
last month in exchange for pitcher
Clayton Mortensen
.
"Of course, because nobody expected that," Iglesias said of being stunned by the trade. "It's the team's decision."
By the time camp breaks in early April, Iglesias wants the team to make another decision, and that would be to name him the starting shortstop.
If Iglesias struggles with the bat, that's unlikely to happen. Valentine doesn't believe the Red Sox can compete in the AL East without having offensive production from the shortstop position.
"Probably not," Valentine said. "My fast brain says probably not."
The manager's decision could change once he sees Iglesias play on an every-day basis.