Jenks describes harrowing ordeal
February, 23, 2012
2/23/12
10:40
AM ET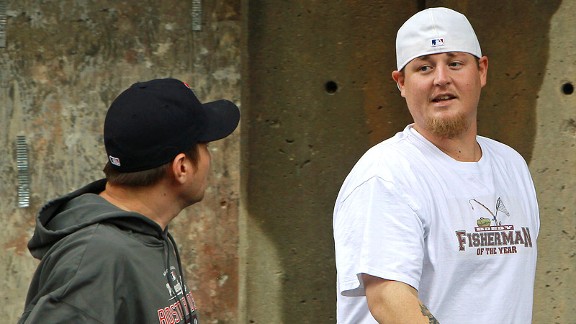 Barry Chin/The Boston Globe/Getty Images
FORT MYERS, Fla. -- Not only was
Bobby Jenks
fearful his career was in jeopardy, the right-handed reliever was also terrified for his life last December.
He had surgery to remove bone spurs in his back on Dec. 12 at Massachusetts General Hospital and was back home in Phoenix a few weeks later when he noticed the incision in the middle of his back was leaking some kind of fluid.
He bandaged it up himself and first thought nothing of it. But it continued so he visited the doctor and needed emergency surgery on Dec. 30 to repair "a mistake" that he says could have been a life-threatening situation.
"It was pretty serious," he said.
Jenks was also diagnosed with a pulmonary embolism last September, and because of that he had to wait until December to have back surgery. Leading up to the surgery, he was working out and trying to get as strong physically as he could so his body could handle the procedure.
But he wasn't expecting to have two surgeries.
"I don't know whose fault it was, but there was an error done inside," he said. "I had four bone spurs on my spine and we talked about taking the top two out. The third one was started but not finished, so basically there was a serrated edge that sliced me open in two different spots and I was leaking spinal fluid. It pulled off the bottom of my incision and blew up on me, which caused an infection to climb up that incision and now I had an infection in my spine. It was a combination of everything that could have gone wrong went wrong.
"If I didn't have it done immediately, the infection could have gotten into my spinal fluid and up to my brain, and who knows what could have happened then. I could not be here right now."
He's clearly a lot of smaller than he was a year ago. Asked how much weight he has lost, Jenks said: "Enough."
Read more HERE