Four questions on position players
February, 24, 2012
2/24/12
11:32
AM ET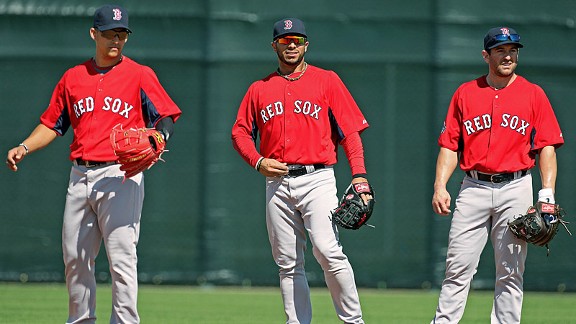 Jim Davis/The Boston Globe/Getty ImagesJose Iglesias, Mike Aviles and Nick Punto are competing for the shortstop spot for the Sox.
Pitching uncertainty hovers over the
Boston Red Sox
.
Daniel Bard
will transition to starter for a rotation needing to fill two slots, while the bullpen has received a complete makeover.
Flying under the radar are some pressing questions involving the position players. Let's dive into four of them on a slow morning at Sox spring training.
1. Can Aviles handle shortstop?
Through age 30,
Marco Scutaro
had started 149 games at shortstop. In fact, it wasn't until he was 33 in 2009 (the season before signing with Boston) that Scutaro played a full season at short.
So there's precedent for a player on the wrong side of 30 finally getting a chance at the game's toughest position. Why is this important?
At same age that Scutaro only had 149 starts at shortstop,
Mike Aviles
has 141 to his name. He's the favorite to start the season there.
While dazzling with the glove,
Jose Iglesias
managed just a .554 OPS at Pawtucket. That was enough to drop him from the No. 1 prospect in the system (according to Baseball America) to outside the top 10. In an ideal world, he'd tear the cover off the ball and force his way into the Opening Day lineup. A return to Pawtucket appears more likely.
Nick Punto
is the other competitor for the starting job. Bobby Valentine appears to think he's better suited as a utility player.
Can Aviles hack it as an everyday shortstop? The Red Sox appear set to find out.
In 2008 with the
Kansas City Royals
, Avlies came out of nowhere to finish fourth in the Rookie of the Year voting. He didn't debut until late May, ultimately taking the job from
Tony Pena
, now a relief pitcher in the Red Sox system.
Aviles started 89 games at short that season, but hasn't started more than 33 in a season since.
Offensively, Aviles hasn't been able to replicate that 2008 season, when he hit .325 with an .833 OPS. But it's his defense that has most wondering whether he can handle the gig.
The good news? That 2008 season indicates he can handle it. He was plus-13 defensive runs saved, best among AL shortstops.
For some context, the most defensive runs saved by a Red Sox shortstop over the past nine seasons?:
Pokey Reese
(plus-12) in 2004.
2. Will Ross thrive at Fenway?
Outfielder
Cody Ross
might prove to be one of the biggest bargains of the offseason.
In December, the Boston Globe reported that he was seeking a three-year, $18 million deal. Six weeks later, he inked a one-year deal for $3 million. That's less than half what he earned last season in San Francisco.
[+] Enlarge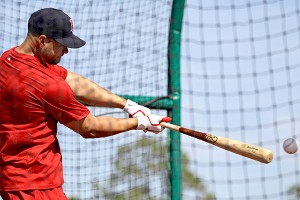 AP Photo/David GoldmanExpect Cody Ross to take advantage of the left field wall at Fenway.
Could that be even more of a bargain than it appears?
It all comes down to Fenway Park.
Ross will likely mark the end of a 20-year run of lefties manning right field for Boston.
The last right-handed hitting right fielder to hit double-digit home runs for the Red Sox? Tom Brunansky in 1992. Ross has had double-digit homer totals in each of the last seven seasons.
Ross' emergence would be welcome in a Red Sox lineup that had 61 more home runs from lefties than from righties. In this sense, Boston wasn't taking full advantage of the Green Monster.
There's reason to believe Ross will excel in his new surroundings.
Last season, his home park -- AT&T Park -- ranked as the toughest for home runs, according to ESPN's Park Factors. Consider that there were a total of 81 home runs hit in Giants home games compared to 136 in their road games.
Ross accounted for six of those home runs at AT&T Park. Of those, four would have been out of any park in the majors.
AT&T Park is particularly tough for those hitting to left field. That hurt Ross. Of his 52 home runs since 2009, 49 have been hit to center or left.
It's no coincidence that his best season was 2009, his last full year away from AT&T Park. He set career highs with 24 homers and 90 RBIs for the Florida Marlins that season.
The real number to watch will be doubles, where the Green Monster provides its biggest advantage.
3. Can Youkilis remain healthy?
Lost in all of the jokes about J.D. Drew's durability over the last few seasons is the fact
Kevin Youkilis
hasn't exactly been
Cal Ripken
. While Drew played in 357 games from 2009-11, Youkilis appeared in just 358.
As an on-base presence and right-handed power balance, Youkilis provides enormous value to the Red Sox lineup. Since 2009, Boston is 206-152 with Youkilis in the lineup and 68-60 without him.
Of course, the move to a third base didn't help Youkilis stay healthy. An above-average first baseman, Youkilis even took home a Gold Glove in 2007. But last season was a bit of an adventure at the hot corner.
According to Baseball Info Solutions, Youkilis had minus-6 runs saved last year. Surprisingly, the numbers don't point to trouble going to the left or to the right. Instead, Youkilis had a minus-12 plus/minus on balls hit straight on. In other words, an average third baseman would have made 12 more plays in those situations.
Were his defensive struggles attributable to injuries? Aviles may be the most scrutinized defensive player on the team, but Youkilis should be a close second.
Youkilis is a free agent at the end of the season. Meanwhile,
Will Middlebrooks
will be down in Pawtucket knocking on the door at third base. Baseball America has him as the Boston's top prospect, hyping his throwing arm as the best among infielders in the system.
4. What happened to Adrian at Fenway?
The prospect of
Adrian Gonzalez
at Fenway Park was perhaps the most anticipated storyline for the 2011 Red Sox. With his opposite field power, he was expected to attack the wall in left.
For four months, he was even better than advertised. Entering August, Gonzalez was hitting .397 with a 1.043 OPS at home. But over the final two months of the season, he hit just .248 with a .704 OPS at Fenway.
His performance on the road helped overshadow those struggles. He hit .354 with a 1.094 OPS away from Fenway over those final two months.
In the end, Gonzalez was actually better on the road in his first season in Boston. He hit 10 home runs with a .929 OPS at Fenway compared to 17 home runs and a .986 OPS on the road.
So what changed over those final two months?
Not surprisingly, Gonzalez struggled as he started to pull the ball more. On the road, that was fine. He hit .485 with a 1.455 OPS when pulling the ball. But at home, it was just .290 with a .710 OPS.
Jeremy Lundblad is a senior researcher with ESPN Stats & Information. He provides statistical analysis for ESPNBoston.com.