Cody Ross blasts Northeastern; Sox top BC
March, 3, 2012
3/03/12
5:28
PM ET
FORT MYERS, Fla. -- Bobby Valentine is using every opportunity this spring to help rid the
Boston Red Sox
of the memory of their September collapse. He banned alcohol in the clubhouse, tweaked the rival
New York Yankees
and then, in their exhibition opener, let his ballclub loose -- against a college team.
Red Sox 25, Northeastern 0.
Cody Ross
connected twice and
Adrian Gonzalez
hit one of Boston's five homers as a star-laden lineup roughed up Northeastern in the first game of a college doubleheader Saturday.
"Discount the competition, but it's better to do good than to do bad," Valentine said. "I was pleased, obviously. How can you not be pleased?"
[+] Enlarge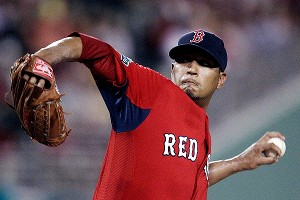 AP Photo/David GoldmanFelix Doubront looked sharp Saturday.
The Red Sox beat Boston College 6-3 in the nightcap behind starter
Felix Doubront
, who pitched two scoreless innings.
David Ortiz
played first base and went 0-for-2.
In the opener, every one of the Red Sox 15 positions players had at least one hit in the seven-inning game.
Ryan Sweeney
hit a three-run shot and had five RBIs.
"(Red Sox batting coach)
Dave Magadan
's been working with Ryan on getting a little rhythm at the plate rather than being still and he checked that," Valentine said. "He had a little more of that rhythm to it. The last at-bat (when he hit the home run), he was tired. There's no doubt. And in order to get something out of it he had to kick it up another gear, and he had more rhythm and it was a great swing."
Ross, who joined the team as a free agent in January, homered leading off the second inning and hit a grand slam in the fourth.
"It was good," Ross said. "It's one of those days where you just want to go out and get the cobwebs dusted off. Just as a team go out and try not to get hurt, just play the game, and we played well today."
For Ross, a right-handed hitter, both his home runs cleared the replica Green Monster in the Red Sox spring training park.
"Any time you swing the bat well, whether it's Little League or if it's against college pitching or major league pitching, it feels good," Ross said.
Gonzalez hit a three-run shot in the second inning.
Che-Hsuan Lin
added a two-run homer in the fourth.
Jon Lester
started for the Red Sox, going two innings. He gave up one hit with two strikeouts and threw 22 pitches, 16 for strikes.
Michael Bowden
pitched two innings with three strikeouts.
Valentine also was pleased with Doubront, who threw 15 of his 20 pitches for strikes.
"It seemed like he had his legs underneath him and threw all his pitches really well," Valentine said. "It seems like he's probably a little ahead of the other pitchers with his command and stuff right now. He's actually looked that way since he's been here."
Doubront made 11 major league appearances last season, recording no decisions with a 6.10 ERA. He also battled injuries. He's been working this spring with pitching coach Bob McClure to tweak his delivery, and was pleased with the results on Saturday.
"I have to get a feeling for my pitches," Doubront said. "My delivery today was awesome. I worked hard in my bullpens. I feel normal. The first time (with a new delivery) was a little bit hard to me because it was something I didn't do before. So tonight, I feel like it's pretty good -- my delivery and when I released the ball. I feel good."
Ortiz, normally a designated hitter, got some work in at first base.
"(He) made the two plays, took one unassisted, feed to the pitcher on another one," Valentine said. "Thought he looked fine. That's the way he's looked in his practice sessions.
"He had good swings today," the manager added. "He's got a little life in his body. He looks great, and it's really, really early."
Mike Aviles
, batting leadoff, went 2 for 3 with two RBIs in the nightcap.
Ryan Lavarnway
was 2 for 2 with two runs scored.
Valentine credited Boston College with a good performance.
"BC looked good," he said. "I think that (coach) Mike (Gambino) has them schooled well. Talked to him after the game a little today and he understands. A couple little mistakes, otherwise he might have been able to beat us."