For Beckett, will there be a catch?
March, 4, 2012
3/04/12
6:38
PM ET
FORT MYERS, Fla. --
Josh Beckett
had a personal catcher in
Jason Varitek
, but nothing like what Bobby Valentine experienced when he took over as manager of the Chiba Lotte Marines in Japan.
"I was told I had a catcher who couldn't catch my closer,'' he said. "Not that he wouldn't work with him, he couldn't catch him.
"That,'' Valentine said, "was a problem.''
The problem was resolved only when Chiba Lotte traded away the closer's preferred catcher. The next season, Valentine said, they won a championship with the closer throwing to the catcher he had previously spurned.
[+] Enlarge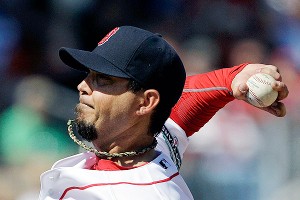 AP Photo/David GoldmanLast season, Josh Beckett threw all but 11 innings to Jason Varitek so he'll have some adjusting to do.
"I think Josh is going to pitch,'' Valentine said dryly, "regardless of who catches.''
But it will be an adjustment. In six seasons with the Red Sox, Beckett has thrown 1,112 2/3 innings. Varitek was behind the plate for 905 of them, including all but 11 innings caught by
Jarrod Saltalamacchia
last season. Until Terry Francona mixed it up with
Victor Martinez
in 2010, Varitek caught 551 2/3 innings thrown by Beckett from 2007 to 2009. Other Sox catchers caught 28 in that span.
"I think it's very important, very challenging to be on the same page with anyone who may be catching, which even complicates the equation more,'' Valentine said, "because we can't say it's going to be Salty catching him every game, or most games.
"We're going to try to prep that team within a team the best we can, knowing it's going be a project that will evolve as the season continues. It won't be a completed project in spring training.''
Sunday afternoon, Saltalamacchia was behind the plate for Beckett's spring debut, one in which he pitched two scoreless innings in Boston's 8-3 win over the
Minnesota Twins
at JetBlue Park. The process of making that adjustment, Beckett said, already has begun.
"We've had a lot of dialogue,'' Beckett said. "[Ryan] Lavarnway caught me in my first BP. I think this was the third time time Salty caught me, and [Kelly] Shoppach has caught me twice.
"There are key reminders you try to give them. There are a couple of things I tend to lean toward when things aren't going good for me. A lot of it stems from where my head's going and where my front side is, and so we've talked a lot about that.''
Valentine has said he doesn't subscribe to the idea of personal catchers, which inhibit a manager's ability to factor in other elements -- how a catcher hits a certain pitcher, whether a catcher needs some rest, injuries, etc. That said, he recognizes Beckett and Varitek had developed a special working relationship that Beckett will miss.
"One thing Jason and I did really well, we worked together,'' Beckett said. "There were meetings where I got my way and there were meetings he got his way. I think being able to resolve those differences and making the right call, not because one guy's too stubborn or the other guy's too stubborn, but making the right decision because that's what you've got to do.''
That takes some doing.
"I don't think there's one way of rectifying that,'' Valentine said. "From the outside, the only way to rectify it is for a pitcher and catcher to really feel comfortable with it. We're going to have [catching instructor] Gary Tuck to help facilitate this, [pitching coach Bob] McClure to facilitate it. There's just trust that has to be established.
"You can't get [caught up with] the blame game. A hit is a hit -- end of conversation. A home run is going to be a home run -- end of conversation. A 3-2 pitch is a 3-2 pitch -- end of conversation, because we're working together. But that won't happen for a while.''
Beckett agreed it doesn't happen overnight.
"It takes a little bit of time,'' Beckett said. "It can happen in the bullpen before a game and it changes all the time. One time I had a great feel for my changeup and Jason had a great feel for what I was throwing best, which he tended to go to more often. Or one game, maybe my cutter was better in the bullpen. You just recognize that.
"Jason and I didn't have to talk. We just knew. That's something I have full confidence that Salty and I, and Shoppy and I will be able to do.''