Takeaways from Fort: Vini, vidi, Vicente
March, 5, 2012
3/05/12
11:10
PM ET
FORT MYERS, Fla. -- Takeaways from the Fort, where the Red Sox are making a runaway of the Mayor's Cup with back-to-back wins over the
Minnesota Twins
, including Monday night's 10-2 win in Hammond Stadium:
So, Vicente Padilla was asked Monday night,
how would he rate his translator? Padilla laughed and said something in Spanish, which caused his translator to laugh too.
"He says (hee hee),'' said the translator,
David Ortiz
, "that he's happy to have a Latin guy because when he was with the Dodgers, [the translator] was Japanese.''
Padilla is from Nicaragua, a 34-year-old, 13-year veteran of the big leagues who is in the mix for a spot in the Red Sox starting rotation -- his preference -- or a spot in the bullpen. He has had double figures in wins five times in his career, and last season had just been cast in the role of Dodgers closer when neck surgery shut him down for the season. He has an extensive injury history, nerve damage in his forearm shutting him down for 52 games in 2010 followed by elbow surgery last spring, and has had a WAR (win above replacement) above 1 just once in his career. That was in 2006 (2.10 WAR), when he had a 15-10 record for the Rangers and didn't miss a start (he made 33).
The Sox watched Padilla throw in the Nicaraguan winter league, liked what they saw, and signed him to a minor-league deal with an invitation to camp.
[+] Enlarge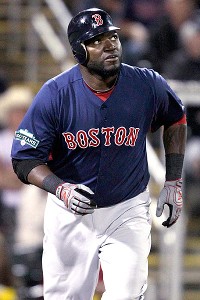 AP Photo/David GoldmanDavid Ortiz' third-inning swing translated to his first home run of the spring.
On Monday night, he followed
Clay Buchholz
and pitched two scoreless innings, allowing three hits while striking out two, and threw three of his eephus-like curveballs, all around the 55-m.p.h. speed limit. "Soap bubbles'' was the name the legendary broadcaster Vin Scully gave the pitch when Padilla was with the Dodgers.
"He says it's the last thing a hitter is thinking about,'' translator Ortiz said. "They're looking for his fastball, and he tries to make the unexpected happen.''
Sox manager Bobby Valentine said he spoke extensively with Dodgers coaches Rick Honeycutt and Trey Hillman about Padilla.
"Padilla moves the ball back and forth and up and down and obviously knows what he's doing on the mound,'' Valentine said. "He hit a few bats that weren't quite enough on the end or the handle and they blooped them in, but he knows what he's doing. I think he could help us too, if he stays healthy.''
So far, Padilla's only health issue has been some stiffness in his finger.
He was asked how far Ortiz would hit one of his "soap bubbles."
"I can answer that,'' Ortiz said. "He threw it to me a few times, and I never hit it. I'm glad he's on my side.''
Ortiz, by the way, not only excelled as translator
("They should give me an extra $10 million for this"), but also hit his first home run of the spring, easily clearing the right-field fence on a night there was no discernible breeze. The home run came off right-hander
Jeff Manship
, the former Notre Damer trying to win a spot in the Twins' bullpen. Ortiz also doubled off the left-field wall, and handled all his chances at first base cleanly, although he is hoping he can put away his glove soon.
"I think this was my last game,'' he said, laughing. "We'll see. Those fly balls got me shaking out there.''
Nonroster catcher Dan Butler,
who hit a home run in the "B" game here last week, hit one out again Monday night.
Rookie shortstop Jose Iglesias laid down a bunt single,
stole a base, and turned a nice double play with second baseman
Nick Punto
. But general manager Ben Cherington, who dropped in on the NESN TV booth during the game, reiterated that the club would like Iglesias to get more seasoning.
"We feel like Jose could benefit from some more time in Triple A," Cherington said.
Speaking about Iglesias before the game, Valentine said he'd been "outstanding" in Valentine's presence, especially in his willingness to learn.
"His at-bats have been OK," Valentine said. "I don't think his technique is what he needs it to be, but his at-bats have been good.
"We start adding a little more technique, a little more rhythm, something to give him the ability to recognize the pitch a little earlier so he can time it when it gets to the plate. I think he might be close."
As far as his fielding, Valentine said he has already noticed two things that set Iglesias apart.
"He has a special tracking device on fly balls," Valentine said, "unique to very few. And he has a special ability to transfer the ball from glove to hand. That's all I've gotten to see. I don't know about the specialness of moving off the bat and range and game-awareness -- those things.
"But I can tell you that he can transfer the ball (from glove to hand) from a longer distance than just about anybody I've ever seen. And he has the GPS in his mind. He can really track popups.''
Iglesias tracked down a couple of popups last weekend. "I dare say that no one in this camp could have made those plays,'' Valentine said. "Very few others -- Ozzie (Smith),
Rey Ordonez
could do that."