BBTN: Pedroia takes on Tito, Bobby V
March, 6, 2012
3/06/12
1:00
PM ET
FORT MYERS, Fla. -- Dustin Pedroia sat down for an interview Tuesday morning with the ESPN "Baseball Tonight" crew of Tim Kurkjian and John Kruk (video above), and of course the first thing they asked him was whether he had a message for their new colleague, Terry Francona.
"Tito, my wallet's a little thin,'' Pedroia said. "I need you to come down to Fort Myers for probably two or three days. I need to get that thing sacked up again.''
Kurkjian wondered how Pedroia made money off Francona.
"In everything,'' said Pedroia, who regularly played Francona in cribbage. "He's not very bright. You guys have listened to him talk. Jeez, how hard is it to manage a team like this? C'mon, man.''
When Kurkjian mentioned how Francona had kept them entertained with stories on the BBTN bus, Pedroia said: "He's pretty funny. He's got some quick jokes, some quick comebacks. He's pretty smart.''
Pedroia rolled his eyes. "That was, like, sarcasm,'' he said. "Big words, I got no chance.''
[+] Enlarge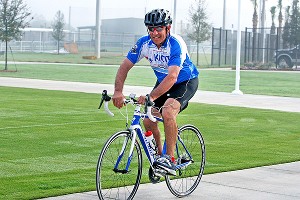 Jim Davis/The Boston Globe/Getty ImagesBobby Valentine rides into Red Sox camp in his "full Lance Armstrong suit."
Pedroia saved his best material for Bobby Valentine. After running through the usual stuff about how things are different this spring, etc., Pedroia said: "I was pulling in today and [Valentine] had a full Lance Armstrong suit on. He was riding his bike.
"I don't think we're at the point where I can say 'trick or treat' to him, but I'll get there. I hope.''
Off camera, Pedroia recalled how Blue Jays manager John Farrell stuffed him in a trash can last summer.
"He said, 'Not today, Pedey, I'm not in the mood,''' Pedroia said. "I said, 'Not in the mood? You're a (expletive).' "He picked me up and tossed me in the trash can. Nearly dislocated my shoulder.''
A few minutes later, Kruk was talking to Bob Tewksbury, the former pitcher and the team's sports psychology coach.
"I don't need no mental coach,'' Pedroia said. "Tewks, when you have a problem, you come to me, right?''
Pedroia also offered a bit of, ahem, news.
"In my physical I measured 5-8 ½,'' he said. "I might have grown a half inch.''