Takeaways from the Port: Roster musings
March, 18, 2012
3/18/12
6:49
PM ET
PORT CHARLOTTE, Fla. -- Takeaways from the Port, where the Red Sox beat the
Tampa Bay Rays
, 8-4:
Mike Aviles's ability to make the throw
from the hole at short is one of those questions that will hover over him, and every time he makes a bad throw, as he did Sunday, alarms will go off. What made it look even worse is that the baserunner was
Jose Molina
, who would be the chalk in a lot of World's Slowest Man races. Aviles had time to set his feet and still bounced his throw past first baseman Mauro Gomez.
The good news is that Aviles had a chance to make the same play against a faster runner,
Jeff Keppinger
, and made a strong throw.
Assuming he stays healthy, Aviles will be the Opening Day shortstop, and probably will remain there until he proves he cannot handle the job. The Sox are committed to giving
Jose Iglesias
more time in the minors and believe Aviles deserves the chance to play. His bat, the hope is, will neutralize whatever plays he cannot make afield. Iglesias's time will come. Just not now.
Bobby Valentine said that he has no plans to carry a third catcher
, which puts
Ryan Lavarnway
in Pawtucket to open the season, though the manager had plenty of good things to say about the progress the Yale grad has made.
Pedro Ciriaco had another hit
in two at-bats Sunday, his average sitting at .545 (12-for-21), but the 26-year-old who played a handful of games for the
Pittsburgh Pirates
the last two seasons will not be this year's Arquimedez Pozo or Rudy Pemberton and crack the Opening Day roster. "I don't have a spot for him right now,'' Valentine said.
But the native of the Dominican Republic, who signed as a minor-league free agent, "is a good player,'' Valentine insisted. "I know you thought I was kidding early when I said that. I really like him."
The manager contended Ciriaco is a cut above the usual spring-training wonders.
"His hands are there, his arm is there, and the speed is there," Valentine said.
What you often don't see in spring training, but are revealed over time, are the holes that keep a guy from winning a big-league job. The breaking ball often is the great equalizer.
With Carl Crawford almost certain to open the season on the disabled list
, the Sox will carry a player that otherwise was not expected to make the 25-man roster. A strong candidate:
Jason Repko
, a backup outfielder with the
Minnesota Twins
and
Los Angeles Dodgers
over the past six seasons. Repko's career has been sidetracked by injuries -- a severely sprained ankle suffered crashing into a wall cost him 67 games in 2006 and a torn hamstring that required surgery to reattach the tendon caused him to sit out the entire 2007 season.
With
Ryan Sweeney
having missed the last week with a strained quadriceps muscle, an extra outfielder makes eminent sense. The Sox will have to create a spot on the 40-man roster to keep Repko.
"[Repko] can do a lot of things during a baseball game,'' Valentine said. "Yesterday he executed a perfect relay throw that cut down a runner at the plate. He can bunt and run, and he's a very good outfielder. It's good to know we have him if we need him."
The Sox are expected to carry 12 pitchers
to open the season. With Opening Day April 5, eight spots are likely sewn up:
Josh Beckett
,
Jon Lester
,
Clay Buchholz
,
Daniel Bard
,
Andrew Bailey
,
Alfredo Aceves
,
Mark Melancon
,
Matt Albers
.
Franklin Morales
, assuming he is healthy, will be one of the left-handers in the 'pen.
Felix Doubront
,
Andrew Miller
and
Michael Bowden
are out of options, so they all have an edge. That would be 12.
[+] Enlarge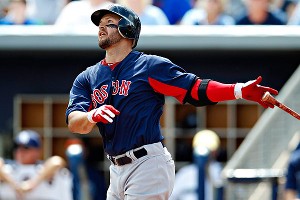 AP Photo/Charles KrupaCody Ross, who hit his second homer in two days, says he's not concerned about where in the outfield he plays.
The Sox very much want to keep
Vicente Padilla
,
Aaron Cook
,
Ross Ohlendorf
and
Brandon Duckworth
as inventory, understanding that teams on average need nine to 10 starting pitchers during the season and more than 20 pitchers in all. Both Padilla and Cook have opt-outs in their contracts. The Sox like Cook's sinker, and Padilla has gotten plenty of positive notices from both inside the organization and outside observers.
Assuming Valentine carries 12 pitchers -- and he could elect to keep a 13th -- the position players on the Opening Day roster look like this:
Catchers (2):
Jarrod Saltalamacchia
,
Kelly Shoppach
Infielders (6):
Adrian Gonzalez
,
David Ortiz
,
Dustin Pedroia
,
Mike Aviles
,
Kevin Youkilis
,
Nick Punto
.
Outfielders (5):
Cody Ross
, Ryan Sweeney,
Jacoby Ellsbury
,
Darnell McDonald
, Jason Repko.
Disabled list: Carl Crawford,
John Lackey
,
Daisuke Matsuzaka
,
Bobby Jenks
,
Rich Hill
,
Ryan Kalish
.
Buchholz threw only a handful of changeups
Sunday but he worked on everything else, especially his curveball, and looked very sharp doing so. Buchholz threw 63 pitches, 49 for strikes, and was elated at how many first-strike pitches he threw: 14 out of 20 batters. He estimates he also threw 15 cutters.
He threw back-to-back changeups to
Evan Longoria
in the first inning, and Longoria hit the second one for a home run, the only run allowed by Buchholz in five innings. He struck out four and did not walk a batter.
Padilla pitched three innings
Sunday, and according to one scout, looked at times "like he was messing around.'' He broke out his eephus pitch early and often, throwing one to Longoria on a 2-and-0 strike for a ball, throwing back-to-backers to
Jose Lobaton
, who singled on the second one, and starting
Carlos Pena
with a 53 m.p.h. eephus, following that with a 73 m.p.h. curveball, then busting a 91 m.p.h. fastball for a called third strike.
"You don't see that too often,'' said Valentine, who said he was eager to see how Padilla bounces back Monday in his long-toss session. So far, though, Padilla has been healthy and on Sunday located his fastball and threw a number of good cutters.
"If he's not throwing in the outfield tomorrow, I'd have some concern,'' Valentine said. "The last time he threw three innings and then threw in the outfield."
Cody Ross hit his second home run in two days
, this one coming off a fastball from Rays phenom
Matt Moore
in a showdown between natives of New Mexico. Ross is a native of Portales, Moore from Edgewood.
"A fellow New Mexican -- I like him,'' Ross said.
Ross is hitting .455 this spring and said he has no compunctions about where he plays in the outfield.
"No, I'm not really worried,'' he said. "They haven't come to me and told me to play here or there. They know I'm capable of playing left or right or even center. I've had looks all over. I feel comfortable at all three.
"I'm fine going back and forth. Even if Jacoby needs a day, which he rarely does, I can fill in there. I'm fine. I've done it my whole career. It's not a big deal.''
Doubront is scheduled to pitch against the Twins
on Monday, a start fraught with significance in his bid to win the No. 5 spot in the rotation, while Aceves starts a minor-league game in camp. Aceves has pitched exceptionally well this spring, showing velocity that has hit as high as 95 m.p.h.
The Red Sox optioned pitcher Stolmy Pimentel
to Double-A Portland.