Valentine on Bard: Coy or real indecision?
March, 20, 2012
3/20/12
11:46
PM ET
FORT MYERS, Fla. -- Perhaps if he had been involved from the beginning in the decision to convert
Daniel Bard
from a reliever to a starter, Bobby Valentine would not sound as unpersuaded as he does that this is necessarily the right way to go.
But this was something Valentine inherited when he was named Red Sox manager in December, which almost makes you wonder if he had hoped for a different answer from Bard when the manager approached him last week and asked if he was fully committed to making the switch.
"I haven't spoken to Bobby in the past week specifically about what my role is going to be,'' Bard said Tuesday night, "so he came up to me before my last outing and said, 'Hey, are you still in, are you all in to this, are you still committed?'''
Bard's response? "'Oh yeah,''' he said, "'until you guys tell me something different I'm a starter in my own mind.'
"I'm not saying that won't ever change, but right now that's how I have to think.''
[+] Enlarge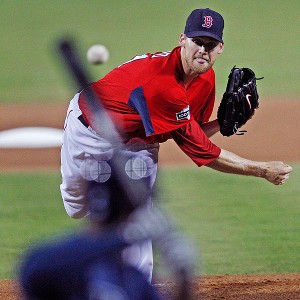 AP Photo/Charles KrupaWhile Daniel Bard said "there was a lot of good stuff to build on" in his start Tuesday, manager Bobby Valentine seems a bit less enthused.
Despite that assurance from his pitcher, Valentine said before Tuesday night's game against the Blue Jays he was not prepared to commit to Bard as his fourth starter, and after Bard went five innings in Tuesday night's 9-2 loss, Valentine said he was still hedging his bets.
At the same time, the manager said Bard will be making his next start, when he presumably will be stretched out beyond the 83 pitches (49 for strikes) he threw against the Blue Jays. So, while Valentine expresses indecision, the Sox remain on course for the conversion to continue. The Sox have other options --
Alfredo Aceves
,
Felix Doubront
and
Aaron Cook
, to name three -- and there is always the possibility that the club could swing a deal for another starting pitcher.
Valentine could just be leaving his options open, but while Bard came out of Tuesday night's outing encouraged -- outside of Toronto's three-run second inning -- especially by how strong he felt at the end, Valentine mentioned potential red flags. Like the seven walks in Bard's last 7 2/3 innings (three Tuesday night) and the fact he only threw one changeup, a pitch Valentine believes he'll need.
"It's real hard for me to figure,'' Valentine said of how to evaluate the walks, either as normal for this time of spring or an indicator of more urgent problems. "But that's exactly what I'm looking at or wondering. I don't think even with his good stuff I can handle his walks.
"I don't know if it's spring [training]. That's why I looked for the changeup. If that pitch was uncomfortable and causing the negative counts, I could use that as an excuse. This is not an exact science. I don't proclaim to think I'm going to have the exact answer, the right answer in this short sampling. It's tough. We'll figure it out.''
Bard was considerably more positive about his outing, and justifiably so. His velocity touched 97 early on, and was consistently in the 94 to 96 range. He broke off some beautiful sliders for strikes, including one to
Jose Bautista
for a called third strike to end the fifth. He set down the last eight batters he faced.
"I thought there was a lot of good stuff to build on,'' he said. "Obviously I'd like to have that second inning back, but I think I learned some good things.''
Bard was knocked around by the Cardinals in his previous outing, giving up seven runs on six hits and four walks in 2 2/3 innings after entering in mid-game. After that appearance, he said, he understood why Valentine was making no commitments to him. But there were mitigating circumstances, such as the oddness of a starter entering mid-game and a rain delay.
"The difference to me from my last outing to this one, I'm not happy about three walks today but there was a lot different mentality that led to them,'' Bard said. "I felt like I stayed aggressive despite falling behind and ended up walking them, but they weren't unaggressive. I wasn't aiming the ball, picking at corners, pitching away from contact. They were just straight up [walks]. They came out of my mechanics [being off] for a few pitches and I ended up walking them.
"That's pretty standard at this point in spring training. Obviously I'm not happy about it, but if that's the worst thing … I felt like when I was in the zone they weren't squaring too many balls up. They hit two balls on the barrel well, but I definitely felt like this was a more aggressive outing on my part.''
Bard said he approached this start from a mindset of generating positive results rather than working on a particular pitch or two.
"Shoot, I can go out and work on things all spring and come out with a 15 ERA and feel great about it,'' he said, "but not a lot of other people are going to feel very good about it. I went with two pitches [fastball and slider] and a lot of sinkers too.''
Bard said it didn't surprise him that prior to Tuesday night, Valentine had yet to commit to him starting.
"I don't expect to be handed anything,'' he said. "After my previous outing I didn't expect him to hand me a job. He wouldn't be doing his job if that was the case, when he's got other guys throwing the ball well.
"Today was a good building block. I showed him I could get through five innings in a reasonable amount of pitches. If this was a normal game, I go two more innings and we're talking about a pretty good outing. I'm going to focus on that, build on that.''