Sox in danger of another slow start
April, 7, 2012
4/07/12
7:00
PM ET
DETROIT -- If we've been told once, we've been told a thousand times, usually by a cliché-ridden sportswriter, that all past is prologue.
But this is a little ridiculous, isn't it?
The
Boston Red Sox
began the 2012 season vowing to turn the page (Cliché Alert No. 2) on last September's horrors.
Did someone mention it was important to get off to a good start?
"What does a start mean?'' manager Bobby Valentine said. "Is two games a start? A month a start? I think we can get off to a good start very easily.''


Instead, the memory of 2011 stubbornly remains, like gum on the bottom of a shoe (No. 3), after Saturday's nationally televised 10-0 loss to the
Detroit Tigers
.
Josh Beckett
, the unwilling Poster Boy of The Great Collapse, had more reason than most not to pick up where he left off (No. 4) last season, having pitched horribly in his last two starts.
Instead, Beckett managed to pitch even worse, hard as that is to believe. He gave up five home runs in 4 2/3 innings, two apiece to
Miguel Cabrera
and
Prince Fielder
, who will quickly become this decade's version of Manny-Big Papi.
When Beckett left, the score was 7-0. By the end of seven, it was 10-0.
"The good news is he felt good,'' Valentine said. "Just build on that.''
That's
good
news? Wouldn't it have been better to hear that Beckett was out of sorts for one reason or another -- insomnia, indigestion or Terry Francona's favorite, intestinal turmoil?
Only once before in his career had Beckett given up five home runs in a start -- on Aug. 23, 2009, against the Yankees, and at least he spaced those out over eight innings. These came early and often.
Counting his last two starts in Baltimore in 2011, this is Beckett's line: 18 IP, 21 H, 19 ER, 9 HRs, 9.50 ERA.
If this is what happens when he's feeling good, what do we dare expect when he's not?
[+] Enlarge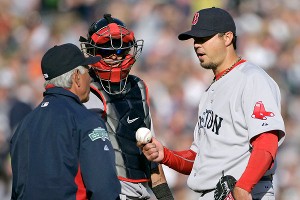 AP Photo/Duane BurlesonBobby Valentine and Josh Beckett didn't have any answers for the Tigers on Saturday.
But, hey, at least Red Sox fans were taking it in stride, as judged by this midgame tweet:
@hula5150: Fire the manager. Replace some players. Fire all the beat reporters too (Kill the messengers). #panic
To no one's surprise, especially Beckett's, he was asked about the condition of his right thumb. This week, Beckett traveled from Fort Myers to San Antonio to Cleveland to have his thumb checked by two specialists. That's nearly 2,500 flying miles. That seems like a long way to go just for a little "peace of mind," for anyone other than the folks visiting ashrams in India. But that's the reason Valentine gave this week for Beckett's doctors' visits, and on the eve of the season opener, Valentine said he didn't think it was "much of an injury" and that Beckett was good to make his start Saturday.
Beckett, meanwhile, said he was "confounded" by the fuss but acknowledged that he'd had couple of cortisone shots in the thumb -- one this spring, one in the offseason -- and mentioned he might eventually need surgery, but not this season.
Valentine reacted with raised eyebrows Saturday morning when someone related the possible surgery comment.
"Oh,'' Valentine said, "I hadn't heard that one.''
But if there is a disconnect between Beckett and the Sox on how bad the thumb is, it was not apparent postgame, when Valentine and Beckett gave the same answer to questions about whether the thumb was a factor in Saturday's outing.
"Talking to Josh,'' Valentine said, "he said it felt fine. It felt fine after the fourth. It felt fine. After the sixth, he told the trainers he felt good.''
The second question posed to Beckett was about his thumb. An issue?
"No."
Thinking about the thumb an issue?
"The thumb's not an issue.''
So, what was the problem?
"Too many pitches in the middle of the plate,'' he said.
Beckett's mix of cutters, curves and changeups proved easy pickings (No. 5) for the Tigers, a team he had handled with relative ease (3-2, 2.50 ERA in 6 starts) in the past.
Cabrera hit a massive, 412-foot shot in the first with a runner aboard to make it 2-0. Fielder led off the fourth with a home run, Delmon Young followed with a single and Alex Avila went the opposite way for a home run to make it 5-0.
With two out in the fifth, Cabrera and Fielder went back-to-back to make it 7-0. David Ortiz, for one, was impressed.
"Those kids, they can hit, they can hit,'' he said. "Hard to stop them from doing what they're doing already, you know what I'm saying. Very talented young players, and when you make a mistake, they make you pay.''
Beckett was asked about the home runs.
"One changeup, a cutter, two sinkers and a fastball,'' he said. "They were all in the middle of the plate. They hit them hard.''
If Beckett knew why he was a middle-of-the-roader Saturday instead of living on the edge, he wasn't sharing.
"I haven't looked,'' he said.
But he insisted his velocity was fine, even though he topped out at 93 mph.
By starting 0-2, the Red Sox have raised the specter of a repeat of last season's 0-6 start, worst in club history.
They have scored two runs in two games, even though the Detroit starter Saturday,
Doug Fister
, was forced to leave with two out in the fourth with what was announced as a strained left side. The Tigers bullpen pitched in with 5 1/3 scoreless innings, striking out nine while allowing just four hits.
Kevin Youkilis
struck out four straight times over the first two games.
Jacoby Ellsbury
has yet to get a sniff of first base.
Mike Aviles
, the shortstop whose defense is under the microscope, booted a routine grounder for his first error.
Jarrod Saltalamacchia
, whose throwing remains suspect, made a wild throw to first base.
And the new manager, Valentine, has so far proven incapable of pulling a rabbit out of his hat (No. 6). The Easter bunny, perhaps?
"This is a whole new team, whole new players, everything like that,'' Youkilis said. "There's no turning the page. This is a whole new look. There was a book we threw out last year, this is a whole new book. We haven't started out well, but hopefully we can get through it, which I think we will. Buck [Clay Buchholz] takes the mound strong for us, we'll play some good D and hopefully get some timely hitting.''