Why this Angels team is different, dangerous
October, 9, 2009
10/09/09
2:52
PM ET
By
Peter Gammons
| ESPNBoston.com
In the mirror of the Angels' ALDS Game 1 victory over the Red Sox on Thursday was the past, which somehow we were reminded dated back to 1986, when Kendry Morales was growing up in a small village in Cuba. We dwell on the past as if it were the beltway to the future, as if it were to be repeated, when in reality, the past is just that. Past.
Which is what Torii Hunter was reminding his teammates when he went off after they lost a brutal 9-8 game Sept. 16 at Fenway Park. "We should have beaten them in the playoffs last year," Hunter said the next day. "We were the better team. And even if we weren't, we should think that way. We shouldn't be talking about the past; we should be thinking the game we play each day. This is a good team, better than last year. Move on."
The Angels won that night of Sept. 17, and when John Lackey and Hunter and friends won Thursday night, the past was just that. It began with Lackey and his Octobers past, even if he did win a World Series Game 7. Quickly people forget that Lackey finished third in the 2007 Cy Young Award balloting behind CC Sabathia and Josh Beckett, then opened 2008 and 2009 on the disabled list. As far as his Fenway history is concerned, he almost threw a no-hitter there last season on a night when Manny Ramirez's refusal to hustle overshadowed Lackey's brilliance.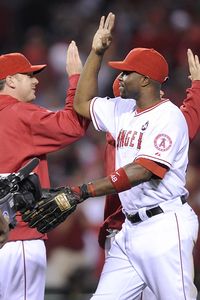 Kevork Djansezian/Getty Images
Torii Hunter sparked the Angels with his comments after a loss in September and again Thursday with a three-run homer.
Lackey pounded the strike zone Thursday and reiterated his mantra that "this is a different team because the starting rotation is the deepest it's been since I've been here." Now Boston has to go through Jered Weaver, 10-3 in Anaheim, and Scott Kazmir and Joe Saunders. Those four (including Lackey) were a combined 49-25 for the Angels.
Yes, Bobby Abreu's plate discipline has rubbed off, as evidenced by the fact that the Angels' on-base percentage rose from .330 to .350 in one season. Where once they were a team that swung at passing mosquitoes, they faced Jon Lester with Chone Figgins' .395 and Abreu's .390 on-base percentages in front of Hunter, Vladimir Guerrero, and Morales and his 34 homers and .934 OPS. They forced Lester to fight through the first few innings, and after the ever-emerging Erick Aybar doubled, Figgins bunted him up and Abreu worked a 3-2 walk, Lester made a mistake that Hunter clocked toward The Igloo.



The offense is much improved; the starting pitching that began the season with Lackey on the DL and went through tragedy and trainers' rooms is, indeed, the best of this decade. The Angels remain intrepid on the basepaths, and if you go through most defensive metrics, you'll be surprised to find that Juan Rivera ranks next to Carl Crawford in left field and, with Hunter, gives the team a better outfield. Morales generally has ranked fourth among first basemen, behind Mark Teixeira, Kevin Youkilis and Casey Kotchman. And Figgins' hard work has turned him into a superb defensive third baseman who shares almost every study's top defensive third-base rating with Brandon Inge.
Figgins also has blossomed alongside Hunter as a team leader whose infectious personality brings energy to all his teammates. It was Darren Oliver who first started calling Hunter "Obama" and Figgins "Biden," nicknames they relish. "We just want to be like them in that they won," Figgins says. "I need a ring," Hunter says daily. "Even Obama didn't get a ring for winning the election."
The past is past, and now the Red Sox have to hit, which they can. They have to get back to Boston and try to win a game or two in the Angels' bullpen, and they need Billy Wagner, Hideki Okajima and Jonathan Papelbon to shut down Figgins, Abreu, Hunter, Morales, et al.
Jarrod Washburn is not coming in to face David Ortiz, and the Angels aren't walking Big Papi to pitch to Manny. There isn't one pitcher who appeared in that 2004 ALDS who is still with either team (Lackey didn't pitch in the series). The only position players who were in that 2004 series and are playing in this one are Figgins, Guerrero, Kotchman, Ortiz, Jason Varitek and Youkilis.
The dynamics to these teams and this series are different, and by the time Hunter steamed around the bases Thursday night, that was perfectly clear.