Varitek, Wakefield throw out first pitch
April, 13, 2012
4/13/12
3:46
PM ET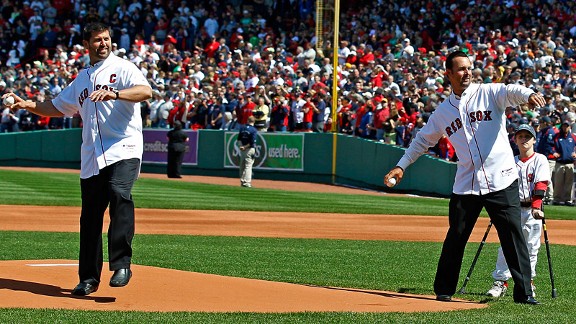 AP Photo/Charles Krupa
BOSTON -- When both
Tim Wakefield
and
Jason Varitek
decided to retire during the offseason, one of the immediate reactions was that the longtime Red Sox players should throw out the ceremonial first pitch on Opening Day at Fenway Park.
That idea came to fruition on Friday.
During pregame ceremonies, Varitek and Wakefield walked out from behind a giant American flag covering the Green Monster and walked toward the mound before a standing ovation. Most thought the veteran knuckleballer would throw the pitch and Varitek would catch it, but that wasn't the case. Jim Rice and Dwight Evans emerged from the dugout to catch pitches from the new retirees.
After receiving hugs and handshakes from their now former teammates, Varitek and Wakefield held a press conference to discuss the ceremony and life after baseball.
Here is some of the Q&A:
On being honored today at Fenway:
Wakefield:
"It was very emotional for both of us standing behind the flag and reminiscing on our time together and trying to get the walk over with as fast as possible to get off the field. It's a special day, it really is. Spending this much time with this guy and being able to share it with him today, throwing out the first pitch for the home opener was pretty special."
Varitek:
"The walk got a little fast and I said, 'Wake, I've got to slow down a little bit.' It's nice to see a game from a different view."
Reflecting on their careers:
Wakefield:
"The greatest feedback I think I can get on my decision is from my kids. I'm seeing such a drastic change with me being around more with them. That was the most important thing to me, is never regretting not being there for them. Now that I'm home full time with them, it's a special time, the right time."
Varitek:
"I can't follow that. I don't know if it's going to all sink in, yet. I think getting through different stages, like that was the first time I was around the field was in spring training for the announcement and stuff. It bit a little bit and I got excited in a different way. On Opening Day, that was the first time I've sat down and watched every pitch. It's an adjustment along those lines, but the opportunities weren't here and there wasn't much more I could do because I think making that decision to stay here was the right thing to do, to retire here. My family, my kids, that's a definite bonus, too."
On the 100th anniversary of Fenway Park:
Varitek:
"It's a unique home that we have had parts of being through different (eras), I would say, the pre-championship and the post-championship. It's brought energy from negative energy to positive energy, from people wondering when they're going to get their hearts broken to when are we going to win our next one. Playing here every day, day in and day out, we were spoiled in those regards because of the support, the 10th man that this fan base can give you on the field. It always needs to be steered in the right direction, though. Like now, these guys need it. They need these guys in the stands."
Wakefield:
"This ballpark is so special. Playing here as long as we have and getting to know the history when we first got here about Fenway Park, I mean, what a cathedral to play in. It's like going to church every day. This stadium is the star here. Fenway is a star, as well as our fans. Like Tek said, they're our 10th or 26th man on our roster. There have been many times when you can feel the momentum change in this ballpark, especially in October. I think it's helped us win a lot of games here."
How Fenway changed after 2004:
Varitek:
"For me, it changed so much more in a positive. As a player, in a year or so, everybody who has built stuff here over time, passing it down from Yaz to Jim Rice to Mo to Valentin to Wake to myself and on and on, that burden of not being able to get over the hump and win that championship was felt. It was felt by the players and to take those steps and continue to build and move forward and come closer was a big part to do with it. We finally broke through and the whole energy from the fan base changed."
Wakefield:
"I agree with that. It was such a positive thing to happen. Not only did we deal with the burden from years and years before us, we felt the pain of the fans, too. That was a hard thing to take on as a player here, not only the toughness of not winning for so many years, but to be able to share it, and you've heard me say this, the greatest thing about '04 was being able to share it with generations and generations of Red Sox fans, and to be able to share it with former players who were close but couldn't get over that hump. This ballpark has changed so much. The new ownership group that came in and decided to keep Fenway Park home of the
Boston Red Sox
, and what they've done to this stadium, winning two World Championships here, has been an amazing thing to watch unfold during our time playing here, and still to today. It's a special place and it'll never be forgotten by either one of us."
Varitek, on whether he will take a job with Red Sox:
Varitek:
"We're still talking. I've had some things that have kept me busy at home, family stuff. So work in progress, there's a lot of newness, a lot of things going on but continuing to talk and trying to figure out if there can be help. But in between I keep my lines of communication open with (bullpen coach) Gary Tuck and my catchers and my pitchers and stuff."