SB makes Shoppach's great day historic
April, 13, 2012
4/13/12
8:56
PM ET
BOSTON -- It was an incredible homecoming for Boston Red Sox catcher Kelly Shoppach.
[+] Enlarge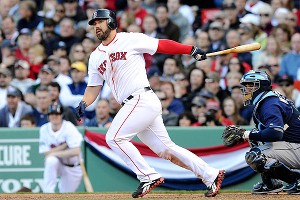 Bob DeChiara/US PresswireKelly Shoppach went 3-for-4, but his first career stolen base made his Fenway opener truly special.
When he arrived at Fenway Park early Friday morning, he saw his name on the lineup card. He would be behind the plate for starter Josh Beckett's second start of the season. Red Sox manager Bobby Valentine thought it would be a good move having Shoppach back there, especially since he played the last two seasons with the Tampa Bay Rays.
The strategy worked.
Shoppach was solid behind the plate and helped Beckett, who lasted eight innings and allowed only one run on five hits with one walk and one strikeout. Shoppach also went 3-for-4 with two doubles, two RBIs and even a stolen base, the first of his career.
After the game, he already had the second-base bag in his stall.
"It was awesome," he said. I've already got a great idea of how I'm going to hang it up: still photo of me sliding, jumping, kissing the dirt, then getting the bag. What a day for all of us, a lot of fun. It's nice to have those days, especially with today's opening day and 100 years and all that stuff. So, a lot of fun day."
He was given a delayed steal signal with runners on the corners in the sixth inning. He made it safely to second, but not before an extreme belly flop got him there.
"I've been saying for years, if I ever steal a base, I'm taking the bag. I'm making light of it but I'm really excited," Shoppach said. "That's a column that I hadn't filled as a professional."
His Red Sox teammates were giving him grief for the slide.
"Oh my God, I was looking for somebody to beat my best slide in the past 10 years. He beat all of them," said David Ortiz. "Oh my God. And then he ended up hitting the bag with his head I tried to make him feel better, I told him nobody saw it big guy, for us it's hard to slide man. It's like a challenge."
The Red Sox originally selected Shoppach in the second round of the 2001 draft. He was traded to the Cleveland Indians as part of the Coco Crisp deal and spent four seasons with the Indians before signing with the Rays.
He signed with the Red Sox this offseason as a free agent, and he was genuinely excited about his start on Fenway's opening day. With the stolen base in the books, he's got his next personal milestone in sight.
"I haven't hit a triple. That requires you to be fast," he said.