Aviles gets first look as leadoff man
April, 14, 2012
4/14/12
10:45
PM ET
By
Tony Lee
| ESPNBoston.com
BOSTON -- On the first day following Jacoby Ellsbury's right shoulder injury,
Mike Aviles
found himself in Ellsbury's customary spot atop the Red Sox order. But both he and manager Bobby Valentine insisted it was not necessarily a permanent position. Aviles expects he could be batting at the top of the lineup or at the bottom.
In a 13-5 victory over the
Tampa Bay Rays
on Saturday, he was in the middle of everything.
Aviles shook off some early issues with a tie-breaking solo home run in the bottom of the seventh inning and added a double and run scored in the nail-in-the-coffin, five-run rally in the eighth, part of his second three-hit effort of the young season.
Aviles insisted he would not change his aggressive approach just because he's batting leadoff. The fact that he is hitting in front of some of the game's best hitters may make it easier for him to go up hacking, even if it isn't what one envisions when they think of a leadoff hitter.
[+] Enlarge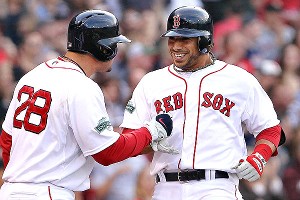 Jim Rogash/Getty ImagesAlthough his tie-breaking homer in the seventh earned more congratulations, Mike Aviles also was pleased with an at-bat that ended with an out.
"It gives you an opportunity to hit leadoff right in front of Pedroia, Gonzo, Papi and Youk," Aviles said. "It gives you the chance to get something to see, and I was fortunate enough to get a couple good pitches to hit."
Prior to the game, Valentine made a point of saying that Aviles can be dangerous "if he gets that pitch." On Saturday, that happened to be a flat slider from reliever
Burke Badenhop
to begin the seventh that Aviles deposited over the Green Monster. The swing snapped a 5-5 tie and set in motion an offensive onslaught that saw the Red Sox produce eight runs on nine hits and three walks over their final two innings at the plate.
Aviles' teammates credited his aggressiveness for turning the tide in a game that Tampa Bay once led 4-0.
"He did a great job today,"
Dustin Pedroia
said. "He's real aggressive. He put some good swings on balls today. The homer and the double, those balls were hit real well. He's got to keep it rolling."
The Red Sox shortstop got one of his three hits to lead off the first, beating out a dribbler. However, he was picked off moments later, not the sort of result one wants in a table-setter. In the fourth, he had a chance to make amends when he came to the plate with the bases loaded and worked a 3-0 count on Rays starter
Jeremy Hellickson
.
Hellickson then threw one fastball over for strike one. He threw another that Aviles fouled off. Then another. And another. And another. Aviles fought off each of them before lining the eighth pitch of the at-bat to deep right field. It died in the glove of
Ben Zobrist
, but the fight he put forth was notable.
"Michael had a very good game. The bases loaded at-bat with a line drive to right was as good an at-bat he had the whole night," Valentine said. "He was determined to do well and did a good job, no doubt."
Despite the final result, Aviles ended that encounter with a significant degree of satisfaction.
"To tell you the truth, I think I liked that at-bat because the fact of the matter is it was 3-0 and I wanted to say I saw six, seven, eight pitches or so, somewhere in that range," he said. "Everybody knows for me to see that many pitches, it's definitely a good thing. … That time it just didn't work out for me, but I was fortunate enough that later in the game I got something better."
A month ago, there was still plenty of uncertainty as to whether Valentine would be using Aviles or hot prospect
Jose Iglesias
as his primary shortstop. That's a nonissue at this point, especially with Aviles doing a perfectly suitable job defensively, where Iglesias shines.
The club is taking note of a rather complete player who can make the plays with his glove and arm and also hurt opponents with his bat.
"Mikey's good, man," said catcher
Jarrod Saltalamacchia
, who started the scoring binge with a two-run bomb in the second. "When we got him last year in the trade, everyone underestimated him a little bit, but he's a good player. He goes hard every day. He can put good wood on the ball."
Whether Aviles puts good wood on the ball batting first or ninth remains to be seen. What is becoming clear is how central he could be in whatever the Red Sox accomplish going forward.