David Ortiz locked in, on a roll
April, 15, 2012
4/15/12
6:59
PM ET
By
Tony Lee
| ESPNBoston.com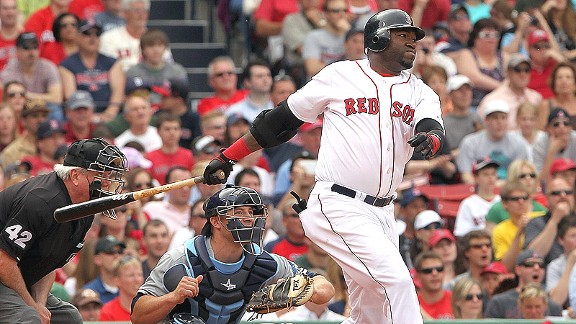 Jim Rogash/Getty ImagesDavid Ortiz had three more hits Sunday, including this RBI double.
BOSTON --
Red Sox
manager Bobby Valentine said that
David Ortiz
is so locked in right now that he cannot even tell whether Ortiz is facing a right-hander or a left-hander. Hitting coach
Dave Magadan
called Ortiz "a man on a mission."
In true Ortiz fashion, the Red Sox designated hitter chalked up his latest escapade as just another day at the office.
"I'm a trooper, man. I've been here 10 years," Ortiz said when asked what has led to his early offensive prowess. "I just go about my business. I don't really care what anybody says or what anybody tries to put in my head. I just go about my business day by day, try my best."
Despite Ortiz's best efforts to shrug it aside, it was hard not to notice the buzz surrounding his most recent effort, a 3-for-4 showing in a 6-4 win over the
Tampa Bay Rays
on Sunday. It was Boston's third straight win to open the series and the third straight game in which Ortiz proved to be the catalyst.
The slugger is 9-for-13 (.692) with three doubles, a home run and eight RBIs in the series. The highlight of Sunday's game was an RBI double to center field in the sixth, a line drive he ripped off a 94 mph fastball from left-hander
Matt Moore
. With that missile off the extreme right side of the Green Monster, Ortiz had seven straight hits, was batting .457 on the season and had improved to 6-for-13 (.462) against lefties.
Those gaudy numbers represent an extreme departure from the Ortiz of just a few seasons ago, when he had two distinct bugaboos: April and left-handed pitching. He was miserable in the former and in a steep decline against the latter. Both are now non-factors for the scorching 36-year-old.
[+] Enlarge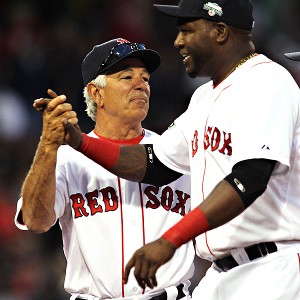 Barry Chin/Getty ImagesBobby Valentine was happy to have David Ortiz leading the Sox past the Rays on Saturday, too.
While that may shock some who saw him flail against lefties, particularly early in the year, during that time, it comes as no surprise to those who were in the trenches with Ortiz.
"I told him a couple of years ago that he has a lot of baseball left in him. He's proving that this year," Magadan said. "I think he just likes proving you guys wrong. Three years ago everybody was writing him off. A lot of us here in Boston felt like he had a lot of baseball left in him. He was doing some mechanical things incorrectly. He was thinking a little bit too much pull.
"Whenever you see a guy taking batting practice and the ball's coming in at 60 miles per hour and you can hit a ball 450 feet in batting practice, he's still got bat speed. I know a lot of that bat speed was questioned a few years back but we all believed in him, he believed in himself and the rest is history."
Part of that history of belief and trust is contained in Valentine's offseason "recruiting trip" to the Dominican Republic to meet with Ortiz, then a free agent. If that visit had anything to do with what is happening now -- Ortiz still in a Red Sox uniform, still crushing the baseball -- then Valentine can pat himself on the back. He isn't doing so, but he is happy he made the effort.
"I definitely wanted him to know that the new guy wanted him," Valentine said. "That's basically all I said. I always appreciated watching him from afar and I know how important he is to any team and I wanted him on mine."
Ortiz has always been an imposing presence, literally and figuratively. He entered spring training with a goal of increasing that presence and becoming a leader on a team that needed some guys to step up. Although he has not altered anything in particular about his demeanor, Ortiz has been the ultimate example for his teammates.
"The best way to lead is to come up in a big spot and produce," Valentine said. "He's done that this first 10 days, there's no doubt about that. ... He has the same at-bat from the first inning to the ninth, regardless of who's throwing, whether it's soft or hard, in or out. It's a determined at-bat. When you have that kind of determination you get some success and he's been very successful."
Kevin Youkilis
led off the bottom of the second inning Sunday with Boston's first hit, a single to left. Ortiz followed with his first double off Moore, this one a shot over the head of right fielder
Ben Zobrist
. It was the first big hit of the day for the Red Sox.
It also was part of an effort that lifted his OPS against left-handers to 1.015. Although it has been well-documented, it is worth repeating that that number took the following roller-coaster ride from 2006 to 2011: .988, .852, .741, .716, .599 and .989.
If the first two weeks of the season are any indication, the considerable punch that Ortiz showed against lefties last year was no fluke. Nor was his promise to step up and stand tall for his teammates and the new manager who had wanted him back.