Can Beckett douse the red-hot Rangers?
April, 18, 2012
4/18/12
12:24
PM ET
If you don't bring your best stuff against the potent
Texas Rangers
lineup, things can get out of hand in a hurry, as witnessed last night at Fenway Park. The Rangers jumped all over an ineffective
Jon Lester
and a shell-shocked
Mark Melancon
, hitting six homers en route to an 18-3 drubbing.
The fact that
Josh Beckett
is on a mound for the Sox a night later has to be both encouraging and concerning for Red Sox fans.
On one hand, the Red Sox righty is coming off a brilliant outing in which he gave up just one run over eight innings against the Rays. On the other, he surrendered five homers in his first start of the season against the Tigers and his velocity -- and strikeouts -- have been at unsettling levels so far this season.
The soon-to-be 32-year-old Beckett struck out just three batters in his first start and only one in his second. According to ESPN Stats & Information, it was only the second time in his career that he went at least six innings without more than one strikeout. It was also the first time since June 2007 that he has gone consecutive starts with less than four strikeouts.
Four of the five homers Beckett gave up against the Tigers came on fastballs or cutters that averaged just 90.3 miles per hour, according to ESPN Stats & Information.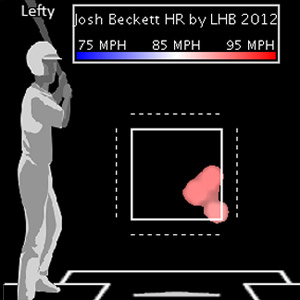 ESPN Stats & Information
The heat map to the right shows the pitch location and speed of the three homers he allowed to lefties. The pitch location itself isn't horrible -- outer third and bottom half of the strike zone -- but it wasn't fast enough to get by Price Fielder (two homers) and
Alex Avila
.
The fact that Beckett's velocity is dropping is not breaking news. His drop-off has been gradual, having lost just over 1 mph over two seasons. But so far this year, his fastball has seen a steep decline of over 2 mph. His average so far of 90.6 mph is below the league average velocity for a starting pitcher, this coming from a guy who formerly was considered something of a strikeout artist.
Even last season, hitters whiffed on 17.8 percent of swings against Beckett's fastballs, tied with
Justin Verlander
for the seventh-best mark among American League starting pitchers. This season, however, hitters are missing on only 9.1 percent of swings against his fastball (league average is 13.3 percent).
Of his one-strikeout gem against the Rays, Beckett explained the lack of K's as a product of Tampa Bay's aggressive approach.
"I really don't think they would let me [get strikeouts]," he said with a laugh. "I really wasn't in a whole lot of situations where I could throw a bastard pitch here and strike somebody out. It was kind of the way the game was going. Their approach on me was trying to get to me early.
"The game ended up dictating that. They were swinging and not really letting me get ahead or behind and they hit some balls at some guys and it's nice when that happens."
Beckett has never gone three consecutive starts without registering at least four strikeouts, but considering the Rangers' propensity to make contact and the way Beckett is trending, he could be looking at that possibility tonight. Since the start of the 2010 season, Rangers hitters have the lowest strikeout rate in baseball (15 percent of plate appearances; league average is 18.6), according to ESPN Stats & Information.
So far this season, Beckett has fanned just four of the 24 batters he's faced with two-strike counts (16.7 percent). From 2009-2011, Beckett struck out nearly 43 percent of hitters who reached two strikes.
The heat maps below display the difference in rate of contact on swings against Beckett in 2011 (left) and 2012 (right).