Ross home runs the difference makers
April, 24, 2012
4/24/12
1:57
AM ET
MINNEAPOLIS -- The home run pulled into the second deck of left field in Target Field to tie the score? We've already seen that kind of power from Red Sox outfielder
Cody Ross
.
But the game-winner, an opposite-field shot to right field that broke a 5-5 tie in the ninth and proved to be the difference in Boston's 6-5 win over the
Minnesota Twins
?
"I don't think I've ever seen Cody Ross hit a ball that way,'' said Twins closer
Matt Capps
, who gave up the shot that just cleared the wall in right. "He put a good swing on it and obviously squared it up well. It won the ballgame for them."
Red Sox manager Bobby Valentine was impressed.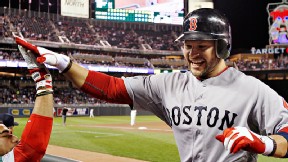 AP Photo/Jim MoneCody Ross' two-run homer to tie the game in the seventh was only the beginning.
"Upper deck and opposite-field for game-tyer and game-winner?'' he said. "Dustin [Pedroia] told him to come out of his shoes and he came out of his shoes. That was terrific.''
But opposite field?
"I hadn't seen it,'' he said. "I was pleasantly surprised.''
Teammate
Ryan Sweeney
said he hadn't seen Ross go the other way, even in batting practice. "In BP? I've seen him do it,''
Mike Aviles
said.
What about the man himself, who now has a team-leading five home runs, which may soon earn him a promotion from the eighth spot in the lineup?
"It depends if the wind is blowing out or not whether I hit it the other way,'' Ross said. "Batting practice? Absolutely. When I was coming up as a young player, the majority of home runs I hit were to the opposite field.
"Maybe it's a sign of things to come, hopefully.''
That certainly hasn't been his recent history. Brian MacPherson of the Providence Journal did some quick research Monday night and noted that in 2008 and 2009, Ross hit a total of 48 home runs. None went the opposite way.
Ross laughed when he heard that Valentine had jokingly asked
Alfredo Aceves
, "Are you trying to kill me?'' after
Trevor Plouffe
of the Twins nearly trumped Ross's home run in the bottom of the ninth with his bid for a game-winning two-run homer.
"Heart attack?'' Ross said.
Ross caught Plouffe's drive on the warning track in left. He said he knew it would be catchable.
"I knew where he hit it,'' Ross said. "That part of the field is huge right there. It was carrying a little, but I knew I had a bead on it.
"It's huge for us to be resilient, to come back and win that game right there. It was big for our team, big for our bullpen.''